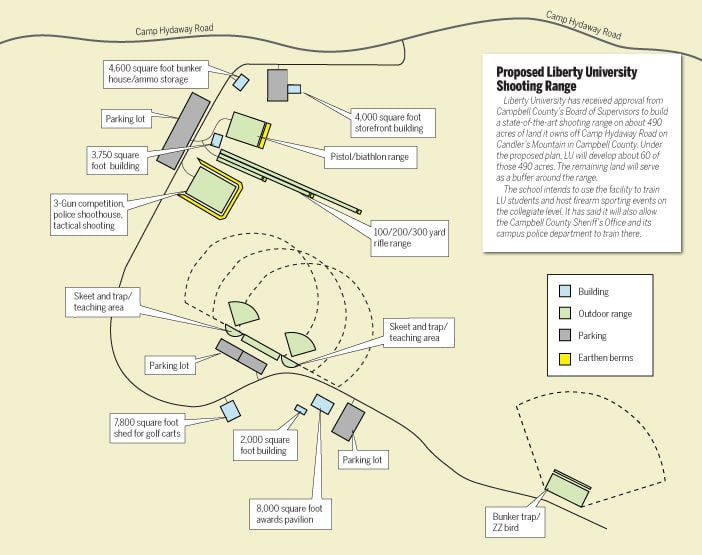 RUSTBURG — Campbell County supervisors approved a shooting range to be built by Liberty University off Camp Hydaway Road on Tuesday night in a 6-0 vote, with Spring Hill Supervisor Jim Borland abstaining because of his employment with Liberty.
The facility will be used to train LU students to use guns properly and host firearm sporting events on the collegiate level.
Liberty requested a special use permit in December to develop about 60 of the 490 acres it owns near Camp Hydaway to establish the facility. It would include a pistol/biathlon range; three different rifle ranges; a facility for 3-gun competition, police shoot house and tactical shooting; and skeet and trap shooting areas.
About 50 people attended a public hearing Tuesday night prior to the vote on the permit that allows construction of the proposed shooting range to move forward.
Sheila Tolley, of Candlers Mountain Road, said she had nothing against shooting and was a concealed carry permit holder, but she was concerned about traffic and noise from the shooting range. She said Camp Hydaway Road is not equipped to handle as many as 1,000 vehicles daily, what Liberty University officials said might be going to special events at the proposed facility.
"There's nothing on the sides. If someone runs off the road, you go into the ditch. We just had a man lose his life," Tolley said, referring to Sean A. Payne, 36, who died in a car crash Dec. 2 when the vehicle he was a passenger in ran off the side of Candlers Mountain Road and crashed into trees. The crash was less than a mile west of Camp Hydaway Road.
She added drivers often don't see the reduced speed limit signs on her road.
The Virginia Department of Transportation was made aware of the project but decided a traffic study was not needed since the heavy traffic would only be during special events. A VDOT permit will be required for those special events, according to County Planner Sandy Shackelford.
As for noise, Tolley said she can hear the Liberty University football games on campus and "hear the referee calls."
"If I have to hear 25,000 gunshots a day, how is that going to sound?" Tolley said.
Keith Thompson, senior civil engineer with Wiley|Wilson — the architecture firm hired by Liberty to design the range — said the firm wants to maintain the natural look for the range, which will help cancel noise.
He added Liberty has "a good budget" to plant new vegetation, such as an area of evergreen trees near the shotgun areas to muffle the noise.
Borland noted a skeet shooting event with 50 participants could shoot off up to 25,000 rounds in a day or two.
"I cannot say noise will not be an issue. It will be a range with a high volume of shots; it is the university's intent to adhere to current codes. We do intend to do similar testing where [Liberty University Police Department] would take various guns and do that testing," Thompson said.
A previously proposed indoor shooting range was tabled because other private indoor ranges may be opening nearby, Thompson said.
The range is expected be open by September.
"I would imagine the student use would be the least [users]. Can you require silencers? I am kidding, but wouldn't that be nice?" Borland said.
Rustburg Supervisor Eric Zehr asked how many events would be held at the shooting range.
Thompson said up to 25 annually after the first year.
According to county code, a noise ordinance is in effect from 10 p.m. to 6 a.m. Thompson said 10 p.m. would be the cutoff for events, and LU will plan for events to end by 9 p.m.
If events do go over that, it would be only a matter of minutes, he added.
Jim Cerillo, of Cerillo Lane in Rustburg, said he also had nothing against guns, shooting ranges or Liberty, but he was worried about property values once the range is built.
Additionally, he said at least five cars have been in wrecks on Candlers Mountain Road in the past month.
"If you really want to do a job for this county, consider this one fact: Liberty is moving a major sporting activity off campus, six miles from here. They just built a soccer facility; they got roads, water going to it. Why not put it where other sporting events are?" Cerillo said.
 He pleaded with supervisors to consider the hundreds of residents who would be affected by noise.
About 50 properties are located on Camp Hydaway Road, according to the Campbell County GIS.
James Evans, of Westview Circle in Lynchburg, is a firearms instructor and spoke in favor of the shooting range.
"Everything Liberty does is world class … If anyone can build a range and make sure concerns are addressed, it would be Liberty," Evans said.
Concord Supervisor Eddie Gunter Jr. said if the road becomes a problem, the county can go to the Virginia Department of Transportation. The shooting range will be in Gunter's district.
Gunter said the supervisors should not let an opportunity for economic development in the county go away, shortly before making a motion to approve the permit.
He added he took a tour of the property where the proposed facility would be built and said Liberty will make it as safe as possible. All the people coming to the events at the shooting range will bring added revenue to area restaurants and local businesses, Gunter said.
Altavista Supervisor Stanley Goldsmith said he agreed with Gunter but thought there needed to be some way to make sure Liberty looks at the issues with noise and traffic.
"Liberty has made reasonable accommodations. They have chosen the center section of 490 acres, 1,400 feet away from residents. If we don't approve, I don't know where it would be suitable," Sunburst Supervisor Bob Good said.
Timberlake Supervisor Mike Rousseau said if more law enforcement vehicles were visible on Camp Hydaway Road, because officers were training at the range, it might slow down traffic.
"Not withstanding the deterrent effect of greater law enforcement traffic, we encourage VDOT or Liberty to do everything possible and impossible to ensure safety of those motoring back and forth to Liberty," Rousseau said.
County Administrator Frank Rogers noted the county can do little to amend or control traffic since that is an agreement between VDOT and Liberty.
The county is not allowed to implement proffers, but County Planner Sandy Shackelford said the board can request conditions for a special use permit. However, no motion was made to institute conditions on the permit.
Prior to the project, Campbell County had about $357,000 earmarked for a shooting range in the county's Capital Improvement Plan for the Campbell County Sheriff's Office. The county spent nearly 12 years looking for a location for its range but was met with complaints about noise from neighbors each time a site was proposed.
Brookneal Supervisor J.D. Puckett said the board proposed a number of sites for a sheriff's office shooting range, including one in Brookneal. Staff conducted a noise test where deputies fired off a number of weapons, and residents had to come back and report if they heard the noise. He suggested a similar test be done at the proposed Candlers Mountain site.
Thompson said if a similar test was conducted at the site, it would not be a real world test since grading and clearing of the site has not been done.
Liberty reached out to Campbell County Sheriff Steve Hutcherson during the planning process to see if his office would be interested in using LU's range for training.
The sheriff's office currently uses Lynchburg's shooting range near the airport for one week each spring and fall for training.
"We really don't have time to do one-on-one time to get people back up. We are doing what's required and nothing more … a huge officer safety issue and something we can be able to fix [if we had this option]," Hutcherson said at the meeting.
When he heard the offer from Liberty, he was ecstatic and said, "Christmas came early for me."
Borland asked if Hutcherson had a written agreement with Liberty that his office could use the facility for at least four weeks per year. Hutcherson said no.
Puckett expressed concern Tuesday about the amount of lead going into the ground from the outdoor shooting range. At the outdoor range, bullets will be caught in earthen berms.
Thompson said backstops would have two feet of soil with a layer of lime underneath to prevent migration of the lead into the groundwater. Liberty would sift the topsoil for lead periodically and then add the soil back, he said.
Construction will begin this month with rough grading of the site and road improvements. General clearing of the forest on the property will occur concurrently. Two buildings will follow along with a pavilion, classrooms, offices, sales areas and a field house.
Liberty University officials have said the need for a new shooting range came into focus when the current range — located on Candlers Mountain Road across from Liberty University's student apartment complex The VUE at Liberty Mountain — became antiquated and they projected to outgrow it.
LUPD Chief Richard Hinkley said Tuesday night the current range was built in the 1980s. He said thousands of students and officers have used the facility with no injuries or other issues since 2009.
"You can rest assured Liberty will do everything they can to make this a first-class shooting range," Gunter said.