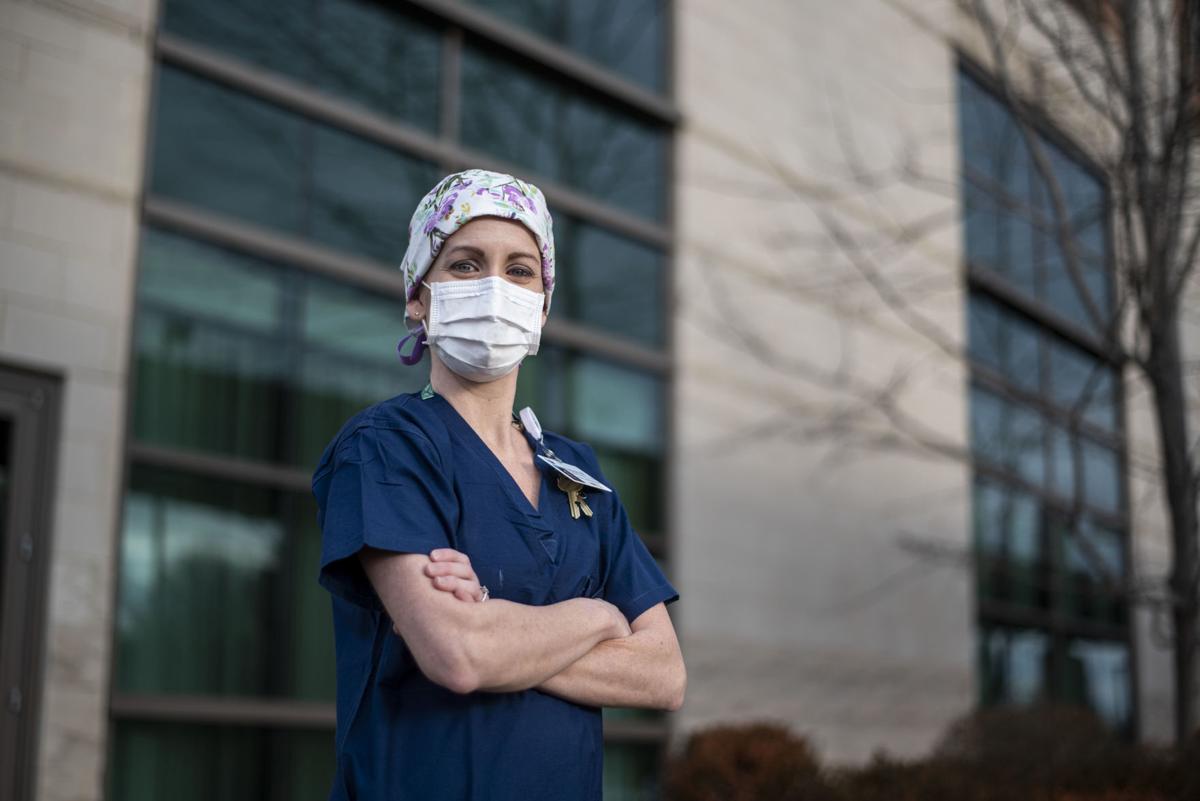 Heather Mayberry never really considered her work to be award-winning.
As the COVID-19 pandemic rages on and continues to strain health care providers and resources in the Lynchburg area, the Centra nurse of roughly 15 years, like so many others, acted out of necessity and was instrumental in the launch of a new unit that could flex to the ever-changing needs of coronavirus patients.
Mayberry was part of the team that developed the hybrid Variable Acuity Unit (VAU), which incorporates an Intensive Care unit, Pulmonary Care unit and Medical Surgical unit for COVID-19 patients with specially trained nurses, a news release from Centra states.
Nominated by colleague Tiffany Lyttle, Mayberry, a clinical nurse specialist for several units at Lynchburg General Hospital as well as being the Pulmonary Hypertension Clinical Coordinator, was awarded Nurse of the Year by the Virginia Nurses Association in early December in recognition of her work with the pandemic and the VAU.
"You've seen your teams that you've always worked together with and you know you can achieve outcomes and reach goals, but in a time where it has to be so rapid it just makes you so proud … that you can rapidly produce what your community needs in a time of crises," Mayberry said.
Mayberry, of Rustburg, was instrumental in creating education and providing training for front-line workers.
"I think at the end of the day, being recognized by a colleague that you work alongside is one of the most precious things. Knowing that your presence in any situation — whether it be COVID or anything else — that your presence made a difference," Mayberry said.
"It was amazing to be recognized but there are thousands of other nurses that deserve that same recognition and put forth the same effort."
In Mayberry's nomination letter to the VNA, Lyttle stated Mayberry deserved to be the recipient of the Virginia Nursing Foundation's award because her "ingenuity and hard work gave us confidence and direction" in a time when there was none, according to the release.
"I have confidence going into this dangerous war with COVID and even on days when we are combatting our more familiar disease processes, that both the patient and I can take comfort in the fact that we have leaders like Heather who have paved the way for us to take on this fight," an excerpt from the letter reads.
Last year, dubbed the Year of the Nurse, the VNF modified its regular award program to highlight the contributions of 20 registered nurses throughout Virginia. The Year of the Nurse awards are an extension of the annual VNF Leadership Excellence awards, the release states.
Lyttle said she felt Mayberry deserved to win.
"I was so excited that she had won. What a honor to be singled out for your dedication and innovation not only in the year of the nurse amongst all the nurses in Virginia, but also during a global pandemic," Lyttle said in a emailed statement to The News & Advance.
Construction on the unit was partially completed in October and patients started using beds in early November. Mayberry said the unit, which currently has 18 beds, has remained full the entire time. When construction resumes, the number of beds in the unit will be doubled.
"With the COVID surge that we have seen any further construction is not possible because we need to utilize the space. Our executive team and construction planning team will revisit that once things level out a little bit," Mayberry said.
Despite her contributions being recognized with the annual award, Mayberry said it was a collaborative effort between different disciplines that brought the VAU to fruition.
Mayberry said the past roughly 10 months have been "personally exhausting" for her, but she mostly tries to focus on and support her colleagues. She also thanked the support of her family in helping her through the unprecedented challenges.
The motivation for her to continue in the face of the mental and physical exhaustion comes from those moments when she can see a patient has been discharged and allowed to go home, she said.
"I would hope that in my career over this past year of times we have endured that I have helped someone through a process that was most unpleasant," Mayberry said. "COVID has been a strain on our patients, our patient's families, but also my colleagues; those who choose to come to work every day to serve our community."