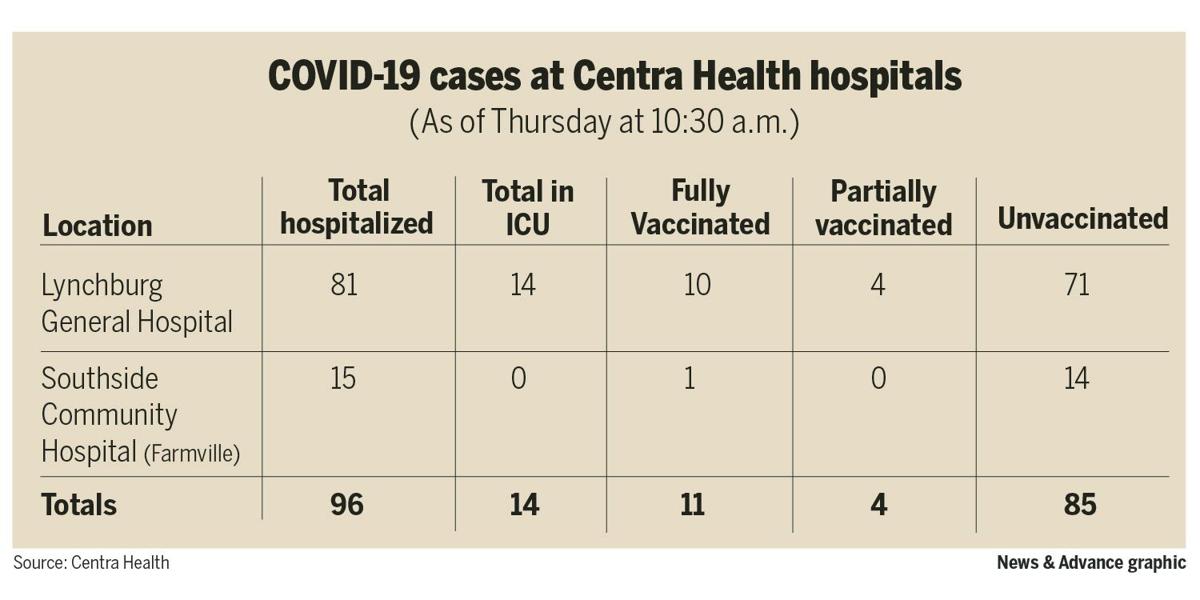 Amid rising hospitalization rates, Centra Health has started releasing information on the number and severity of its coronavirus cases.
Fourteen out of 81 COVID-19 patients at Centra's Lynchburg General Hospital are in the intensive care unit as of Thursday morning. Among the ICU patients, 10 were unvaccinated and two were partially vaccinated.
Ten ICU patients were ventilated as of Thursday morning. One of those ventilated patients is fully vaccinated and two are partially vaccinated.
In Lynchburg, the Virginia Department of Health reported 217 new COVID-19 cases on Thursday, bringing the number of new cases reported in the past 14 days to 1,406.
In Lynchburg, 38.5% of the population is fully vaccinated, according to the Department of Health. Across the Central Virginia Health District, which encompasses Lynchburg and the counties of Amherst, Appomattox, Bedford and Campbell, vaccination rates run from 40.1% to 43.9%.
Centra's catchment area for Lynchburg General Hospital and Southside Community Hospital covers Lynchburg and the surrounding counties, the Farmville area and several smaller satellite locations.