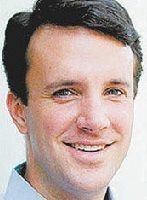 RICHMOND — Without public input, the House Rules Committee quickly cast aside a bill that would require every bill, resolution and budget amendment passing through the House of Delegates receive a recorded vote.
For the second year in a row, the bill died without a clear record of where each committee member stands.
In the 2016 General Assembly, 95 percent of bills killed by the House of Delegates died without a record, according to a report by Transparency Virginia, a coalition of nonprofits. According to the report, 72 percent of the chamber's bills died in subcommittees.
"That's where a lot of the actual work happens. It's where success and failure is determined largely in the House of Delegates," said Josiah Tillett, a Bedford County planning commissioner and Republican activist who attended the meeting in Richmond on Thursday. Activists, who volunteer for campaigns, and voters who elect legislators deserve to know where politicians stand to keep them accountable, Tillett said.
Failure to record votes in subcommittees protects legislators from tough choices that could anger their base or turn off the general election public, proponents say, a claim recently made by Del. Robert G. Marshall, R-Prince William. Marshall called a news conference to try and put public pressure on legislators to give his bill, which would require people only use the bathroom and locker room on their original birth certificate, a recorded vote. The bill died on a voice vote.
Tillett said he came prepared to speak but not necessarily expecting to. 
"They would rather conceal their true beliefs on a given issue from the public. It's safer for them for the coming re-election," Tillett said.
Members of the House Rules Committee, chaired by Speaker William J. Howell, R-Stafford, and packed with chairmen from the other committees, implied in a series of questions to Del. Ben Cline, R-Rockbridge, that recording every vote would be inefficient and too much work for the part-time job.
Majority Leader M. Kirkland Cox, R-Colonial Heights, said the House will field 375 commending and memorial resolutions alone this year, often passed to honor people or sports teams throughout Virginia. And requiring a vote on each of the 382 budget amendments would mean a significant process change, Cox said. The Appropriations Committee operates "in a very compressed time," Cox said.
"This would be a 50 percent increase in our workload," said Del. James P. Massie III, R-Henrico. Committee members can require a recorded vote if one-fifth of them agree to order one, he said.
Cline brought the same bill to the same committee last year. Megan Rhyne, Virginia Coalition for Open Government executive director, testified in favor of it then. She was present this year but not offered a chance to speak.
When asked why Virginia residents who came to testify were not offered the opportunity to do so Thursday, Howell said he didn't know.
"I guess no one stood up and said they wanted to speak," Howell said. It's the patron's responsibility to make that offer, he said.
When asked why nobody got to speak, Cline said he didn't know.
House Minority Leader David Toscano, D-Charlottesville, again asked why Cline hasn't asked for a rules change on the floor.
"This was the most immediate solution in front of me at the moment," Cline replied.
Assuming he is re-elected in November, Cline said he could propose the change to the House Republican Caucus ahead of session. He isn't sure whether he will.
"I will have to consider what my options are," Cline said. "This is the second year in a row the bill has been defeated. You have to ask yourself how many times you're gonna keep trying in this direction or whether you're going to consider trying for something else."