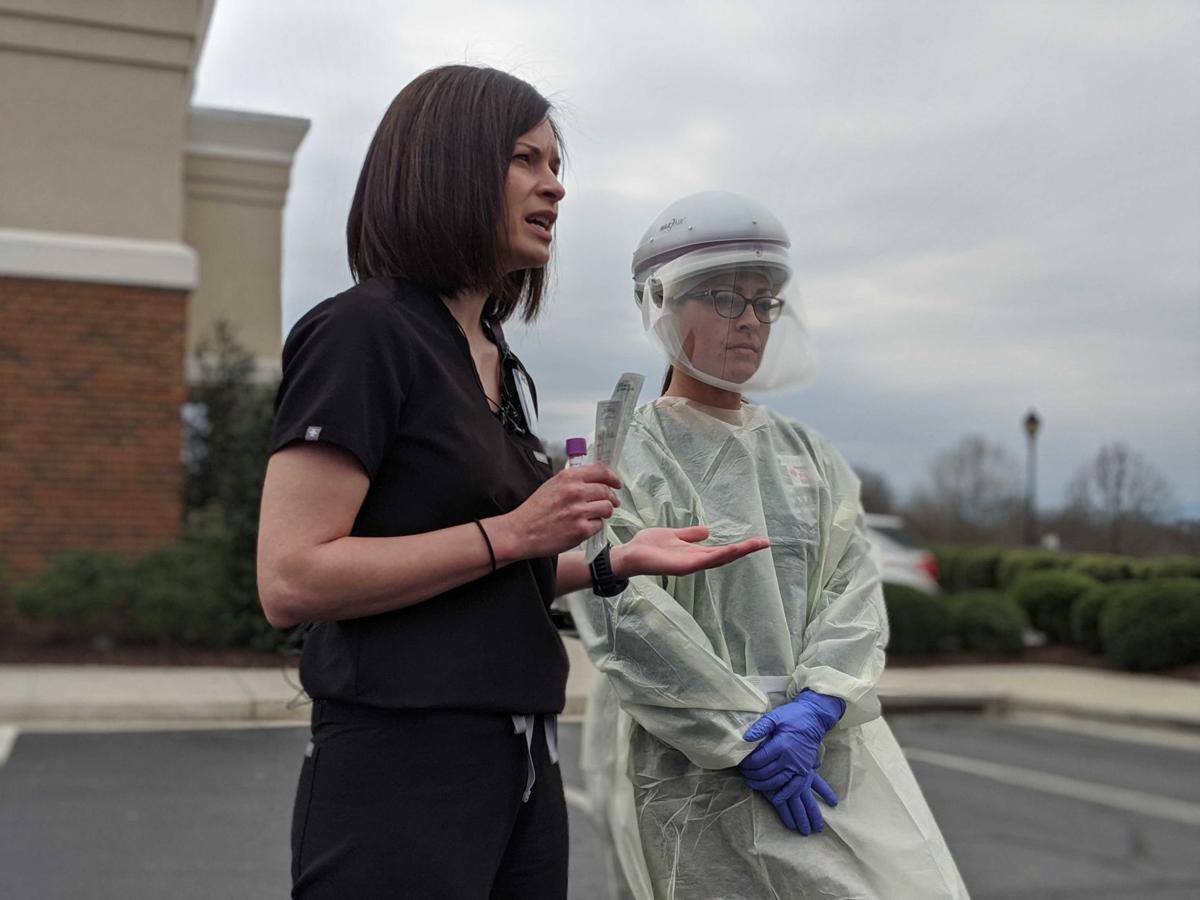 FOREST — People concerned they may be exhibiting potential symptoms of COVID-19, the disease caused by the novel coronavirus, have a few simple steps to take to ensure they're seen by a healthcare provider while helping slow the spread of the virus.
As confirmed cases in Virginia increase, Centra Health set up drive-up clinics for COVID-19 testing March 12 designed to minimize contact and maximize safety for its staff.
The Centra Urgent Care location in Forest saw an intermittent flow of people driving in Wednesday to seek medical attention, and Practice Administrator Amanda Turner walked through the screening and testing process.
The first step for people concerned about their symptoms is to call Centra's hotline at (434) 200-1225 or contact their primary care physician to discuss their symptoms and history. From there, they may be referred to stop by a Centra outpatient testing site: in Forest, Farmville, Bedford or Gretna.
Going to one of those sites helps stem traffic away from Centra's hospitals, Turner said, and the open air setting helps reduce the chance workers will come in contact with the virus. Lynchburg General Hospital and other Centra hospitals have designated separate testing sites.
Each outpatient testing location has a special coned-off section in its parking lot designated for testing, with a phone number visitors will call to check in.
"You're going to pull in, call the number, and a nurse is going to assess you when you arrive to see if you meet criteria for testing," Turner said.
If a patient meets the Centers for Disease Control and Prevention's criteria, another nurse in protective gear will walk the patient through the sampling process and get specimens from them, she said. That nurse will ask for demographic information and contact information from the person, including asking for the person's ID and insurance card in a plastic bag.
The testing kit consists of two swabs: one that goes inside the nose and one that goes inside the throat. Those swabs will be put into a test tube with a viral medium and sent to be tested in Burlington, North Carolina.
Turner said patients who've gotten a test will be advised to isolate themselves at home for two weeks, and results from the test will be relayed back to the person within about one week.
"The entire process probably takes less than 10 minutes, and then you'll be given information to follow up at home," she said.
Turner and Centra spokeswoman Diane Ludwig declined to quantify the number of tests Centra has performed and sent off for results. Turner called their supply of tests "limited."
Rachel Mahoney covers courts for The News & Advance. Reach her at (434) 385-5554.
Rachel Mahoney covers courts for The News & Advance. Reach her at (434) 385-5554.
Concerned about COVID-19?
Sign up now to get the most recent coronavirus headlines and other important local and national news sent to your email inbox daily.