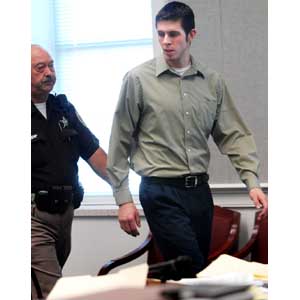 AMHERST — In a marathon day of testimony Thursday, jurors heard testimony from the son of a recently resigned Amherst County sheriff's deputy — the man charged as a codefendant in the slaying of a 19-year-old Naola man in May.
Though the day started with blistering questioning of an 18-year-old girl at the heart of a love triangle believed to have been the motive behind the slaying, jurors seemed riveted to the testimony of Justin Davis, a man accused of taking part in the May 3 slaying of Justin Baumgardner.
It was the second day of the trial of 22-year-old Iraq war veteran Timothy Wright Jr. Wright is charged with first-degree murder, shooting at an occupied vehicle, shooting from a vehicle and use of a firearm in the commission of a felony.
Commonwealth's Attorney Marcia Garst believes Wright killed Baumgardner because he was jealous of his past relationship with Wright's girlfriend, Nicole Turpin.
Wright's defense attorney has countered that the deputy's son actually did the shooting that night and that his ties to the sheriff's office resulted in a bungled investigation at least and a cover-up at worst.
Davis testified Thursday that he had only known Wright for about a month at the time of the May slaying, but that the two of them spent time together almost every day. On May 3, he testified, Wright called him and told him they were going to Monacan Park off Virginia 130 because Baumgardner and Turpin were supposed to be there together.
"He's talking like he's going to whup Justin Baumgardner," Davis said.
After making one pass through the park in Wright's truck, Davis said, they came back through. This time, seeing Baumgardner and Turpin together, Wright pulled in behind their vehicles, slammed the truck to a stop and got out to confront Baumgardner, Davis said.
Davis testified he tried to stay in the truck and didn't want to get involved, but eventually got out to break up the argument and to help Baumgardner back his own truck out to leave the park before a fight broke out.
Although he testified that he and Wright left the park as much as 10 minutes after Baumgardner, security camera video from a convenience store at the intersection of Virginia 130 and the park road played for the jury Thursday showed a truck appearing to be Wright's follow Baumgardner seconds after he turned west on Virginia 130 on his way home.
Davis, however, said when Wright turned west onto the roadway, he didn't understand what was happening, just that when he saw taillights ahead, Wright said, "Kill Justin."
That's when Wright pulled a gun out from under the driver's seat, Davis said — a gun Davis recognized by the holster as his own .380-caliber pistol.
Wright then told Davis to slide underneath him and to take over driving, he testified. He said Wright told him to speed up and to pass Baumgardner's truck. As they did, Davis said, Wright rolled down the window and shot at Baumgardner's truck.
They then turned around on Virginia 130 and headed toward Davis' home at the Izaak Walton park just north of Madison Heights. Davis said Wright said, "I do not miss," and "dead witnesses don't talk."
That night, Davis testified, he tried to call Steve Davis, his father, who was on duty that night as a deputy to tell him what had happened and to ask for help. His father, though, testified he was busy at the time with an attempted suicide and couldn't remember if he had even talked to his son that night.
Baumgardner's bullet-riddled truck was found the next morning a few hundred feet up Virginia 130 in a driveway. He was found dead inside, shot through the lung and heart.
It was May 5, two days after the shooting, before Davis, now charged with being an accessory to murder, told his father anything about the incident. And when he did, it was to report his gun as being stolen. He later told deputies Wright had kidnapped him.
When questioned by Wright's lawyer, Greg Smith, about why he had lied to investigators and why he had continued to socialize with Wright, he said he was afraid of what might happen if he did otherwise.
"He kept telling me, 'Dead witnesses don't talk,'" Davis said.
During the hearing, however, Wright's lawyer solicited testimony about Davis' pistol from several witnesses that seemed to be in conflict with Davis' claims that he was surprised to see Wright with the gun that night.
In questioning Turpin, Wright's former girlfriend, Smith pointed out that at an earlier hearing, she testified she saw Davis playing with the gun at Monacan Park while Baumgardner and Wright were arguing.
The girl also testified she had seen Wright with Davis' gun at least twice before
Three other witnesses testified that on different occasions before the slaying, Wright had showed them the gun and had told them it belonged to Davis.
"I would never give my pistol to anyone to use," Davis testified.
A state crime lab expert testified Thursday night that Davis' fingerprint was found on a piece of plastic inside a box used to hold .380-caliber cartridges.
The trial is expected to resume this morning.
- Steve Davis testified he resigned from the sheriff's office two weeks ago because of his relationship with a woman living at the Izaak Walton park at whose house Wright sometimes stayed, but did not elaborate.
He also testified he suspected Wright and his son's pistol were used in the slaying but did not tell his supervisor at the time.
- Turpin admitted changing her story over the course of six different interviews with investigators and that her statements about Wright became more incriminating as they went along.
- An Alltel representative testified calls to Wright's mobile phone that night showed he was likely in the area of Monacan Park, according to the towers used to make the calls.
- Two Marine Corps recruits who testified Wright showed them Davis' pistol before the slaying could not identify him in court.
- Davis and one of the recruits, Aaron Sprouse, testified that Wright had bragged about killing women and children while fighting in Iraq.