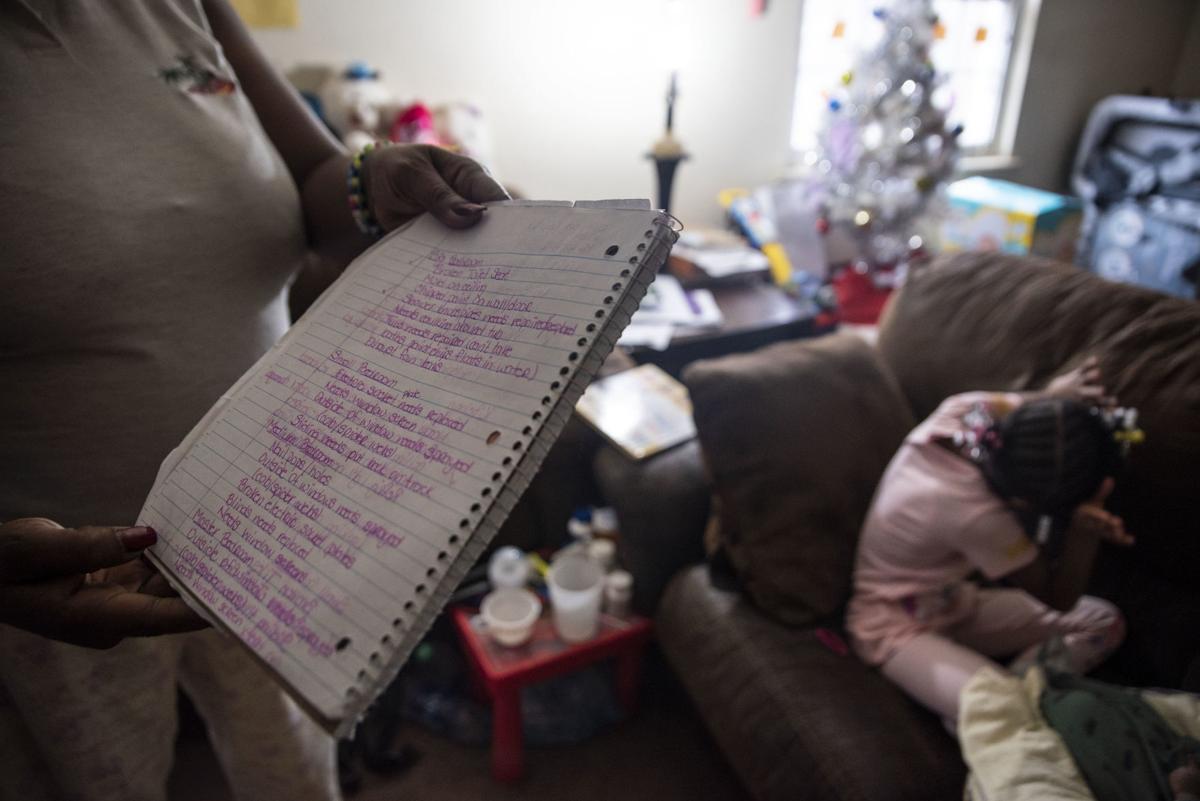 Legal action taken against the company that owns the James Crossing apartments in Lynchburg over unaddressed maintenance issues continues, with more tenants having filed complaints in recent months and a judge ordering the company Friday to put one tenant in a hotel room for what'll likely be more than a month.
Six current or former tenants at the low-income housing complex have filed cases through Virginia Legal Aid Society attorneys, seeking a court injunction to get a number of maintenance issues, including mold and water damage, fixed beyond what tenants have called "Band-Aids" on deeper problems.
For three of those tenants who filed cases last fall, Lynchburg Circuit Judge Fred Watson entered an order on Sept. 25 making Atlantic Housing Foundation, the Dallas-based nonprofit that manages James Crossing, pay for hotel accommodations for them until specified lists of maintenance issues were addressed.
The tenants' attorneys filed motions in early March to find AHF in contempt of those orders.
Taking the stand Friday in Lynchburg Circuit Court, those tenants testified they were all put in hotel rooms for a week before property management ushered them back into their units, only in slightly better shape than they left them.
"Maybe one thing in my apartment was fixed," said Latarsha Haskins, one of the tenants who ended up moving out of the complex.
All three said the mold in their units remained and described how maintenance workers would spray bleach on those spots and wipe them off.
Suzanne Claxton, a regional property supervisor with AHF, described work orders that listed repairs conducted on their units.
Most were opened in August, when attorneys for the tenants first wrote letters to AHF about their conditions, and closed around when the court order was entered.
Claxton said AHF had contracted for mold testing to occur, but no remediation took place. She said AHF had contracted with a restoration company to address the mold issues by November but had yet to be added to its schedule. AHF then contracted with another company on March 26 but was told it would be four to six weeks before crews could get to the apartments.
Circuit Judge Mike Doucette found AHF in contempt of the September order in all three cases on Friday, ordering that one tenant be relocated to a hotel at no cost to her until the mold in her apartment was taken care of.
Three other tenants with similar issues filed cases in January, and attorneys told Doucette they'd draw up an agreed order for those cases to be signed early this week.
While the details of maintenance requests for those tenants are still being hammered out, any who are still living at James Crossing should be put up in hotels as per that order, and AHF will be relaying regular status updates to the tenants and the court, according to Jeremy White, managing attorney with VLAS, who's leading the James Crossing cases.
Bryan Grimes Creasy, the attorney representing AHF on the case, said after Friday's hearing the company is committed to addressing the maintenance issues at the complex and is on the same page as White and his team.
Claxton added AHF is waiting on approval from the Department of Housing and Urban Development on a $28 million bond deal that the company would use to gut the buildings and completely renovate them. Creasy said the company is moving in the right direction.
"It's going to be a great community," he said. "I mean, it's going to have everything."
Considering the challenges in contracting for mold remediation, White said he was concerned with the pace of maintenance and building work. He said he hoped the contempt finding would serve to get AHF moving on deferred issues but fears maintenance issues aren't being properly remedied for tenants without attorneys involved.
"We're just seeing the fruit of kicking the can down the road for years on these properties," he said.
Doucette postponed his disposition in the contempt cases until mid-June, when White's team would argue monetary sanctions and attorney's fees be imposed.