BEDFORD — Just more than three years after the shooting death of a Forest man, the last chapter in his murder case was closed Friday with the sentencing of the fourth and final defendant involved in what's been described as a robbery turned fatal.
Robert Du'rille Goodman, 21, of Altavista, pleaded guilty to second-degree murder, robbery and three firearms charges in May — one of three men to face those charges from the death of 22-year-old Aaron Brumfield, along with a woman driving them that night who faced different charges. He was sentenced Friday to 20 years in prison for his role.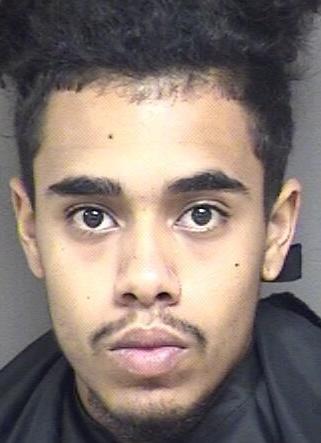 Goodman and his co-defendants came to the River Oak Drive residence where Brumfield and a roommate lived on the night of Sept. 7, 2018, scoping out the home before entering through an unlocked kitchen window, according to evidence that's been recounted in Bedford Circuit Court several times.
He and two other men were clad in black with black masks on, intending to rob Brumfield, who prosecutors said was a small-time marijuana dealer. They burst into his roommate's room mistakenly at first, demanded money, then proceeded back out to the hall when the roommate expressed confusion.
Brumfield emerged from his room with a gun, according to defense attorney Aubrey Rosser, and the two men with Goodman fired at Brumfield as they ran away down the hall and fled the house. Brumfield suffered a gunshot wound to the torso and arm and died at the scene, but his roommate wasn't harmed.
Testifying at his sentencing hearing Friday, Goodman said he joined up with the others that night to smoke weed with his cousin, Tevante Deshaun Pannell. Goodman recently had reconnected with Pannell and had met Trevor James McIntosh, another person in the group through Pannell about a week prior.
But Goodman helped pick up dark clothing and shoes from the Wards Road Walmart after the others picked him up, he acknowledged under questioning from Deputy Commonwealth's Attorney Stacey Stickney, indicating he knew what was about to happen that night. The others already had picked up masks, gloves and ammunition before coming to get him.
Goodman said Friday he turned himself in, cooperated with law enforcement and never denied taking part in what happened that night. He's consistently denied bringing a gun into the residence himself, though Stickney cast doubt on that, saying Brumfield's roommate reported seeing guns on all three intruders and noting it would be odd if Goodman was the only one without a gun.
Members of both Brumfield's family and Goodman's family were present at the hearing, Brumfield's family mourning his loss and Goodman's mother and coach saying they hadn't known him to be violent or a troublemaker. Goodman's mother said he had turned 18 a month before the incident.
Stickney acknowledged Goodman's cooperation helped convict his co-defendants: Pannell and McIntosh both were sentenced to 48 years in prison, while Nadia La'sha McDaniel was sentenced to eight years in prison for her role as driver that night. But Stickney added Goodman still was an active participant in the robbery-turned-murder and asked for an unspecified "lengthy" sentence for him.
Rosser, representing Goodman as his defense attorney, asked Bedford Circuit Court Judge James Updike to consider Goodman's impressionable age at the time, his cooperation with law enforcement and to consider he was a "third wheel" that night in asking for a shorter sentence.
Updike sentenced Goodman to a total of 20 active years in prison, nine of which are mandatory minimum years for his firearm charges.
After Goodman's release, he'll be on supervised probation for five years and needs to be on good behavior for 10 years. He is forbidden to have any contact with Brumfield's family, his roommate or his roommate's family, and will receive credit for the three years he's already spent in jail.