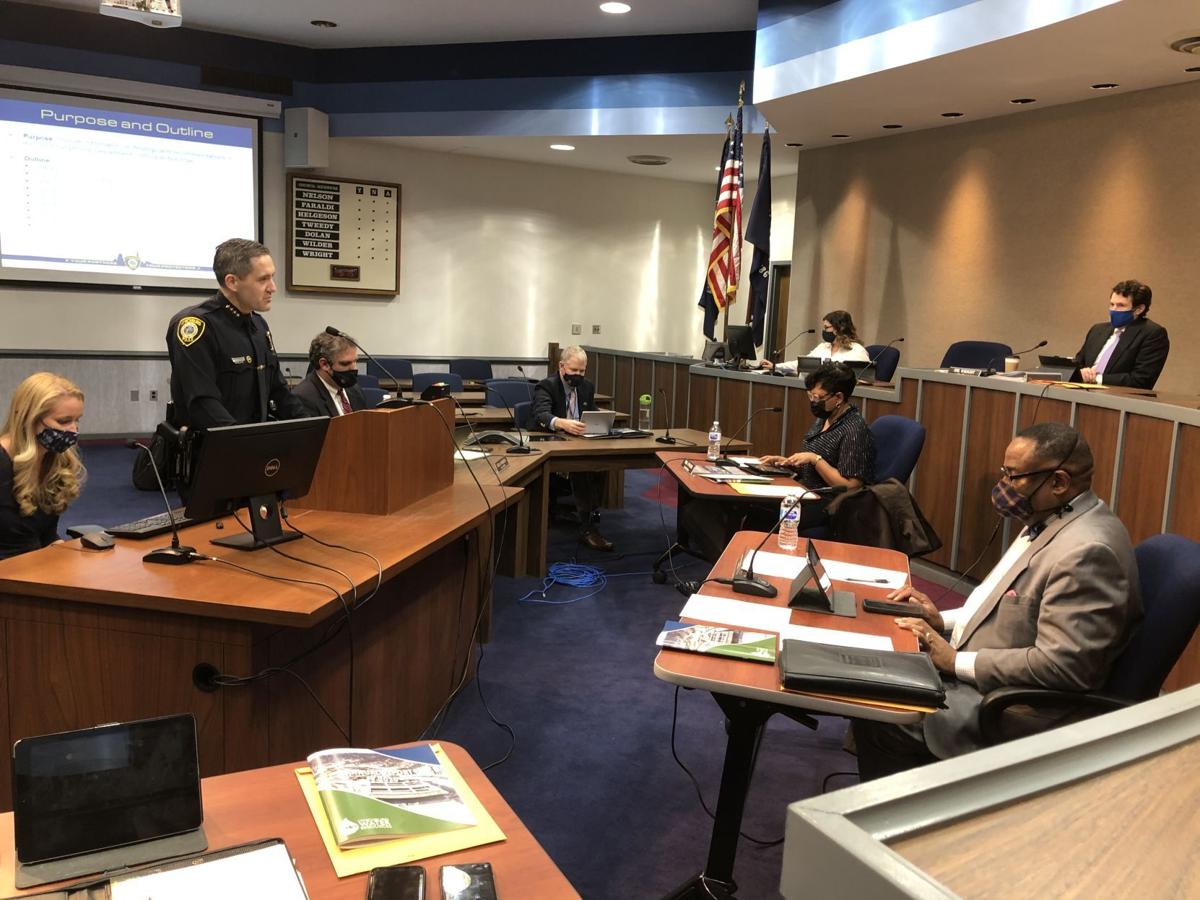 In a bid for greater transparency, Lynchburg police plan to publish information online detailing use-of-force incidents, complaints filed against officers, traffic stops and officer interactions with city residents.
"We're going to include a ton of things," Police Chief Ryan Zuidema said of the department's planned website at a Lynchburg City Council work session Tuesday. "The idea there is that it is going to be a kind of one-stop shop, for a lack of a better term, where you can go and gather as much information as you want."
The website, now under construction, is a key part of the department's new "action plan" aimed at strengthening trust between law enforcement and city residents. The plan, which Zuidema outlined Tuesday, was developed in response to local protests organized in the wake of the death of George Floyd while in police custody in Minneapolis.
A review of annual police reports and internal department memos by The News & Advance last year found Lynchburg police officers were the subject of more than 200 formal complaints between 2015 and 2019.
Local activists have called on police to make those records more easily accessible, including hosting the data online. Previously, the information was available only through open-records requests. Last summer, the department began accepting complaints through an online form for the first time in response to public feedback.
The nine-page action plan, which was published online last week, incorporates suggestions and criticism police received last summer from local activists and community members who spoke at six police- organized listening sessions.
"We got a lot of good feedback," Zuidema said. "We took the information we heard from residents to heart."
In addition to hosting use-of-force and complaint data, the website will detail crime trends in the Hill City and its four individual wards, including the number of assaults committed against officers. The website also will catalog the number of mental health-related calls, the amount of opioid overdoses and demographic information of the people arrested by police.
Other goals, according to the plan, include holding quarterly town halls open to the public, hiring more officers of color and increasing the number of officers who receive mental health assessments.
Police spokesperson Carrie Dungan said the updated website is expected to go live in about a month. She said the website will be updated at least once a month.
In his remarks to city leaders, Zuidema also highlighted steps the department already has taken to address community concerns, including establishing a team of police supervisors tasked with responding to critical incidents and relaying information to the public in a timely manner.
Zuidema noted City Attorney Walter Erwin also has begun reviewing all new use-of-force incidents and vehicle pursuits to determine if officers violated city policies or the law. He said the department instituted a new protocol last year barring officers from searching cars based solely on the smell of marijuana.
Zuidema also said the department has taken steps to increase the involvement of an internal advisory group made up of 21 city residents. The group, founded in 2015, has traditionally offered policy suggestions and relayed community concerns with police officials. But last summer, Zuidema said, the group also began reviewing officer complaints and use-of-force incidents.