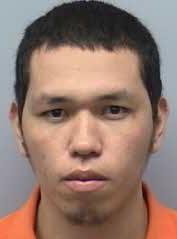 BEDFORD — The trial for a man accused of being a member of the MS-13 street gang and murdering a Lynchburg teen in 2017 will be pushed back another year for COVID-19-related reasons.
Josue Moises Coreas-Ventura, 24, was scheduled for a jury trial in Bedford Circuit Court starting April 19, but his attorneys argued the need for a delay on Tuesday. He's charged with capital murder, gang participation and other crimes in connection with the death of Lynchburg teen Raymond Wood in March 2017.
Six men have been charged or convicted in Bedford County as a result of Wood's death.
Victor Arnoldo Rodas was convicted of first-degree murder and sentenced to 55 years in February 2019 and Kevin Josue Soto Bonilla was found guilty of capital murder and received a life sentence in December 2019. Lisandro Antonio Posada-Vasquez has pleaded guilty to capital murder and Juan Martin Hernandez has pleaded guilty to being an accessory after the fact to murder, but neither have been sentenced. Cristian Jose Sanchez Gomez, who has testified in trials, hasn't yet stood trial on his own charges.
In the trials of his co-defendants, evidence has identified Coreas-Ventura as a "homeboy," or mid-ranking member of the violent street gang MS-13. He and other gang members were living around Lynchburg and buying marijuana from Wood, prosecutors have said, when they felt they were slighted by the teen after a purchase and subsequently got permission from higher-ranking gang members to kill him.
Wood's mangled body was found off of Roaring Run Road by a passing driver the night of March 27, 2017, prompting in-depth investigations that crossed state and national lines and marked the first time Central Virginia has seen such a high-stakes crime attributable to the gang.
Chris Kowalczuk, one of two attorneys representing Coreas-Ventura, argued Tuesday for a trial starting in February 2022. He counted several hurdles to building his client's case imposed by the coronavirus pandemic, including a travel ban to El Salvador, where Coreas-Ventura grew up and where his team would collect vital mitigation evidence, and a lockdown in transfers from federal prisons, where witnesses in his case are being held.
Bedford Commonwealth's Attorney Wes Nance objected to the continuance, saying the availability of vital witnesses to testify in the case will be jeopardized the longer it drags on. He said Coreas-Ventura's team has been available to him well before the pandemic, having been appointed both a mitigation expert and investigator in June 2017 and both a bilingual mitigation expert and local investigator in El Salvador in February 2020.
"We've found new ways to do our job" during the pandemic, Nance argued.
Kowalczuk responded that even with the investigator based in El Salvador, the defense hasn't been able to work adequately during the pandemic to build Coreas-Ventura's defense and insisted at least one of the attorneys would need to travel there.
Nance also said he'd be willing to shift the trial from a jury trial to a bench trial, which would require fewer people in the courthouse. But Kowalczuk said his client is demanding his constitutional right to a trial by jury.
Bedford Circuit Judge James Updike granted the continuance after weighing the needs expressed by both sides. While Nance's burden of proof might well become heavier with the delay, he said, it's essential that both entities are prepared for trial.
Updike also noted that despite jury trial plans for his court receiving approval from the state in December, he's postponed them in the interests of public health, with COVID-19 spread and hospitalizations recently hitting all-time highs.
Future hearings for Coreas-Ventura's co-defendants are either scheduled to occur in May or will be scheduled by attorneys in May for a future date. He's being held at the Roanoke Sheriff's Office.