The Lynchburg Daily Bread anticipates this Thanksgiving will be the busiest day in its nearly 40-year history as it prepares 700 meals.
Last year, the nonprofit, which provides free meals to the community, at 721 Clay St. served 532 people, executive director Tracey Dixon said.
"I think people are getting pinched with reduced work hours and inflation and it's kind of a one-two punch where things at the grocery store cost more," she said. "So we're seeing a lot more low-income to middle-income families."
She said there has been an increase in need from people who previously never needed the extra help.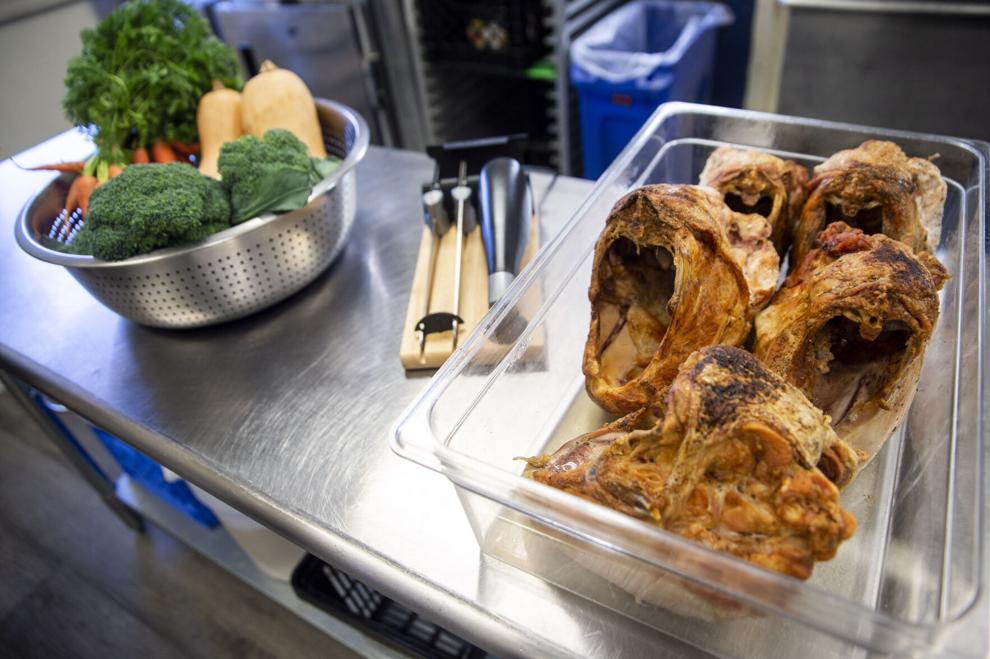 October was the busiest month yet at the food kitchen, where 13,088 meals were served, Dixon said.
"And we've never broken even 12,000 before, so all indicators are that Thanksgiving is going to be a really big, important day," she said.
The Daily Bread began prepping early Monday morning, getting turkeys seasoned and ready to cook. Those will be coupled with a dozen pans of green beans and stuffing and gravy, which have been donated.
Holcomb Rock Baptist Church and Warm Streets have pitched in to donate all of the turkeys, Dixon said.
Rick Hughes, director of Warm Streets, a local nonprofit dedicated to serving the homeless and near homeless of Central Virginia, said the organization bought 30 boneless deep-fried turkey breasts and 1,000 thin slices of smoked turkey breasts to donate to The Daily Bread this Thanksgiving.
They also purchased 700 servings of gravy and stuffing from catering company The Purple Door at a massive discount.
Hughes said the 30 turkey breasts were bought at the Food Lion on Memorial Avenue and the thin slices came from Sam's Club.
"Both grocery stores had to do some fancy footwork to make sure everything would come in and come in on time because of the supply shortages," he said.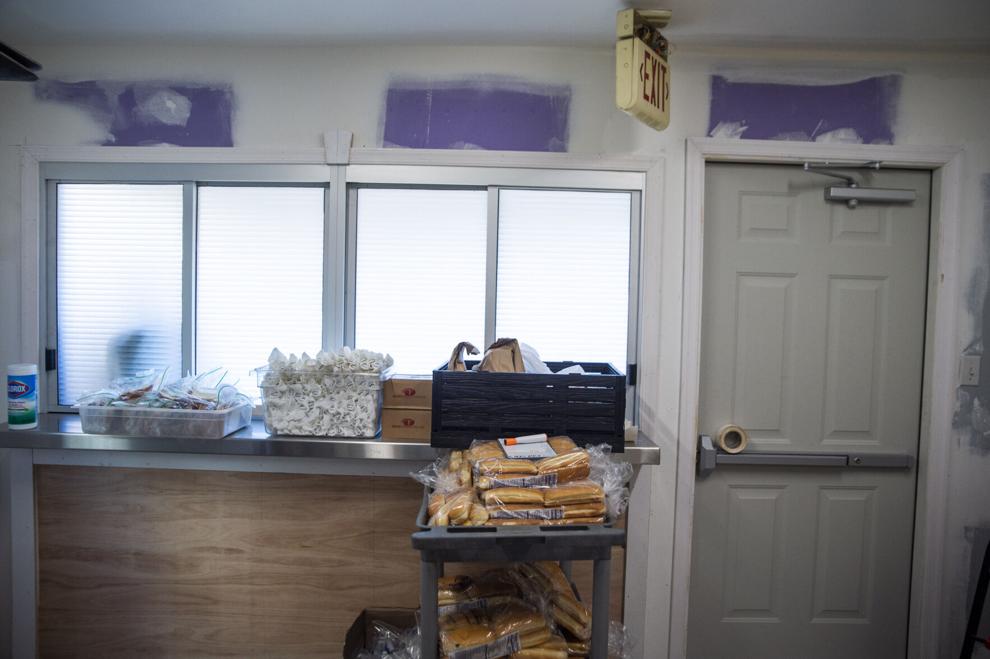 Conner Produce has provided a good deal on 700 apples and will deliver them for free, Hughes said.
"So this is as much about how caring companies support the organizations that serve the homeless as anything," he said. "We are really honored to be a small part of what these fine organizations do every day."
Warm Streets is run entirely by volunteers, accepts no government help, serves the homeless and near homeless no matter their race, gender or world view, Hughes said.
"Our inspiration for over 10 years of service is, 'I was cold, and you covered me,'" he said.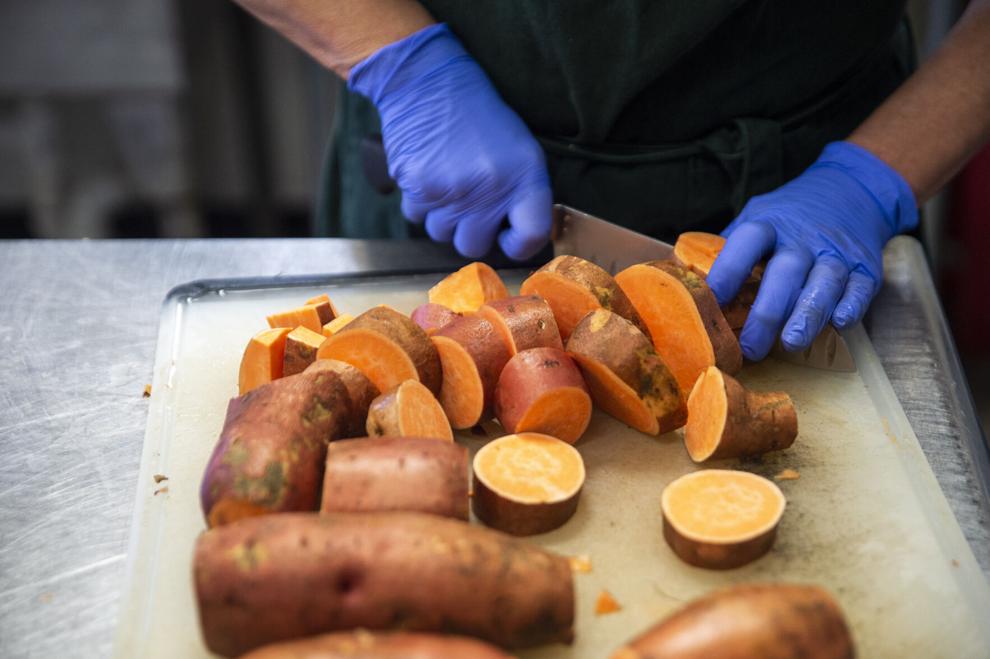 Thanksgiving can be a very expensive meal. Whole frozen turkey prices are up about 20% this year to an all-time high, reported Bloomberg News, citing the U.S. Department of Agriculture. Retail prices for milk, sugar and other staples are at multiyear highs.
Families that are struggling don't have $50 to spend on a turkey and its trimmings, Dixon said.
"It makes sense they come here," she said. "It makes sense that it is one of our busiest days."
The most meals served in one day is about 600, so Dixon is hopeful that 700 servings will be enough.
"We have plenty of food in the event we should run out," she said. "It's a little bit scary. We've never done this much in one day."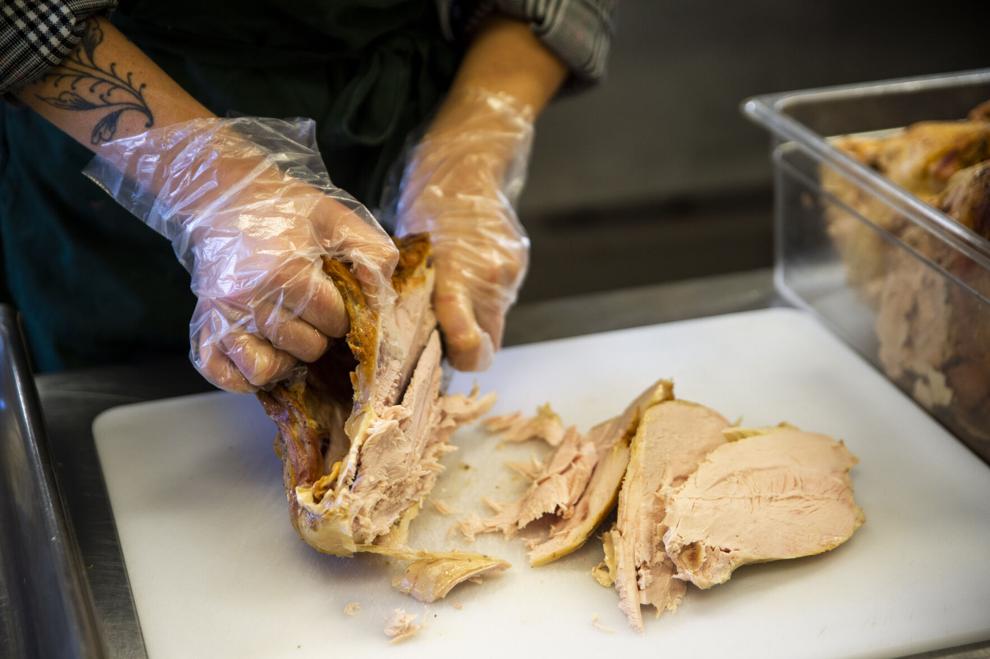 Dixon said she hopes volunteer staff — 10 to 14 of them — will be able to use the new double-serving window which was just completed.
With a growing need of feeding more of the community, The Daily Bread is completing renovations that will allow more recipients to pick up to-go meals and will create a larger kitchen to cook those meals.
The organization will create two to-go lines where the waiting room is now.
Dixon said there can be up to 25 people at a time waiting outside, and the two lines will allow for more volunteers to serve in a faster and improved manner.
She said the day is like a big community fest.
"We pull from all of our friends, all our volunteers, all of our restaurant partners, and everybody gets pumped up and gets it done," she said. "And it'll be very festive and very busy Thursday morning. We're ready and we'll see what the day brings."