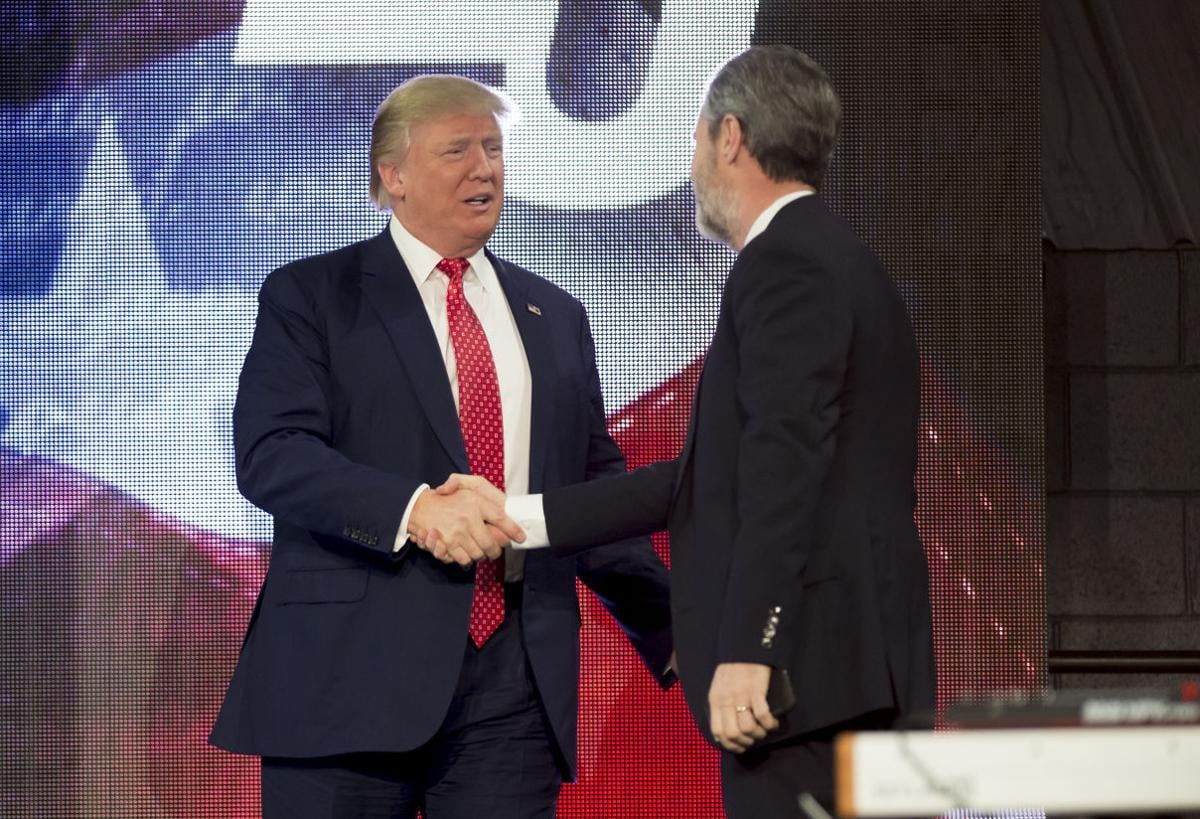 Mark DeMoss, who had been the chairman of the executive committee of Liberty University's Board of Trustees, resigned from the board last week in the wake of disagreement with other executive committee members over his public criticism of President Jerry Falwell Jr.'s personal endorsement of Donald Trump.
The seven-member executive committee plays an important role in governance of the university — with the power to do almost everything the board can do, when the full board is not in session, said Attorney David Corry on Friday, who was designated to serve as spokesman for the board about the resignation. Falwell also participates on the committee, as does board chairman Jerry Prevo.
Powers of the committee include tasks like evaluation of the president, dealing with nominations to the board and recommendation of the annual budget to the full board for approval. Board member Harvey Gainey has replaced DeMoss as chairman.
DeMoss is the son of Arthur DeMoss, an important early donor to Liberty University, for whom DeMoss Hall is named. Mark DeMoss attended Liberty University and became a spokesman for Jerry Falwell Sr. at age 24, according to News & Advance archives. He moved to Atlanta in 1991 to start his own public relations firm and counted Falwell Sr. as a client until 2001, also according the newspaper's archives.
In an interview with The Washington Post the day before the Super Tuesday primaries, DeMoss critiqued both Trump and Falwell's endorsement of him.
"I've been concerned for Liberty University for a couple of months now, and I've held my tongue," DeMoss said in part of one of the half-dozen quotes used in that article. "I think a lot of what we've seen from Donald Trump will prove to be difficult to explain by evangelicals who have backed him."
In an interview with The News & Advance on Friday, DeMoss said during a meeting of the executive committee on April 21, he recused himself to allow Falwell and other committee members to have a conversation about their concerns with him.
Almost all of the remaining members of the seven-person committee said they hoped to see DeMoss leave the committee, Falwell said in an interview Friday.
DeMoss said after he was informed of what he understood to be a consensus against his continued service, he announced to the board his resignation from the executive committee.
Falwell asked him to continue to serve on the board, but in another committee. A few days later, though, DeMoss sent an email to Falwell and a few others announcing his resignation from the board.
"It was primarily this: I felt like there was a fundamental lack of trust that would make it difficult to continue serving," he said.
He said leaders questioned whether he'd spoken to The Washington Post at the request of a rival campaign or Republican political leader.
He was frustrated to feel they hadn't believed what he said in the letter he sent Falwell a couple days after the Post article ran, stating the contrary.
"Most importantly, my love for your father, your family, and Liberty University runs very deep and I wanted to give voice to the many others who also love the school and your father but are very uncomfortable with this association with Donald Trump …" DeMoss said he wrote as part of that letter.
"I just concluded as I drove home to Atlanta that Friday that if they could not accept my word, carefully presented in six paragraphs, and were going to challenge my motives, I couldn't continue to serve if we didn't have more trust than that," he said Friday.
On Friday, Liberty released the following as part of a written statement:
 "Individual board members have varied reasons for their displeasure regarding Mark DeMoss' comments to the Washington Post, most of which are not related to his disagreement with Jerry Falwell's personal endorsement of Donald Trump or a belief that Mark DeMoss' motivations were entirely political.  Liberty would prefer to not inventory or detail all these reasons."
Reached by phone, Corry said the "very fact" that DeMoss made comments about being concerned about Liberty in the Post — and criticized Falwell's presidential performance while serving as executive committee chairman — was an issue.
Falwell stressed he fully supports people associated with Liberty backing different candidates than Trump if they so choose.
"The problem here has nothing to do with my disagreement with Mark about who should be the president," he said.