The first time veteran Harlow Reynolds heard of Desmond T. Doss, he was sitting with a group of friends at the Stadium Inn on Fort Avenue in 2005, discussing famous people from Lynchburg.
Reynolds joked he was the most famous Lynchburger from Easley Avenue, a street off Campbell Avenue in the Fairview Heights neighborhood, said his friend Paul Manly.
Another friend piped in to tell Reynolds that he, in fact, was not. That honor went to the late Desmond Doss.
"Harlow said, 'Well who is Desmond Doss?'" Manly recalled.
Born in Lynchburg, Cpl. Desmond T. Doss became the first conscientious objector to receive the Medal of Honor for his heroics during the Battle of Okinawa, which many consider the bloodiest battle in the Pacific.
His story now is reaching millions of Americans in the new Mel Gibson film, "Hacksaw Ridge," which opened in theaters nationwide Friday.
"It's an opportunity for other people to know that Lynchburg had a hero," said Manly, a former veteran himself. "The entire story as I know it, it's a movie plot right from the start."
The son of William and Bertha Doss — a carpenter and a factory worker at Craddock-Terry Shoe Corporation's West End plant, respectively — Doss grew up in Fairview Heights, a then-rural area just outside Lynchburg.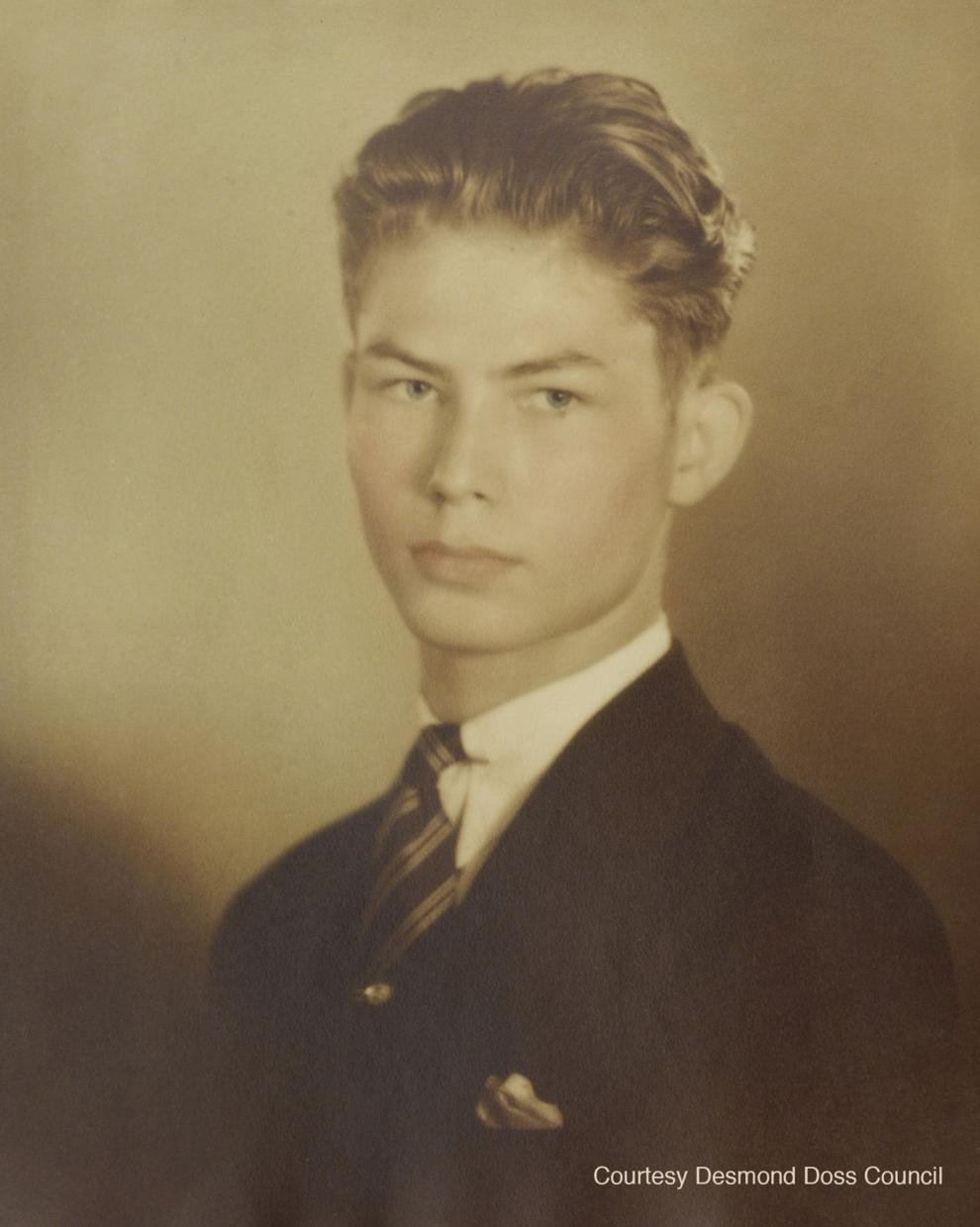 The Dosses and their three children, of which Desmond was the middle child, attended the Park Avenue Seventh-day Adventist Church, now located on George Street as Lynchburg Seventh-day Adventist Church.
Doss never went to public school, instead attending the church's small school through eighth grade, after which he got his first job at the Lynchburg Lumber Company, according to his memoir, which was written by his second wife, Frances.
A year later, he started work for the city, she wrote, and eventually took a job as a joiner at the Newport News Naval shipyard.
Following the attack on Pearl Harbor in 1941, Doss voluntarily enlisted in the U.S. Armythough his job at the shipyard could have secured him a deferment, a decision that left him to reconcile his desire to serve his country with his religious beliefs.
Doss, who believed strongly in the Gospel and especially the Sixth Commandment, refused to carry, or even touch, a weapon and was therefore labeled a conscientious objector, a title with which he strenuously disagreed.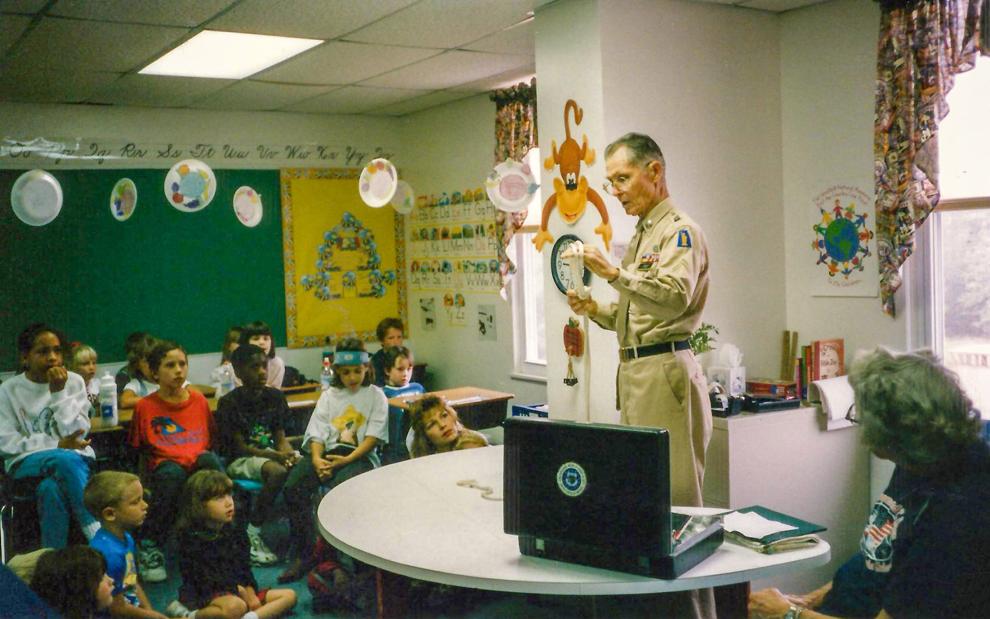 Unlike most conscientious objectors, who refused to wear the uniform or salute the flag, Doss simply would not hold a weapon and would not work on the Sabbath.
"I felt like it was an honor to serve God and country. We were fighting for our religious liberty and freedom," Doss said in "The Conscientious Objector," the award-winning 2004 documentary chronicling his heroism. "I tried to explain I was not that type of conscientious objector. I tried to explain I was a conscientious cooperator."
His superiors originally placed Doss in a rifle company for the purpose of breaking him, according to the documentary. There, he faced numerous hardships and abuse from both his commanders and fellow recruits.
Through verbal and physical attacks, the worst personnel assignments, threats of court marshal and attempts to have him removed from the Army under Section 8 — mental instability — Doss refused to yield on his commitment to not touch a weapon and was eventually made a medic for the 77th Infantry and deployed to Guam, Leyte and eventually Okinawa.
"I knew if I ever once compromised, I was going to be in trouble," Doss said in the documentary. "Because if you can compromise once, you can compromise again."
Once in Okinawa, Doss and the 77th faced their greatest challenge yet: capturing Hacksaw Ridge, the highest point of the Maeda Escarpment, a 400-foot fortified slope topped by a 40-foot cliff, which ran along the southern part of the island.
This ridge served as a strategic military position for the Japanese with multiple defensive and attack points against the American troops. Overtaking it would change the tide of the war.
Thousands lost their lives taking the ridge, including many men in Doss's unit. It would have been more save for Doss's efforts.
During a particularly brutal assault on the escarpment, the medic singlehandedly saved 75 of the wounded soldiers by lowering them down the cliff to safety with a rope he tied to a tree stump and a knot he had mistakenly created during basic training — the double bowline. His version of the military-taught bowline knot doubled over the rope, which created two loops instead of one.
"As little kids, we thought [the story] was the coolest thing ever," said Iraq veteran Joshua Wright, who met Doss during his time as a student at Lynchburg's Desmond T. Doss Christian Academy.
"Mr. Doss was really small and even as a small kid … I remember how small he was," the veteran said. "Purely from his human form and size, it would have been impossible without God to do what he did. He was frail. I probably could have wrapped my fingers around his bicep and touched my fingers together as an adult."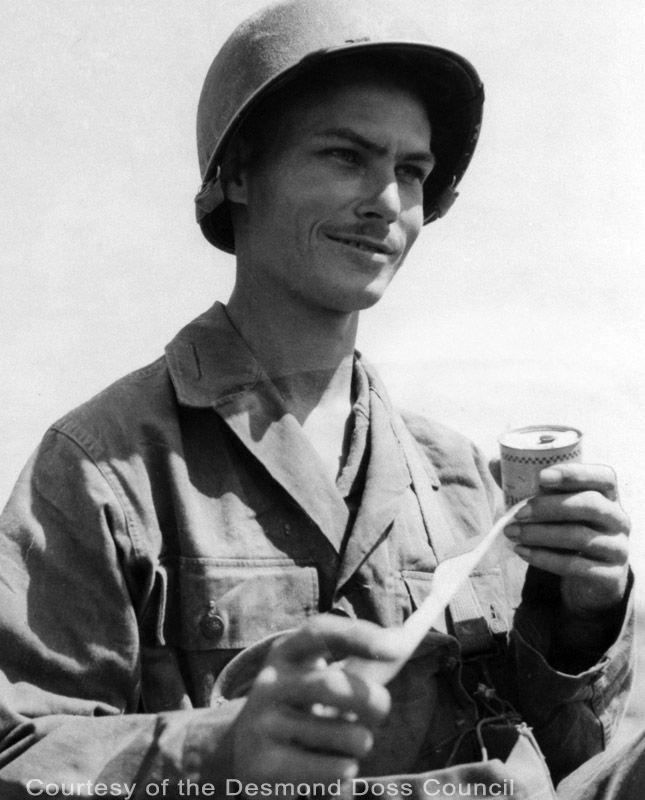 For hours on that day in May of 1945, Doss dragged men to the edge — many of the same men who tormented him in basic — and lowered them down to safety all while facing a barrage of enemy fire.
"It amazed me that he was never shot [that day] because he was out there by himself," recalled Wright. "I asked him one time, I said, 'How did you get so lucky?' And I will never forget his response. He said, true to who Mr. Doss was, 'It wasn't luck. It was God who took care of me.'"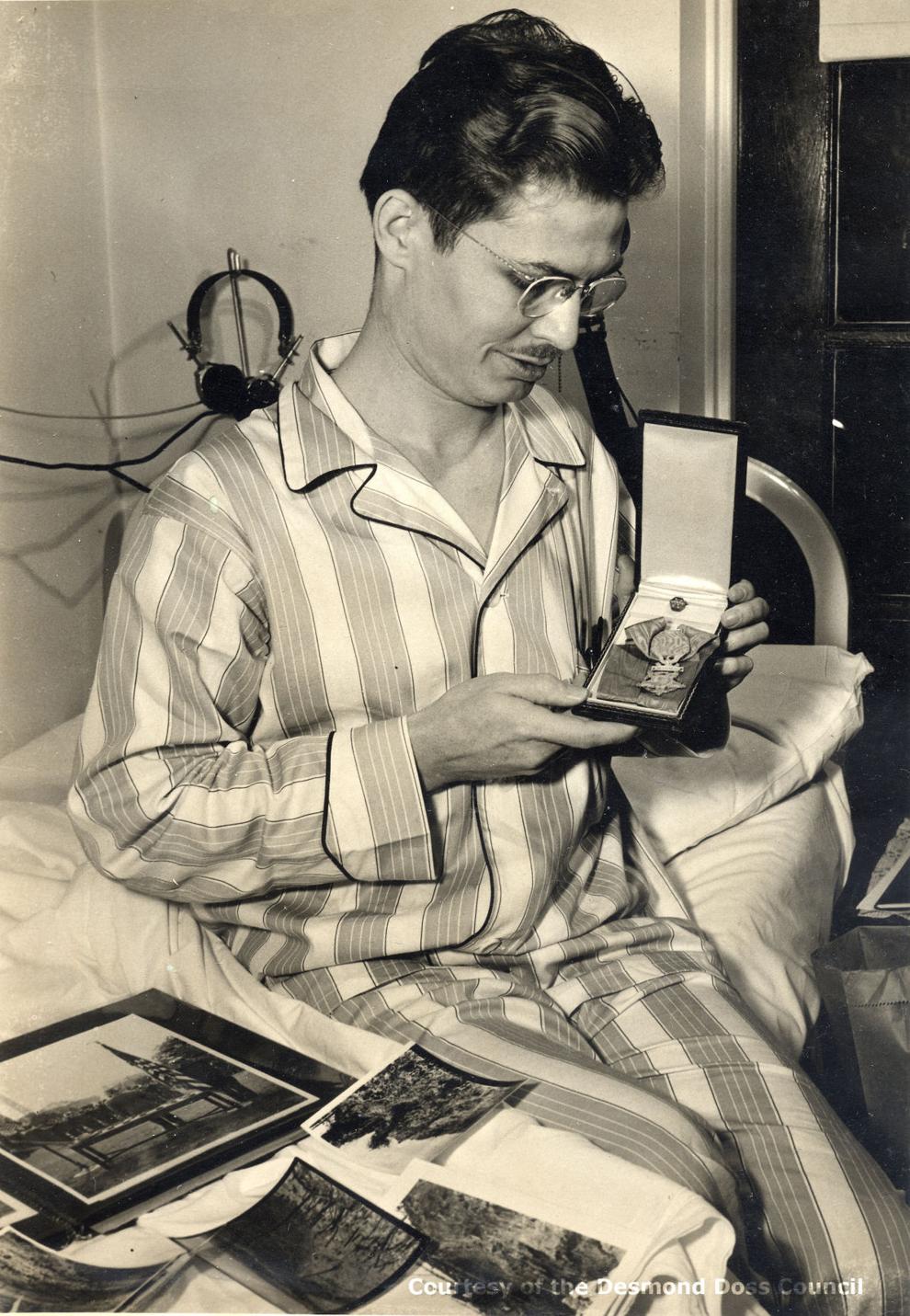 About two weeks after his most famous act, Doss was injured while aiding soldiers during a night mission when he tried to kick a live grenade away from him and three other men. The blast left numerous pieces of shrapnel imbedded in his legs. While being carried away from the battlefield, Doss saw a man with worse injuries than his own, so he rolled off the litter and told the medics to take the other soldier instead.
While waiting for their return, Doss was shot by a Japanese sniper. The bullet entered his arm in two places, leaving broken bones and severe nerve damage, and Doss used a broken rifle barrel as a makeshift splint. This was the only time he ever touched a gun during the entire war.
On Oct. 12, 1945, President Harry Truman presented Doss, along with 14 other soldiers, the Medal of Honor at a ceremony on the White House lawn.
"He whispered to me, 'You really deserve this,'" Doss said in the documentary of when Truman placed presented him with the honor, "and said, 'I consider this a greater honor than being the President of the United States.'"
Doss also received the Bronze Star and three Purple Hearts with Oak Leaf clusters, though not at the same ceremony.
Thirteen days after the Medal of Honor ceremony, he and his first wife, Dorothy, returned to Lynchburg and were greeted by a welcoming party that included the mayor and the E.C. Glass High School marching band. The following afternoon, locals lined the streets downtown for a parade in Doss's honor, which was followed by a dinner at the Lynchburg Armory.
"As the parade moved down Main Street back to the Armory, the crowds along the length of the thoroughfare cheered as Cpl. Doss passed by," an article in The News described. "Torn paper and confetti rained down from the upper floors of office buildings and stores along the street."
In interviews at the time, the ever-modest Doss referred to this moment as the most embarrassing of his life.
Because of the damage to his arm, Doss was unable to return to his career in carpentry. He had plans to learn a new profession, but those dreams were put on hold when he developed tuberculosis from his time on the battlefield and spent more than five years in VA hospitals.
The infection led to the loss of a lung and five ribs. While treating his tuberculosis, doctors accidently gave him an overdose of antibiotics that left him mostly deaf, according to the documentary,though cochlear implants aided his hearing for a time.
After returning home, he found himself on permanent disability. Soon after, his wife suffered a nervous breakdown from the stress of his illness, wrote Frances Doss in the memoir, which led Doss to move the family, which now included his son Desmond Jr., to Georgia, closer to her relatives. She eventually died in a car crash on her way to chemotherapy in 1991. He met and married Frances, his second wife, two years later.
Despite the tribulations, Doss remained faithful to his belief in the Gospel for the rest of his days.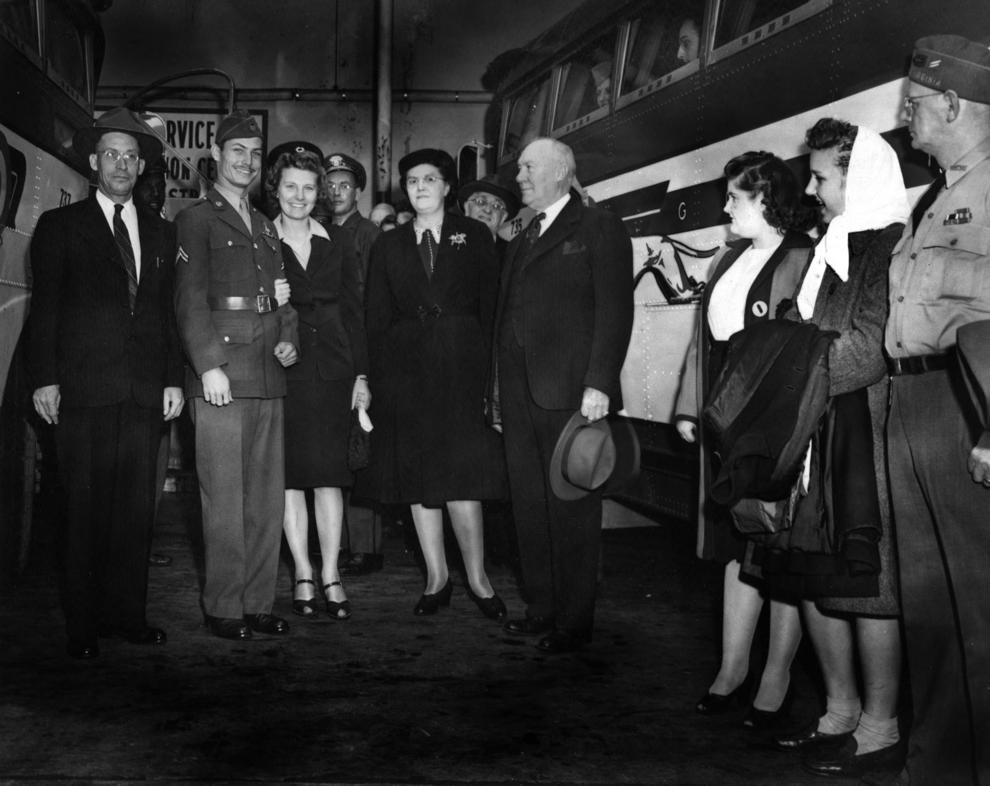 Books have been published about Doss's deeds; highways in Georgia and Alabama, where he spent his adult life, have been named after him. The Seventh-day Adventists named a now-defunct Army-sponsored medic training camp in Michigan for him, and the Walter Reed Medical Army Center renamed a guesthouse after him in 2008.
But, aside from the parade, the city of Lynchburg had not memorialized its greatest hero until 2007.
"When I was just a kid, I remember people talking about him when this actually came about," said the 77-year-old Manly. "I couldn't have been over 7, 8 years old. Back in those days, people talked about it for several years, but nobody had ever actually done something. In fact, some time passed before the school ended up being named after him."
One warm morning on the last full week in October, Reynolds, retired U.S. Marine and veteran activist Steve Bozeman and former Lynchburg City Council member Joe Seiffert stood on the side of the Lynchburg Expressway bypass that runs from Old Forest Road to Boonsboro Road.
Looking at the dense pile of overgrown leaves and brush, they dug into the soil through the plastic matting and into soft soil.
"We'll have to get the lawn mower," Reynolds said.
Tossing brush aside, they cleared a section of dirt into which they planted mums in varying shades of purple, doused them with water and finally placed a Star Spangled wreath next to the green highway marker that reads "Pfc. Desmond T. Doss Memorial Expressway."
This strip of road became the first way the city of Lynchburg honored its hero since the parade in '45, an effort brought about by the trio along with longtime News & Advance columnist Darrell Laurant.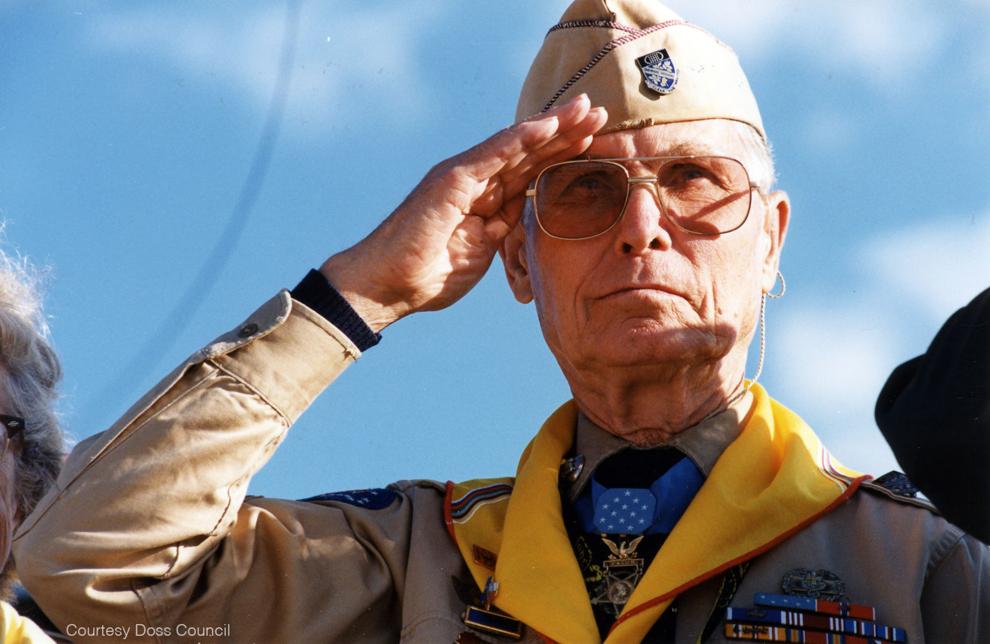 "We have named several things, like Jerry Falwell Parkway. There's highway markers for Douglas Southall Freeman, where he was raised right there in front of the Texas Inn on Main Street," said Seiffert. "You have that in mind and then you find out Desmond was raised here, what he did. … We only have one Medal of Honor recipient and it's a big deal. Every time people go by that, they see that name. For Desmond to do what he did, it's incredible. It's the least I could do to get him recognized."
Though only 3.1 miles, this distance in many ways holds extra significance as it harkens to a moment of selflessness in Doss's childhood, a trait that followed him into adulthood and onto the battlefield.
"It was announced on the radio there was an accident on Route 29 and they needed some blood right away to save this woman's life," Doss's sister Audrey Millner said in the documentary. "He walked three miles to that hospital and walked three more miles back home after he gave blood. Two days later, the call came back over the radio they needed more blood, there he goes again. He walks his three miles then walks his three miles back."
After hearing of Doss from the conversation in the Stadium Inn, Reynolds spent months learning everything he could about the Medal of Honor recipient who grew up on his street. He pored over newspaper articles in the library, bought biographies on his life and, eventually, reached out to Doss's second wife, with whom he started a correspondence.
By this time, Doss could barely speak or hear, but his wife took Reynolds' interest to heart, sending him some of Doss's belongings, including framed photos, ties and military name tags, and sharing stories from her husband's life.
"I was talking to her one day after the road was named in his honor and I asked her, I said, 'Do you reckon that Desmond knows we're [getting] the road named for him?'" Reynolds said. "And she said that she whispered in his ear and told him all about it and said he flinched. She said knowing how close he was to God, she said you can take it from there. And a chill went over me."
Doss died March 23, 2006, in Alabama at the age of 87, 10 months before the dedication. But a group of locals still gathered on that bitterly cold day in January the following year to honor him. Among them were students from the Desmond T. Doss Christian Academy.
Originally called the Lynchburg Seventh-day Adventist School, the Desmond T. Doss Christian Academy, which changed its name in 1983, saw Doss visit several times before his death.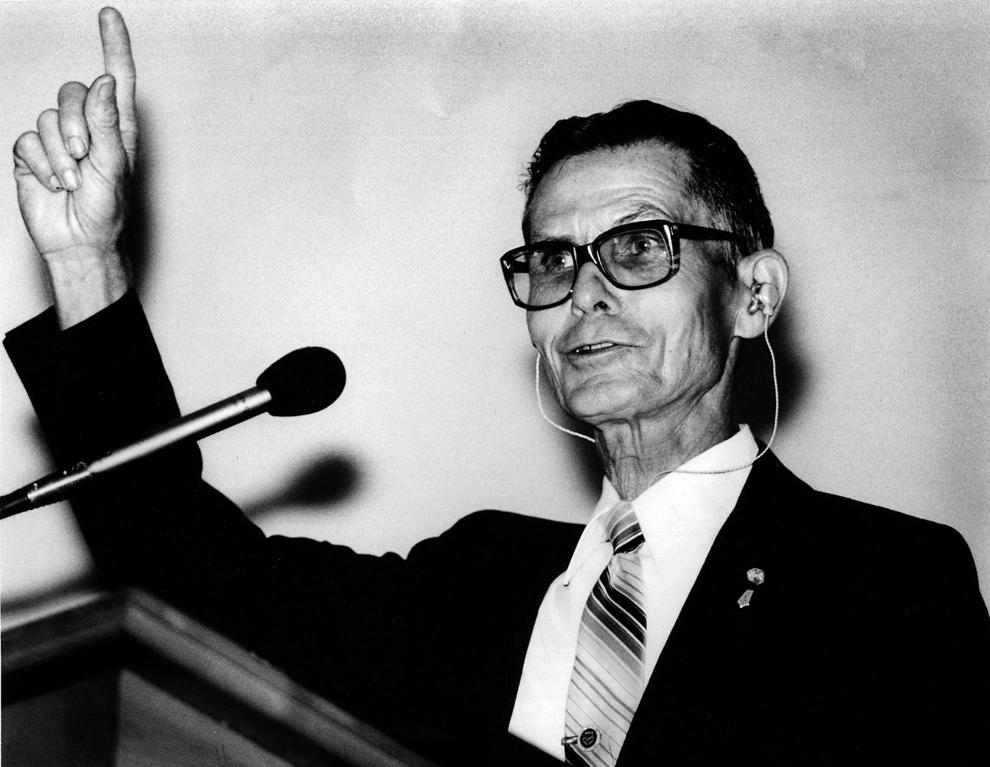 During those visits, the soft-spoken elderly man would tell students about his time in Okinawa, demonstrating for them the knot he created and even showing where bullets entered his body, while also sharing his faith. When the school built its church in 1996, the Medal of Honor recipient came by and helped nail some of the walls, recalled principal Stephen Doss (who is not related to Desmond Doss).
These visits touched the lives of many students who attended the Seventh-day Adventist school, among them Joshua Wright, who now serves as a commander for an infantry company in the Texas Army National Guard.
"I don't know if [joining the military] was directly related [to Doss], but it may have seeded something in my brain where I thought that was a very honorable profession," Wright said during a phone call from where he is stationed in Austin. "I definitely remember some of the older students, who were teenagers at the school; they were very influenced by it. … I don't know if I can pinpoint a place at that young age I said, 'Yeah, I want to follow in Doss's footsteps,' but it definitely was a kind of unconscious influence."
Ten years after his death, Doss's story has finally joined the likes of others in the lexicon of movies surrounding World War II, something many have felt it always deserved.
Both the "Conscientious Objector" and the 1967 book "The Unlikeliest Hero, The Story of Desmond T. Doss" will be rereleased in the coming months, the latter with a new title and more photos and the documentary in high definition.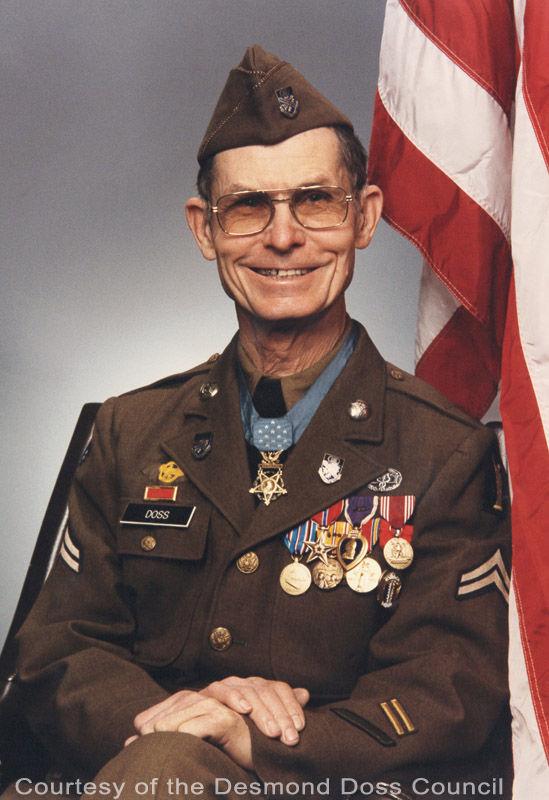 Though Lynchburg has honored him with an expressway marker, Bozeman, Reynolds and Seiffert feel more should be done to ensure this local hero is never forgotten.
Bozeman has started working on plans to have a plaque honoring Doss added to the World War II section of Monument Terrace. He would also like to see the addition of a historical marker downtown by the Lynchburg Armory where Doss enlisted.
"I think we ought to do it any way we can," Reynolds said. "Desmond Doss [did] so much for the country and he didn't ask [anything] in return. He was just an exceptional man and he needs for everyone in Lynchburg to know who he was."
Photos: Desmond Doss, American Hero
Desmond T. Doss, a Lynchburg native, is the only conscientious objector to receive the Congressional Medal of Honor, an award bestowed to our nation's bravest soldiers.  His heroics during World War II are the subject of the new Mel Gibson film, "Hacksaw Ridge."
Photos: Desmond Doss, American Hero
Desmond T. Doss, a Lynchburg native, is the only conscientious objector to receive the Congressional Medal of Honor, an award bestowed to our nation's bravest soldiers.  His heroics during World War II are the subject of the new Mel Gibson film, "Hacksaw Ridge."