Ugo Giannini was in combat for 244 days during World War II, starting with his landing on Omaha Beach on June 6, 1944. But he never really left the battlefield for the remaining 50 years of his life.
"There was this part of him he just didn't want to share," said his widow, Maxine Giannini, who he met six years after the war. "I think it was too painful."
However, after Giannini died in 1993, Maxine said she began to understand the burden her husband carried for nearly 50 years.
"He never talked about the war, but it poured out through his art," she said. "When I look at his work, I'm struck by how powerful they are. You can feel the terror of these men when you look at them."
"Drawing D-Day," an exhibit featuring 27 sketches Giannini drew during the war — including a number he sketched during the fighting June 6, 1944 — opens today at Lynchburg's Academy Center for the Arts, 600 Main St. The images are the only known drawings made during the invasion of Normandy as it was unfolding.
"This is an incredible collection," said Ted Batt, director of visual arts for the Academy. "These are really the only eyewitness images that exist. If anyone else did anything like this, it hasn't been uncovered."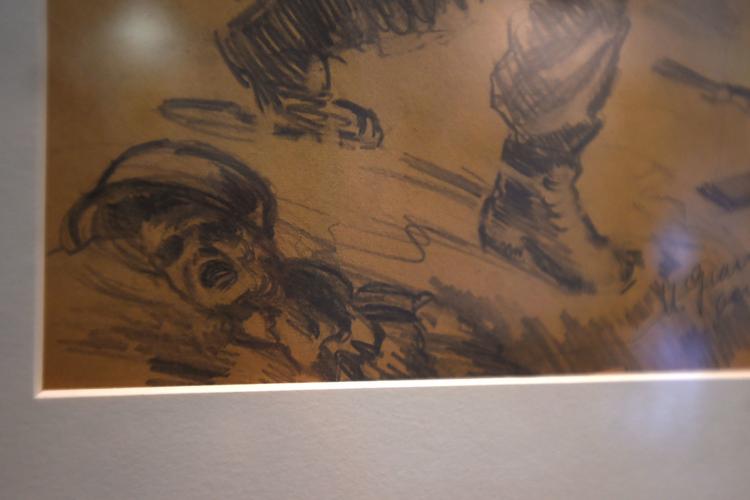 Giannini grew up in Newark, New Jersey, and attended the National Academy of Design in New York before he was drafted into the U.S. Army during World War II. Giannini was part of the 116th regiment of the 29th Infantry Division, which landed on Omaha Beach on June 6, 1944, and was one of six men from his 37-man platoon to make it to land.
"The Higgins boat he was on hit an obstacle that was mined," Maxine Giannini said. "They had to jump overboard, and only six of them made it out of the water alive."
Giannini and the other survivors of the military police platoon were instructed to take shelter and wait for tanks that were supposed to be landing on the beach after the first wave of soldiers invaded Normandy.
"They were supposed to be directing traffic when the armored units came ashore," Maxine Giannini said. "That was the plan, anyway. However, everything was so crazy the tanks didn't arrive when they were supposed to, and Ugo had to find shelter in a crater that was made during the naval bombardment."
Giannini — who had taken his sketch pad and pencils with him that morning — jumped into the crater and made several sketches while taking cover from German shelling. He then would advance, take cover again and continue to draw, preserving images not captured in photograph or film.
"I can't imagine trying to draw and shade a picture while bullets are flying over your head," Batt said. "Only a true artist would do something like that."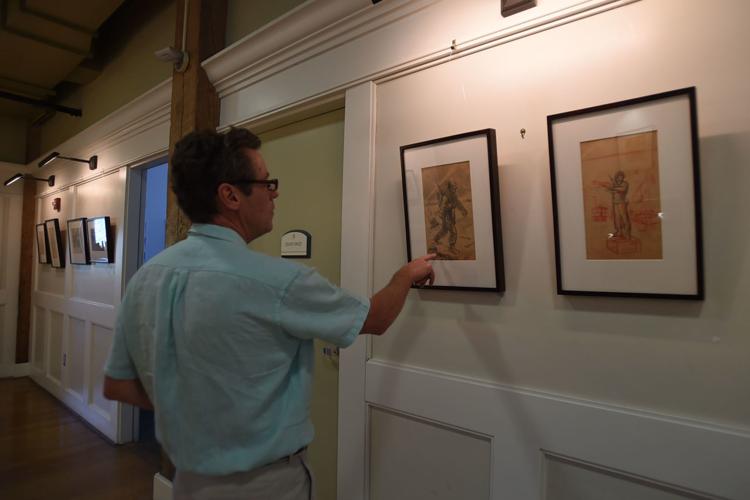 Maxine Giannini said she can feel the hurry and fear when she looks at the pictures drawn June 6, 1944.
"The one that is the most powerful is also one of the simplest sketches," she said. "It's only a few lines, but it depicts a fallen soldier. Can you imagine that happening right in front of you and you are capturing that moment?"
Batt said unlike photographs that were released to the public during the war, the sketches also are remarkable for the stark reality of combat.
"They aren't whitewashed," Batt said. "They didn't want people at home to see certain things."
Maxine Giannini said the sketches from June 7, 1944, are equally disturbing even though they were not drawn during combat. In one, a soldier looks out from a bluff and sees a stretch of bodies piled on the beach. She said some of the dead soldiers in those images likely would have been soldiers of Company A of the 116th Infantry — known locally as the "Bedford Boys," the 19 men from Bedford who were killed during the first few minutes of fighting on D-Day.
"I'm sure some of them were Bedford Boys," she said. "It would have had to have been. They hit the beach at the same place at the same time."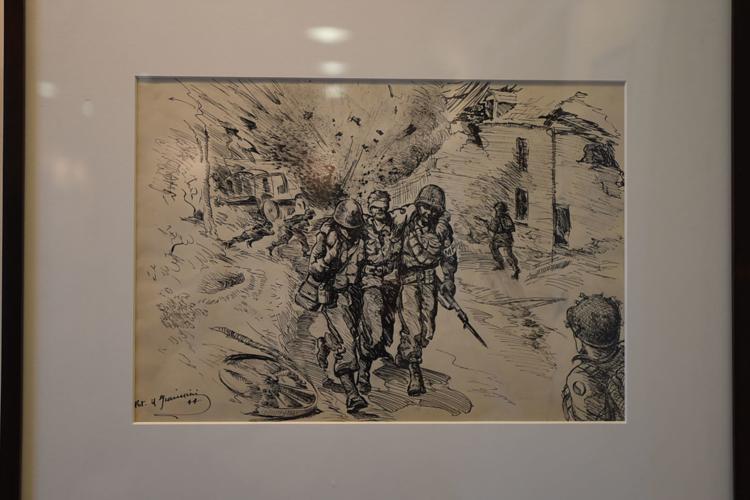 Giannini continued sketching during the Allied advance through France and Germany, and mailed 27 drawings home to his mother in Newark. Maxine Giannini said the pictures chronicle his 244-day journey through a war he never discussed with his wife, but which still haunted his dreams.
One sketch shows a soldier walking through a field past the severed head of a comrade. The soldier was Giannini, who drew a self-portrait of himself on night patrol after artillery shelling and finding the decapitated head of his friend. "For the rest of his life he would wake up screaming 'the head, the head,'" she said. "That was the nightmare that haunted him until he died."
After the war, Giannini continued his art education and eventually got a job teaching at Caldwell College in New Jersey. He met Maxine, a concert pianist, six years after the war; the couple eventually had two children and settled into a suburban life in West Orange, New Jersey. Although Giannini had some success as an abstract artist, he became secretive about his art during the last 10 years of his life and would not show his work to friends or family.
"Around 1983, something really drew him back there," Maxine Giannini said. "For the last decade of his life he was totally immersed in the war. No one saw what he was working on, but we would go for walks and sometimes he would look at me and say, 'You are so naïve. You have no idea what the world is really like.'
"I knew he was talking about the war when he would say that," she said.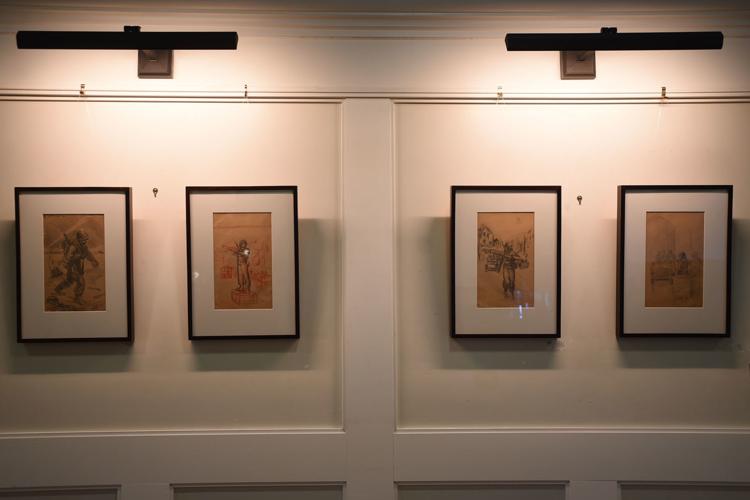 When Giannini died in January 1993, he said he did not want anyone in his studio for six months after his death.
"He told me it would be too painful to me to see it right away," Maxine Giannini said.
When she finally went into the studio, Giannini found the sketches in folders as well as the large abstract pieces about the war he had been creating in secret for the last 10 years of his life.
"There were 15 paintings Ugo did about the war," she said. "When I saw them I understood the pain he carried with him. He had to let it out but couldn't share it with anyone while he was alive."
Maxine Giannini complied her husband's work during and after the war for the book, "Drawing D-Day: An Artist's Journey Through War," which was published in 2013. She also has taken her husband's art all over the world for display.
"Ugo's work was at Normandy during the 50th anniversary of D-Day," she said. "I think it's fitting that it is here for the 75th anniversary."
"The people at the National D-Day Memorial said they needed a space for the display, and we jumped right on it," Batt said. "It is such a moving collection, and we are honored to have it here this month."
Get local news delivered to your inbox!
Subscribe to our Daily Headlines newsletter.