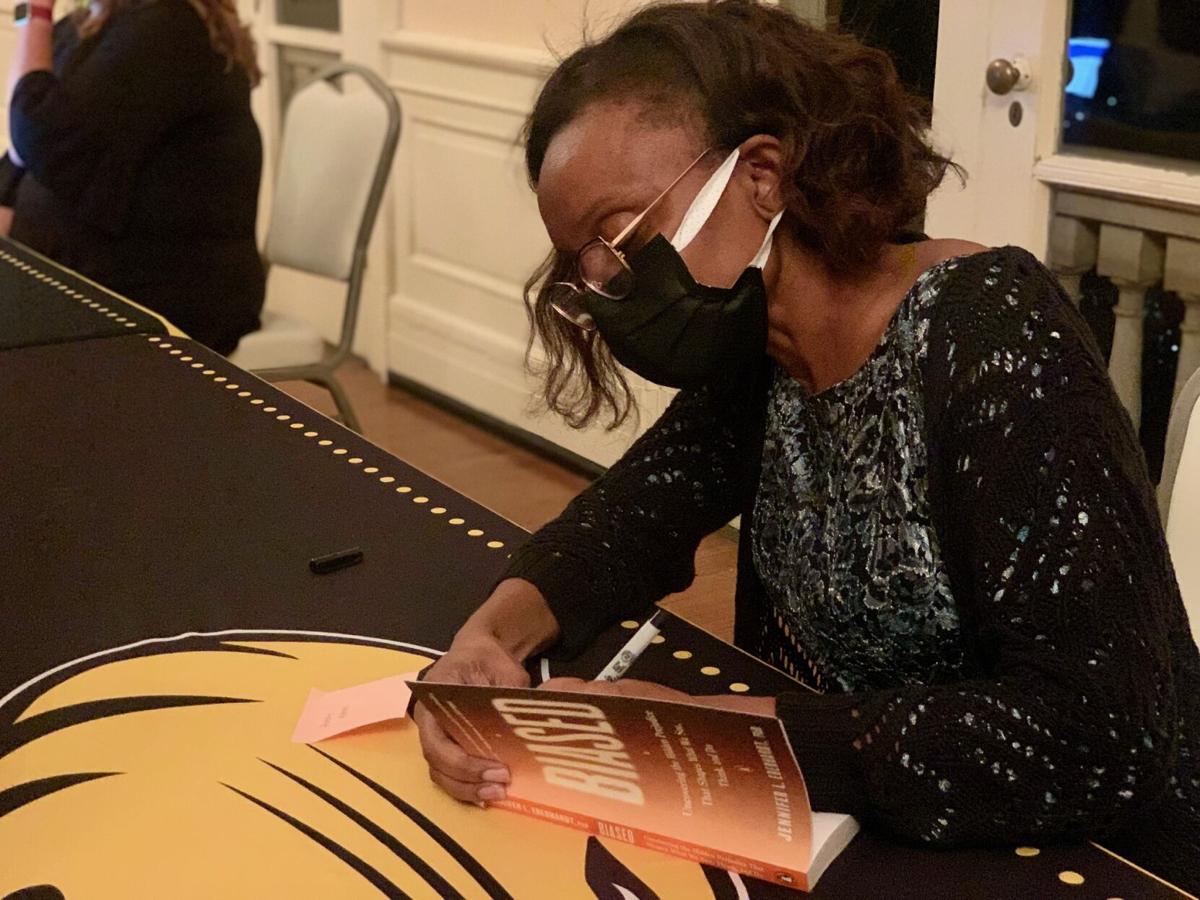 Jennifer Eberhardt visited Randolph College this week "on a mission to bring the science of bias to everyday people."
Eberhardt — a social psychologist, Stanford professor, and author of the 2019 book, "Biased: Uncovering the Hidden Prejudice that Shapes What We See, Think, and Do" — spoke to the college community Wednesday night during a public lecture.
Dozens of students, faculty and community members gathered in Smith Hall Theatre on the college's campus to hear about Eberhardt's research, the effect of implicit bias on systems and to learn tools to disrupt that bias.
"When the average person thinks of racial bias, they think of burning crosses. They think of people who are filled with hate. They think of old-fashioned racism," she said. "But I am a social psychologist and as social psychologists we know you don't have to be an old-fashioned racist to be biased."
Bias, she said, "can have devastating impacts even when we're not aware of it, even when our intention is to be fair, even when we are not filled with hate."
Implicit bias continues to affect systems, sustaining and magnifying the racial disparities that already exist, she said. Eberhardt acknowledged while the country is in a "moment of racial unrest," that reckoning began far before the murder of George Floyd, whose death at the hands of Minneapolis police in May 2020 sparked a renewed national reckoning on racism and law enforcement.
Black Americans are disproportionately incarcerated, which Eberhardt said has created a "cultural association between African Americans and crime." During the past two decades, Eberhardt and other researchers have conducted studies showing how powerful that association is.
Eberhardt has conducted experiments showing how racial bias can lead to disparities in education, employment and the criminal justice system. She and her colleagues use a range of methods to reveal the extent to which racial imagery and judgements can take root.
For example, one of her studies showed the effect bias can have on visual processing. In that study, subjects were exposed to a Black male face or a white male face for just milliseconds, then shown a clip of an image that started blurry and became clearer and clearer. Subjects who were first exposed to a Black face identified the photo as a weapon in significantly less time than those who were exposed to white faces, the study found.
Eberhardt believes problems associated with race are ones that have been created and can be solved. She introduced the Randolph College community to several tools they can use to curb racial bias. One of the most effective, she's found, is adding "friction" between an exposure and a conclusion. That friction, she said, can look like interrogating ourselves, slowing down, questioning why and being aware when we begin making stereotypical assumptions.
Bradley Bateman, president of the college, welcomed her to campus Wednesday.
"We're extremely fortunate to have someone as experienced and talented as Jennifer Eberhardt with us to share her compelling and thought-provoking life's work," he said.
Keesha Burke-Henderson, chief diversity officer at Randolph College, said she hopes all members of the Randolph College community will think about how they can learn from Eberhardt's work and words as they go about their daily lives.
She encouraged the community to "really be conscious and aware of those things that we consider normal and to question ourselves consistently and constantly."
Eberhardt said work can, and should, be done to curb bias at both the individual level and institutional level.
"We need both, they feed off each other," she said. "... It's when we feel like the work is done that we get into trouble."
According to a Randolph College Facebook post, Eberhardt remained on campus and continued the conversation with students, faculty and staff Thursday.