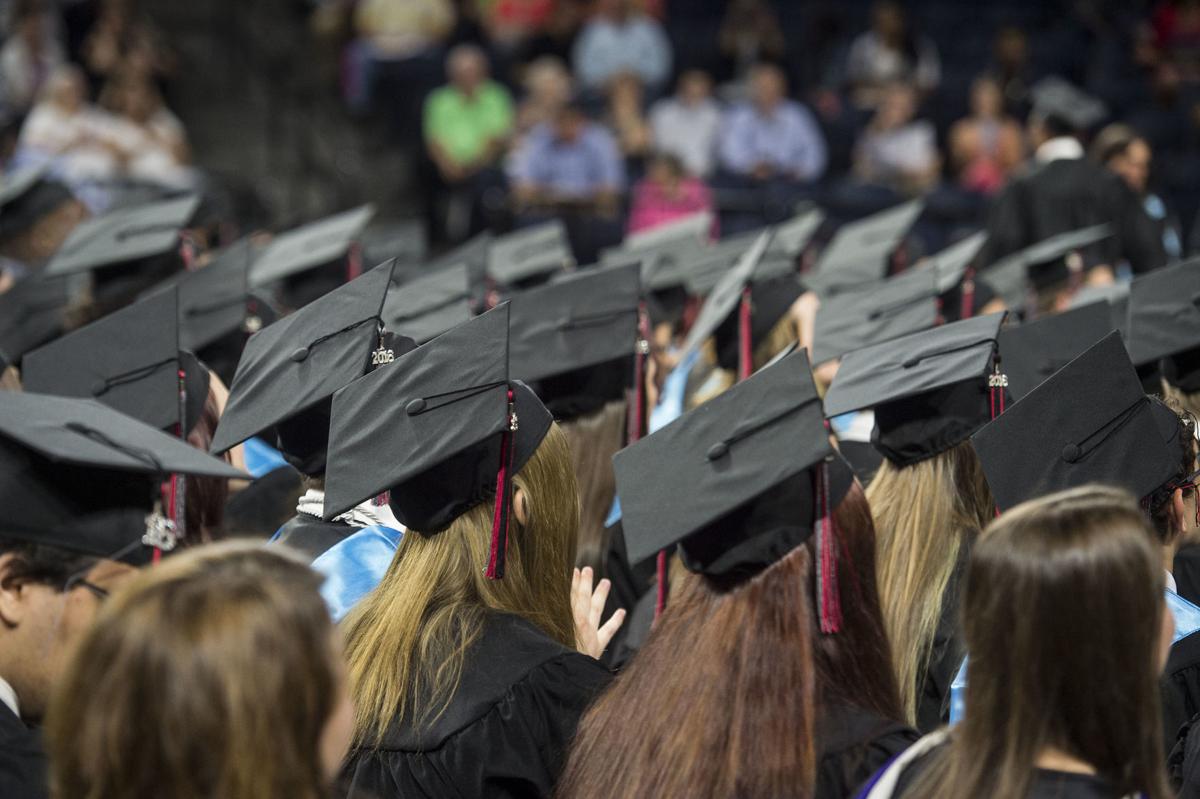 Bedford County Public Schools is exploring three options for in-person 2021 graduation ceremonies, all of which would allow at least two guests per graduate.
At the Bedford County School Board's Thursday meeting, Tony Francis, director of secondary programs and career technical education for the division, told the school board graduation currently is slated for May 29. A rain date will be set based on the venue option. Francis presented the division's three graduation options Thursday, in order of preference.
The first option, he said, is to hold three graduation ceremonies — one for each high school — at Williams Stadium at Liberty University. This option would allow 10 guest tickets per graduate, but Francis said the division still is awaiting confirmation from Liberty University that this facility may be used.
"Obviously if LU can do it, that would be our first option," Francis said.
In the past, the division has used the Vines Center at Liberty for its graduations and Francis said the university has "done an excellent job in the past and coordinated everything."
Francis said he expects to receive a decision from Liberty in the coming days.
The second option is to hold all three graduations at the Lynchburg Hillcats stadium at various times May 29.
This option, Francis said, would allow for a minimum of two tickets per graduate, but possibly could be increased if the stadium were able to add additional seating on the field.
Francis added if graduation were rained out at the stadium, ceremonies would have to be rescheduled for June 2 back at the three high schools, due to the baseball team's game schedule.
The third option is to hold the ceremonies in the high schools' stadiums. Due to seating capacities, each school would have to hold two ceremonies for its graduating class.
Gov. Ralph Northam's current guidelines on graduation ceremonies allow indoor ceremonies of 500 people or 30% of the venue's capacity, whichever is smaller, and outdoor ceremonies of 5,000 people or 30% of the venue's capacity, whichever is smaller.
Stadiums at Liberty and Staunton River high schools, Francis said, have a capacity of 2,000 and Jefferson Forest High School's stadium seat 3,500. Based on these capacities, 600 people could attend graduations at Liberty and Staunton River, and 1,050 at Jefferson Forest — including graduates.
Francis said Liberty has 195 graduating seniors, Staunton River has 231 and Jefferson Forest has 373. In order to allow two guests per graduate, as well as space for teachers and staff, each school would have to split the senior class in half and hold two ceremonies. The rain date for this option would be May 30 or June 2.
All three options allow the event to be live streamed, Francis said.
Francis said the division removed indoor ceremonies from consideration because, based on the current guidance and seating capacities, not all students would be able to have guests attend. Francis said the division discussed live streaming an indoor ceremony with no guests in attendance, but worried it would not feel "like a real graduation" unless each graduate at least got to have two guests attend.
"We need to ... give these families an opportunity for as many tickets as we humanly can," board member Martin Leamy said.
If Northam were to loosen restrictions before May 29, Francis said staff would need at least 10 days' notice to readjust plans and distribute more tickets, regardless of venue.
Board chairman Jason Johnson thanked Francis and the division staff for their work on these plans.
"It's kind of like trying to nail Jell-O to the wall considering that the executive order gets amended like every other week," Johnson said. "There are a lot of moving parts here that most of us don't really realize or understand."
A final decision regarding graduation venue, date, times and ticket allotment will be made by April 16, Francis said.