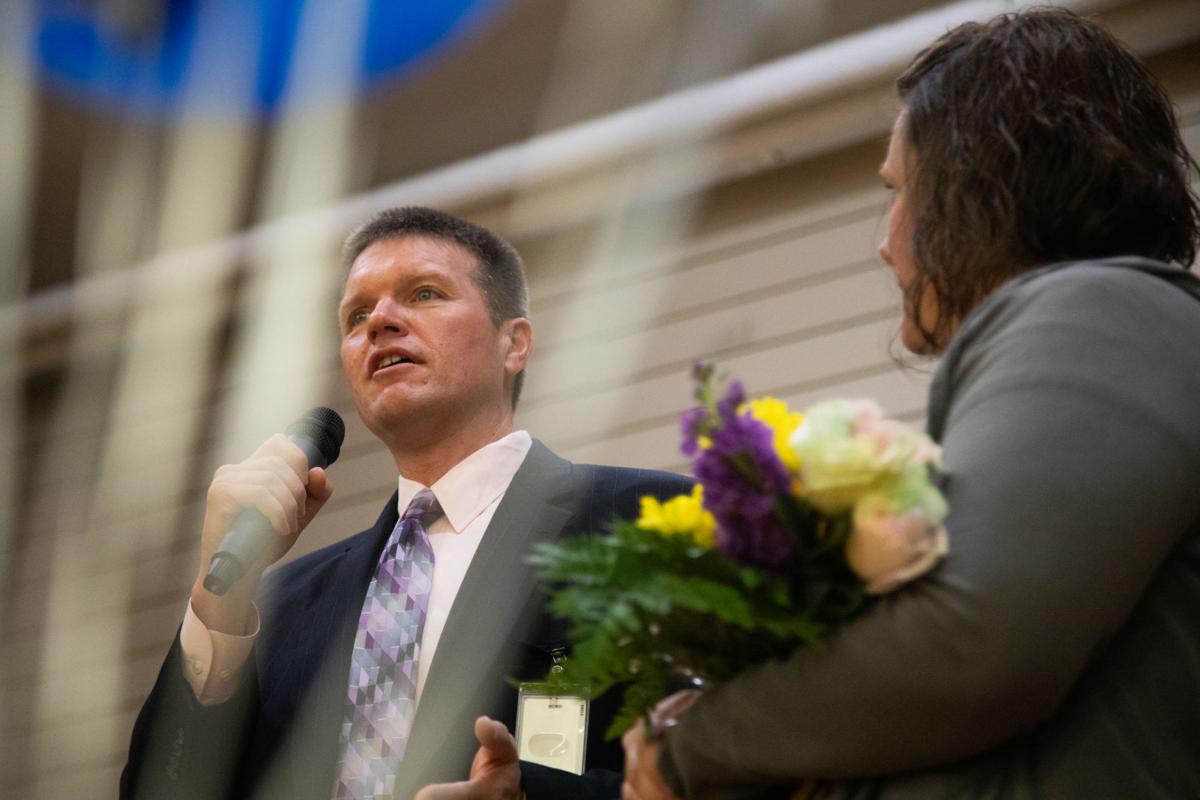 Few members of the Bedford County community Thursday were surprised by Bedford County Public Schools Superintendent Doug Schuch's late-night announcement Wednesday that he would step down six months earlier than expected, after 11 years at the helm.
In a letter emailed to faculty and staff at 8 p.m. Wednesday, Schuch said he would resign from the division effective January 2021. The letter was not posted to the division's website or sent to parents.
Martin Leamy, chairman of the Bedford County School Board and its District 7 representative, said Schuch's acceptance of another position before completion of his current contract with the division always has been an option and does not violate his contract.
"I'm really not surprised that he accepted an offer that he found acceptable," Leamy said.
Leamy said at this time he does not assume the school board will call a special meeting regarding Schuch's resignation or the superintendent search, and that all other issues related to his departure will be discussed at the board's next regular meeting Nov. 12.
Schuch said Wednesday he has accepted the position as superintendent of Regional School District 13, located in Durham, Connecticut, which is composed of five traditional schools — two elementary, two middle schools and one high school. According to the Connecticut State Department of Education, Regional School District 13 had an enrollment of 1,617 students in the 2018-19 school year. Bedford County Public Schools serves more than 9,000 students.
Details of Schuch's new contract were not made public Thursday. During the 2019-20 fiscal year, Schuch received a salary of more than $180,000 in Bedford County Public Schools, according to budget documents.
Isaiah Knight, parent to a fourth and a fifth grader attending Forest Middle School this year, said he is happy to see Schuch leave. Knight repeatedly has called for Schuch's resignation during his time in the division.
"I know many families throughout Bedford County are thrilled about Schuch's departure," Knight said.
Knight said he and other parents feel that special-needs children in the division have not been given the attention they need under Schuch's leadership and he hopes the next superintendent prioritizes the needs of special-education students.
"Now, the school board has an opportunity to right the wrongs of so many years and to hire a superintendent that truly cares for all students," Knight said. "I hope and pray they do so."
Gary Hostutler was a member of the school board when Schuch was hired and served on the board from 2006 through 2017. He said he was not surprised by Schuch's decision to leave Bedford County as 11 years is a long time for a superintendent to stay in one division.
Hostutler said he had good experiences with Schuch and felt he had many successes during his decade with the division.
"I thought he was very visionary, and that has really shown during this pandemic," he said.
Hostutler said Schuch's commitment to getting Internet-accessible devices to students at a one-to-one ratio aided the division's ability to swiftly move to remote learning when schools were ordered to close in March amid the COVID-19 pandemic. Hostutler said he also was impressed with the division's ability to adopt a hybrid learning model that allowed students to safely receive some in-person instruction during the pandemic.
Some other successes the division has seen under Schuch's leadership, Hostutler said, include the construction of the new Liberty Middle School and the addition to Forest Middle School. Hostutler said Bedford County Public Schools has a reputation for offering quality education and Schuch's leadership only aided that reputation.
"I wish him a lot of success in this new venture," Hostutler said. "I think they're lucky to have him."
Schuch's tenure in Bedford County started during the Great Recession and his first years included heavy budget cuts and the contentious shuttering of Body Camp and Thaxton elementary schools at the end of the 2014-15 school year.
Bedford Primary School also was targeted for potential closure, but that plan did not come to fruition when the former Bedford City Council, now Bedford Town Council, threatened a lawsuit.
John Sharp, current District 4 member of the Bedford County Board of Supervisors, worked with Schuch during his tenure and described him as "divisive."
Sharp declined a request from The News & Advance to discuss his experiences with Schuch but said he wishes him well in his next move.
Schuch led the division through a major transition period in Bedford's history: the reversion of the city of Bedford to a town, which became official in July 2013. The reversion heavily affected the school system, especially in areas of funding and construction of Liberty Middle School.
A search for Schuch's replacement already is underway. In November 2019, Schuch announced he did not plan to continue as superintendent beyond June 30, 2021, when his current contract is set to expire. Schuch did not state his reason for the decision at that time.
Susan Falls Kirby, vice chair of the Bedford County School Board and its District 6 representative, said Schuch's initial notice in November allowed the school board to begin the search for his replacement sooner rather than later. Kirby said the search firm and board will do their due diligence in finding a new superintendent despite Schuch's resignation.
In a meeting with the Bedford County School Board last month, representatives from Hazard, Young, Attea & Associates, the consulting firm hired to conduct the superintendent search, said the search could be completed as soon as March 2021. Ann Monday, an associate at the firm, said Thursday the school board has not yet indicated any change in the timeline of the search.
Officials on Thursday had no immediate answer as to who would serve as interim superintendent starting in January if a new superintendent has yet to be identified.
"I ask that you provide our next superintendent with the support that he or she will need to make a successful transition leading Bedford County Public Schools, and I wish you all the best in the days and years ahead," Schuch said in Wednesday's letter.
Kirby asked families in the division to continue to be patient with the board in light of the challenges the division has seen in 2020.
"Rest assured we will be working to the best of our abilities to ensure we can get the best possible replacement in place," Kirby said.
"I am sad to be leaving Bedford County, the place my family and I have called 'home' since 2009, but I am also energized about the new opportunity I will have in RSD 13 to continue supporting learner-centered education," Schuch said in the letter.
Kirby said she wishes Schuch well in his future endeavors.
"As a parent, I believe great changes are coming for Bedford County Public Schools and I am excited that my children will be a part of that change," she said.
Schuch said his new role begins in January and Ryan Edwards, spokesperson for the division, said Schuch plans to remain in the superintendent position until sometime in January. His exact last day was not specified.
The division has not yet released an official statement regarding Schuch's announcement or his time as superintendent.
Schuch said Wednesday he would decline all requests for interviews.
Justin Faulconer contributed.