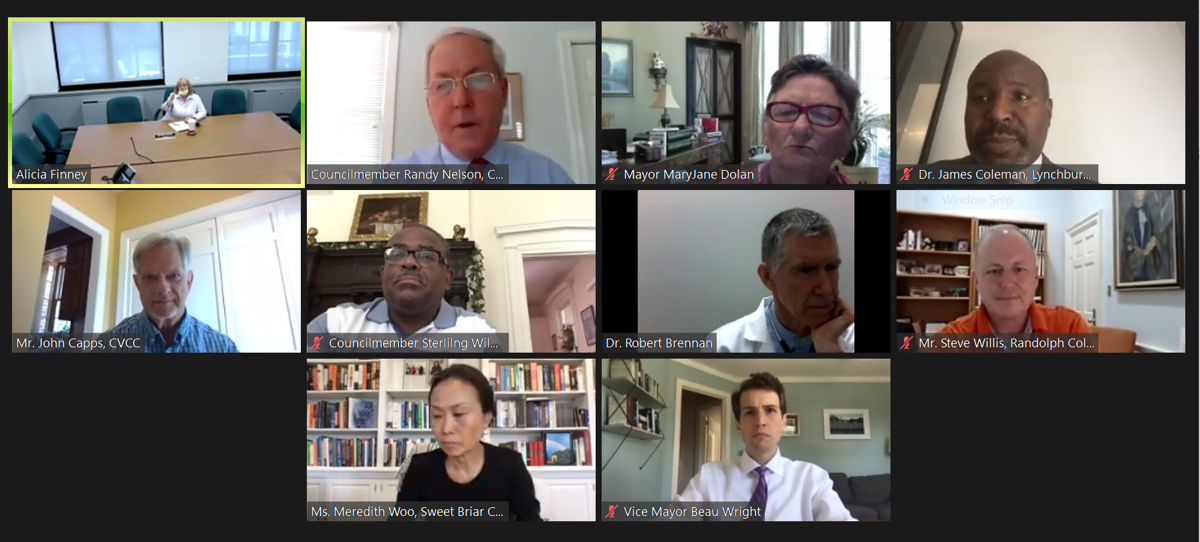 Lynchburg-area college presidents outlined plans for fall instruction at a virtual Town and Gown meeting Tuesday with Lynchburg city leaders, with some moving forward with in-person classes and others sticking with remote education as coronavirus cases continue to climb in the region.
Thousands of college students at three local institutions — Liberty University, University of Lynchburg and Sweet Briar College — are preparing to return to their respective campuses in the coming weeks.
Meanwhile, students at Randolph College, Central Virginia Community College and Virginia University of Lynchburg will stay at home and complete their work online this fall, according to school officials.
At Tuesday's meeting, new University of Lynchburg President Alison Morrison-Shetlar described a series of coronavirus-related requirements students will likely encounter when classes start at the liberal arts school next week, including a mask mandate and daily temperature checks.
According to Morrison-Shetlar, some classes will be held in campus ballrooms to space out students and class lengths, and dining hall hours will be limited to cut down on the amount of time students spend indoors with each other.
"We've invested quite a lot in making sure that the physical structure of the institution is prepared for students coming back," Morrison-Shetlar said.
Similarly, Sweet Briar College in Amherst County will start classes this month with mostly in-person instruction. President Meredith Woo said she believes the college's 3,000-acre campus in a largely rural area and its low student-teacher ratio makes it a "naturally" safe environment.
With coronavirus cases spiking in the Central Virginia Health District, which includes Lynchburg and the surrounding counties, the decision to resume in-person classes this fall has become more complex. As of this week, more than 1,100 people have become infected and 11 have died in the region, according to the Virginia Department of Health.
At a news conference on Monday, local health officials issued a dire warning about the recent rise in infections and called on residents to closely follow mask requirements and social distancing rules to blunt the spread of the virus.
Despite the sharp increase in positive cases, the University of Lynchburg, Sweet Briar College and Liberty University will not require its students to undergo testing for COVID-19 before starting classes.
Randolph College is one of three schools planning to start the academic year with online-only education.
President Bradley Bateman said the college tried to secure enough COVID-19 tests to reopen the campus but could not find a vendor who could provide accurate results within seven days.
Without the ability to administer tests to the school's about 700 students every few days, the college would be putting lives at risk, he argued.
"For the safety of the Lynchburg community, we realized we needed to step away from opening campus this fall," Bateman said. "We would only contribute to making the situation in Lynchburg worse, potentially."
In addition to Randolph, Virginia University of Lynchburg and Central Virginia Community College will also hold classes online this fall due to the ongoing health threat. CVCC President John Capps, however, said some exceptions will be made for small labs and workforce training seminars.
Tuesday's virtual meeting marked the first time the city council's Town and Gown committee has met since the start of the pandemic. An earlier meeting scheduled for the spring was abruptly canceled due to the health threat. The committee, which generally convenes four times a year and is made up of city council members and local college presidents, last met in the fall of 2019.
Liberty University, the largest institution of higher learning in the region, was the only local college or university to not actively participate in the virtual meeting.
Liberty plans to hold in-person classes this fall beginning Aug. 24, according to a state-approved operations plan.
At-large council member Randy Nelson, the chair of the city council's Town and Gown committee, said he was unsure why Liberty did not participate in Tuesday's discussion. A Liberty spokesperson did not return a request for comment.
After listening to each president, Mayor MaryJane Dolan commended the local college leadership for what she called "extraordinary efforts" to keep students and staff members safe.
"This is without a doubt a massive undertaking and one that really treads new waters for everyone," she said. "I want to thank all of you for that and for all you're doing to facilitate a safe community for all of us."
Concerned about COVID-19?
Sign up now to get the most recent coronavirus headlines and other important local and national news sent to your email inbox daily.