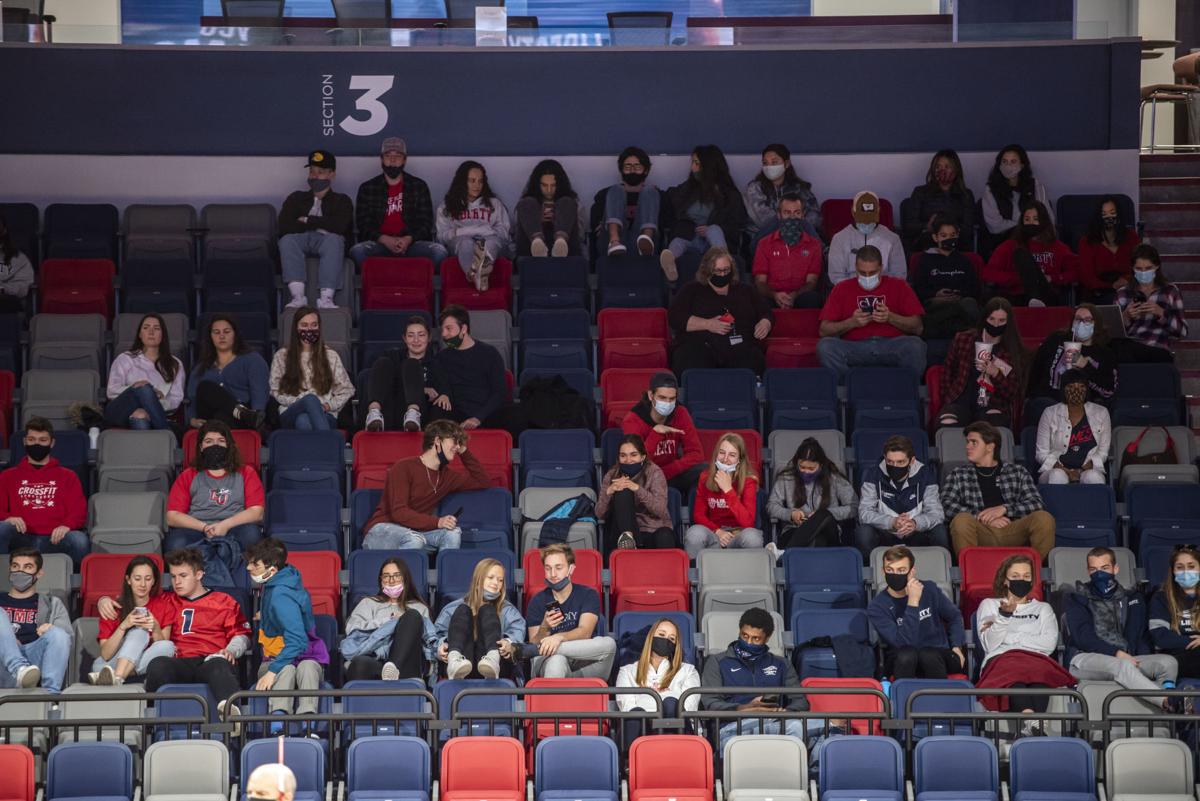 Lynchburg-area colleges and universities on Wednesday reported a total of 76 active COVID-19 cases among its students and staffers, an increase from the 70 cases reported last week.
Liberty University, the largest institution of higher learning in the region with about 15,000 students, accounted for the majority of the area's reported cases, according to the university's COVID-19 dashboard.
At least 47 Liberty students and 18 employees have tested positive for the coronavirus in the last 10 days. Those figures represent a slight increase from the 45 student and 15 employee cases reported last Wednesday.
Liberty began holding its first in-person classes of the spring semester Monday, concluding a one-week period during which students took classes online to help limit the spread of the virus. The approach was aimed at minimizing a spike in cases in the first weeks of the semester as students from across the country returned to campus.
As of Wednesday, Liberty officials have instructed 172 on-campus students to quarantine at a university facility due to a potential exposure to the virus or because they've developed symptoms associated with COVID-19, according to the dashboard. Last week, nearly 150 on-campus students were in quarantine.
Another 93 Liberty commuter students have been asked to quarantine at their off-campus homes, up from the 71 commuter students asked to quarantine last week. At least 63 employees are also in quarantine, a slight decrease from the 66 employees asked to quarantine one week ago.
As colleges and universities in the Hill City and beyond begin the semester in earnest, local health officials are warning COVID-19 cases remain high in the region and across the state.
The Central Virginia Health District, which includes Lynchburg and the bordering counties, has reported nearly 1,500 new cases in the last week. Virginia as a whole on Wednesday reported 5,227 new cases.
At the University of Lynchburg, there are two active cases among its students and six active cases among its faculty and staff members. A total of 14 students, three of whom live on campus, are in quarantine.
Randolph College on Wednesday reported just one active student case. Last week, one student and four employees were positive with COVID-19, according to the college.
Central Virginia Community College, meanwhile, has reported one student case and one employee case in the last two weeks. At Sweet Briar College in Amherst County, there are no positive cases.
Health officials have not yet identified any outbreaks on local campuses since spring semester classes began earlier this month, according to the Virginia Department of Health. The department defines an outbreak as two or more confirmed COVID-19 cases associated with a particular setting.
In addition to the 76 cases reported locally, colleges and universities across Virginia last week reported a total of 363 COVID-19 cases among students and employees, according to a dashboard tracking active cases at some of the largest institutions in the state.
The dashboard, which aggregates data from 17 public and private institutions in the commonwealth, does not include COVID-19 case information from any of the colleges and universities in the Lynchburg region.