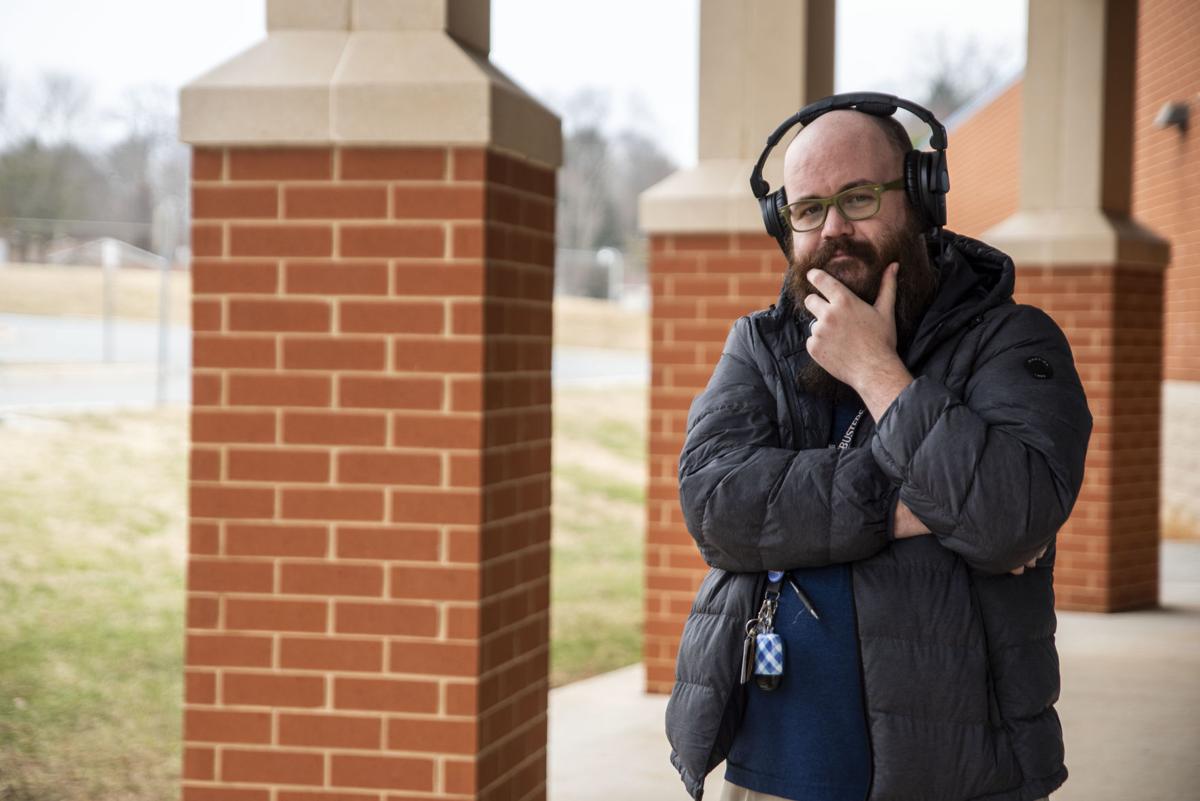 Sandusky Middle School band director Kenneth Brand has come to find there's a podcast about pretty much anything.
"I ask my students all the time, 'What are you interested in?'" Brand said. "And I tell them, 'There's a podcast about it.'"
While a lot has been different and challenging in schools this year with the COVID-19 pandemic, Brand didn't let the pandemic stop him from creating a new, unique opportunity for students at the school. Instead, he started a podcasting class.
Despite the challenging effects the COVID-19 pandemic has had on education, teachers and staff in Lynchburg City Schools are working to create unique opportunities and programs for their students and schools.
The podcasting class, as well as disc golf courses, an initiative to create a more inclusive library and at-home sculpting kits, is among the 35 projects recently funded by more than $77,000 in classroom innovation grants from the Lynchburg Education Foundation.
Brand had the idea for a podcasting class before the COVID-19 pandemic shut down schools in March.
"It's a growing medium; it's a real possibility for a career after high school or college, and it's a field that's exploding right now," Brand said.
Currently, the class exists as a nine-week enrichment class students take for nine weeks, Brand said. During that time, he said, students get an introduction to podcasting and audio production.
Brand said he currently is planning to offer the class as a yearlong elective that interested students can apply to be a part of. During the year, he said, the class will work to produce three to four podcasts on a variety of subjects, "by the students, for the students."
Brand said he plans to survey the school's entire student body to gauge what topics they'd like to hear a podcast about and use that data as a starting point for students to determine what they might be interested in researching, writing and producing a podcast about.
Brand said podcasting gives students the chance to learn new skills as well as build on writing and researching skills they're learning in other classes.
"[Podcasting] is a nice intersection of technology and entertainment, but it's at a point right now where the technology is not super expensive and it's not overly complicated," he said.
A group of R.S. Payne Elementary School staff started a project called "SMILE: Seeing Myself in the Library Everywhere," which gives students the opportunity to engage in the selection of library materials that more adequately represent their school's student body.
According to a description of the project, students will analyze and research the school's current collection of books and other library materials to determine if they reflect the student population before having the opportunity to request materials they want to be purchased for the library.
"This activity will allow the students to gain ownership of the library and be empowered to make positive changes in their environment," the project description said.
Ella Schwarz, visual arts teacher at Heritage High School, said her co-worker, Ruth Glaze, started a project to provide personal sculpting kits for sculpture students to use at home or at the school.
The project, "Sculpture at Home: Supply Kits for Students During COVID-19," worked to shift arts education in the COVID-19 world by supplying sketchbooks, sculpting tools, clay and sculpting wire for each student to have the tools needed for class at home, without having to share materials with classmates at school.
Schwarz said with the pandemic, arts teachers at both of the division's high schools were interested in providing social and emotional support to students through the arts.
"The art experience itself has really become a positive outlet and it really provides an opportunity for all students to explore creative ways to set aside anxieties that are really prevalent during these times where there might be confusion or frustration due to the pandemic," Schwarz said.
Heritage Elementary School movement education teacher Jacob Heidorn said teaching physical education with COVID-19 mitigation strategies in place has been difficult.
In an effort to provide an outdoor, low-contact, COVID-19-safe sport opportunity to students in the division, Heidorn is working to bring disc golf baskets to elementary schools in LCS. Heidorn said disc golf is growing in popularity in Lynchburg and he wanted to introduce the sport to kids in the division.
Heidorn said permanent or portable disc golf baskets will be installed at each elementary school in the division. Heidorn said Peaks & Creeks Disc Golf Club, based in Lynchburg, is holding a disc drive from 11 a.m. to 1 p.m. today at Sandusky Park in hopes of receiving donated discs for students to use on the new courses.
Jodi Gillette, executive director of the Lynchburg Education Foundation, said the classroom innovation grants program aims to support LCS teachers and their innovative educational ideas.
"A lot of times new ideas find funding challenges," Gillette said. "This program gives us a space to pilot opportunities and give teachers a space to try new things. You never really know what the next great thing is going to be."
Outdoor classrooms, virtual paint classes, digital theater opportunities and COVID-19-safe musical instruments were also funded through this year's grants.
Gillette said she was worried the education foundation would not be able to award grants this year because of the financial impacts of the coronavirus pandemic, but was thankful this year's 59 corporate sponsors and donors were able to make these 35 grants possible.
This year marked the 29th year of the program, Gillette said, and the education foundation surpassed the $1 million milestone with more than $1.05 million in classroom innovation grants being awarded since the beginning of the program.