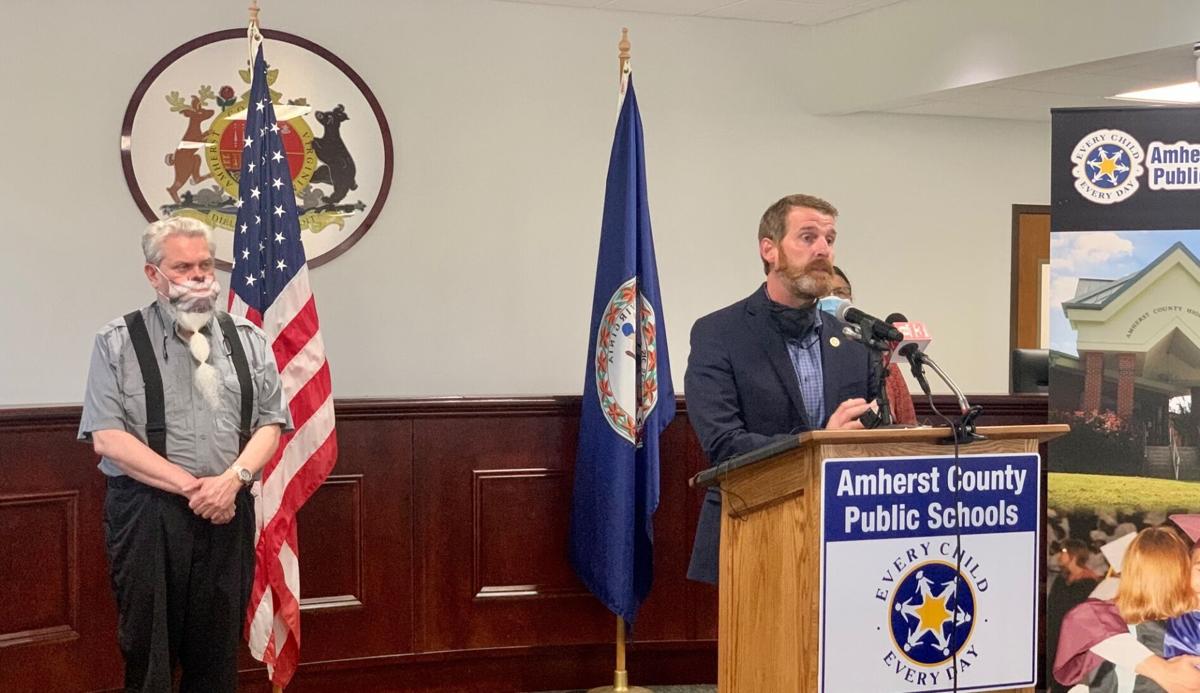 AMHERST — Due to an increase in positive COVID-19 cases, Amherst County Public Schools will close to students and staff until Sept. 13.
In a news conference Thursday evening, ACPS Superintendent Rob Arnold said the division determined it could not safely operate schools for the next week and all facilities will be closed to students and most staff until Sept. 13.
"Clearly we have a major health issue in our community," Arnold said.
Arnold said 198 active positive cases of COVID-19 have been reported since the school year began Aug. 18.
During the entire 2020-21 school year, the division saw just around 100 positive cases of the virus.
"All students and staff should consider that they have experienced some exposure to COVID in the last week of school, and to act accordingly," he said.
Arnold expects schools to reopen Sept. 13.
"We believe this will be sufficient time to contain the outbreak," Arnold said.
All extracurricular activities have been canceled, and no in-person or virtual instruction will be provided. Transportation and meals also will not be provided.
Enrichment activities will be posted to the division's website and course management platform, Canvas, he said.
Arnold said some 12-month employees will report to facilities because they can isolate as they work.
"This is not an easy decision, nor one we make lightly, as we understand how important being open is to our community," Arnold said. "This is also not only the schools' responsibility to remain open, it is the entire community's responsibility."
Arnold encouraged the Amherst community to follow health and safety mitigation practices.
Dr. Kerry Gateley, director of the Central Virginia Health District, supported Arnold's call.
"COVID is still here, still alive and well," Gateley said Thursday.
Gateley said the virus infects "ready hosts" without natural immunity or immunity by vaccination. With a number of students unable to receive the vaccine due to their age, Gateley said, classroom settings are more susceptible to infection.
"If you introduce the virus into that setting, it will take advantage of all those hosts," Gateley said.
The county's secondary schools were closed Aug. 26 at the recommendation of the Virginia Department of Health after a coronavirus outbreak that school officials said was caused by a COVID-19-positive person entering a building without notifying staff.
Officials held free testing clinics Tuesday at two facilities and initially planned to allow students who tested negative to return to the secondary schools Thursday. After learning test results would be delayed, they decided to keep schools closed an additional day Thursday.
At Thursday's news conference, Arnold said more than 1,800 people, including nearly 1,000 students, were tested at the clinics.