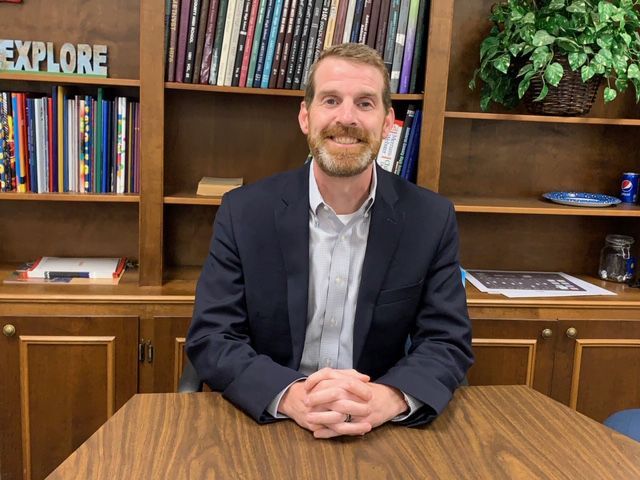 With Amherst County's public schools set to reopen Monday following a weeklong shutdown to contain a surge in COVID-19 cases, Superintendent Rob Arnold on Thursday publicly spoke of the difficulties the division's staff has faced in a bumpy start to the school year.
Arnold said during the Amherst County School Board meeting staff looked forward to a school year "that looked like school again" with a return to in-person learning five days per week for a vast majority of students. While Amherst schools had 100 cases of COVID-19 from early September 2020 to June, a few weeks into the new school year the division has reached 202 cases, causing a shutdown needed to manage the outbreak, Assistant Superintendent William Wells reported to the board.
"We really relished the opportunity to help students with their learning loss from the previous 18 months. Unfortunately, that's not the case," Arnold said of the shutdown. "This year is more difficult. Our staff is exhausted and it's just September."
He said more than a dozen administrative staff has been helping with contact tracing beyond their regular duties. Administrators are working well into nights and all weekends and teachers are juggling instructing students in person and online.
"The effort given so far is not sustainable," Arnold told the board. "And what makes matters worse is the environment that we're in right now has not been as supportive of public education as it was last year. People loudly complain about what we are not doing, but as I said earlier, we are doing everything humanly possible just to get the doors of our schools open."
The division was applauded last year for efforts to educate children during the state-ordered shutdown of schools and return last fall under a system of hybrid in-person and remote instruction, Arnold said. He added that same appreciation is not felt so far into the new school year.
"So I want to say publicly that all ACPS employees are appreciated and I know what job they are doing every single day. I ask this board to provide support and grace for a group of people who are doing everything in their power to educate children," Arnold said. "There's been a lot of discussion in the community about the number of teachers leaving Amherst. You need to understand teachers everywhere are leaving in record numbers because their jobs are miserable right now. We stick with it because we love children. Our people are doing everything they can do to make this year work and we've been put in a tough spot."
Wells said the delta variant strand of the coronavirus is three times more contagious with much more students in the buildings compared to last school year when many were learning remotely. 
"I do hear you and appreciate everything everyone is doing," board member Amanda Wright said to Arnold. "We're dealing with a different animal too … You're trying to wrap your arms around something that is much bigger than last year and that presents a unique challenge. … It's a heavy lift. It is different this year and everybody has to play on the same team."
Amherst schools had just more than 70 students enrolled in Virtual Virginia, a state online program, at the start of the year and more students are being accepted, Arnold said. Amherst students' enrollment in Virtual Virginia now is nearly 140, said Dana Norman, chief academic officer.
Wells said the division has just more than 110 active case and more than 800 students were quarantined prior to this week's shutdown.
"We feel the shutdown has allowed us to get a handle on the cases," Wells said.
He said Amherst County's population had 18 new positive cases Aug. 18, the first day of school, and 85 cases were reported Wednesday. Jan. 7 was the peak of the most cases reported in Amherst County with 93, according to Wells' report. 
"We're almost at the peak of where we were," Wells said. "The delta variant is much more contagious and that's one of our issues."
The schools had zero cases the first day of school, Wells said. "After that it went downhill," Wells said in explaining the sharp rise in cases. By Aug. 23 the division was in full COVID response mode with cases being reported well above the daily average last year, he said.
"Last year, a bad day was four cases. [Amherst schools] hasn't had a day, except for yesterday, under four cases since the third day of school," Wells told the board Thursday.
Wells said 1,850 people were tested for COVID-19 during a clinic at the end of August and 140 vaccines were distributed to local residents.
Board member Chris Terry said the division had a good plan in place to get students back in school five days per week. The board urged the parents to properly monitor children and not let them come to school if they are showing symptoms, noting the ripple effects an exposed person can have on others.
"If the right thing had been done I don't think we would be in the situation we're in right now," Terry said. "I'm embarrassed for people to stand back and say Amherst County [schools] is not doing what they need to do for the students because I think [schools' staff] is doing 100% of what you need to do for the students." 
Chair Priscilla Liggon said closing all schools for a week wasn't desired but necessary to keep people safe.
"We had a setback. This is not a joke we're dealing with," Liggon said of the virus. "We're doing all we can… we were in a chaotic mess."
She said she is excited for schools to reopen but emphasized parents and the public should remain vigilant in preventing the spread of the virus. 
"I don't want to die right now," Liggon said of wearing a face mask. "I'm serious as I can be. I don't want to get sick. … It's going to take a village to get us out of this."