Donned in blue and white and sporting "Glass" facemasks and T-shirts, E.C. Glass High School administrators, staff, alumni, students and community members celebrated the school's history and namesake on Monday morning.
A Virginia Historical Highway Marker honoring the life and legacy of Edward Christian Glass was installed about a week ago at the front of the school on Memorial Avenue, but it officially was unveiled Monday, according to Ted Delaney, director of the Lynchburg Museum System.
Glass was the longest-serving superintendent of Lynchburg's public school system, assuming the role at age 26 in 1879 and serving for nearly 53 years. Glass made several contributions to education in the city and state, including serving on the state board of education twice.
Lynchburg High School on Park Avenue was renamed in 1920 in Glass' honor to E.C. Glass High School, and the school on Memorial Avenue opened in 1953. The historical marker was set to be installed and unveiled last year to commemorate the 100-year anniversary of the school's renaming but was postponed because of the COVID-19 pandemic.
Several members of Glass' family, including his four great-great-nieces, attended Monday's event.
Blair Glass Nelligan, one of Glass' great-great-nieces, spoke on behalf of the family. The school is part of the Glass family's legacy, she said, as many members of Glass' extended family are proud Hilltoppers.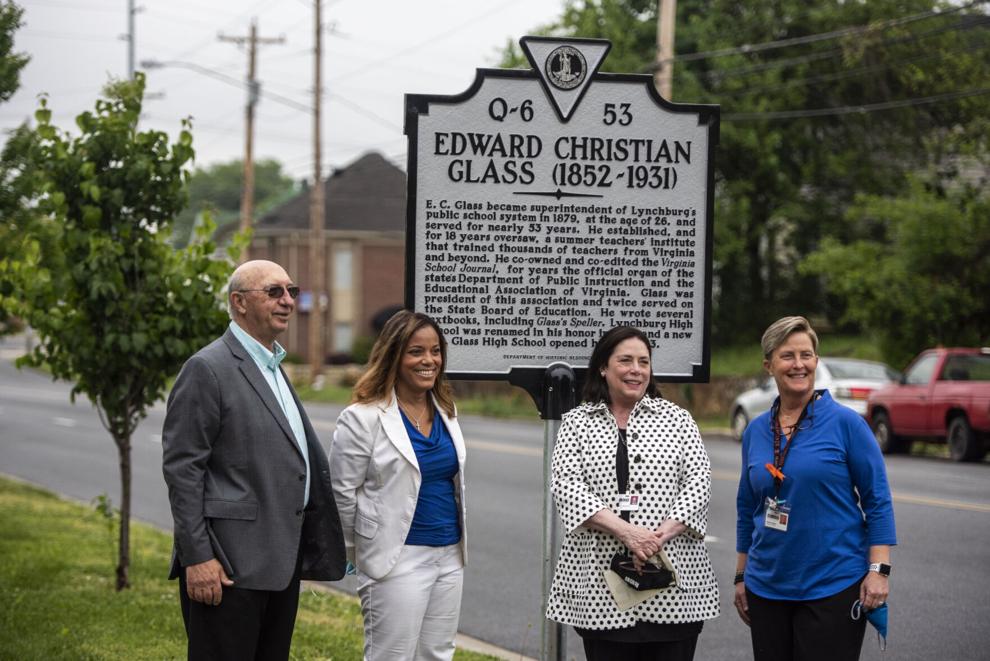 Of Glass' four great-great nieces, their husbands and 12 children, Nelligan said, all but one attended and graduated from E.C. Glass High School. Within the past six months, she said, two of those 12 children just married other Hilltoppers.
"Needless to say, we are looking forward to watching the next generation of Glass descendants roam these fine halls of E.C. Glass High School," Nelligan said.
Nelligan thanked the teachers, staff, coaches and administrators who, she said, have worked to ensure the school has had a positive impact on the students and communities it serves.
Past and present principals of E.C. Glass High School spoke at Monday's event, including current principal Rose Flaugher and former principals Roger Jones and Tracy Richardson.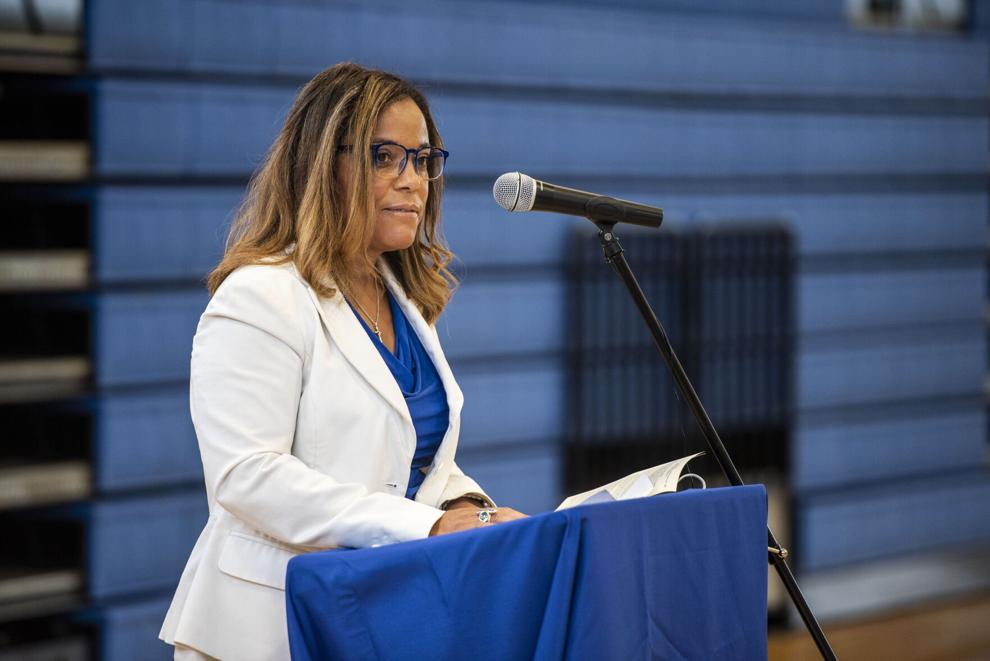 Jones, professor of educational leadership at the University of Lynchburg, began his teaching career in Lynchburg City Schools and served as principal of E.C. Glass High School for eight years beginning in 1982.
On Monday, Jones urged those in attendance to remember the important historical context that surrounded Glass' time as superintendent. At the time it was named to honor Glass, E.C. Glass High School was an all-white school.
"We do have to remember, of course, that society and life in Lynchburg was very different when he became superintendent," Jones said. "We were a segregated community."
E.C. Glass High School was not desegregated until 1962, when Owen Cardwell and Lynda Woodruff became the first Black students to attend the school. Prior to Jan. 29, 1962, black students had attended Dunbar High School.
During his time as superintendent, Jones said, Glass advocated for the education of all students.
Mckayla Warwick, a Class of 2016 graduate of E.C. Glass High School, said the school was never just a school to her. It was a place where she learned, grew and gained a support system that helped launch her into adulthood.
"I am far too young to speak to the character of Superintendent Glass, but I can speak to how this institution in his namesake has been such an incredible foundation for me," Warwick said.
Warwick said she was grateful to be part of the culture and legacy of E.C. Glass High School.
Susan Morrison, a member of the Lynchburg City School Board, taught at E.C. Glass High School for 10 years before serving as an administrator in the division. Morrison returned to the school in 1995 where she served as principal until 2009.
Morrison said she was happy to be back at the school to celebrate its history.
"I graduated from E.C. Glass, and my husband graduated from E.C. Glass, and all three of our children graduated from E.C. Glass, and my best friends were at E.C. Glass — it is so much a part of our life and our history and it just means a lot to celebrate something good," Morrison said.