Bedford County Public Schools won't implement the Virginia Department of Education's model policies regarding the treatment of transgender students.
In a split 4-3 vote at a special-called meeting Thursday, the Bedford County School Board rejected the 27-page model policies for the treatment of transgender students, which can be found on the VDOE's website and outlines that pursuant to state law, school divisions should adopt policies consistent with the model policy no later than the beginning of the 2021-22 school year.
The vote was largely symbolic, as division Superintendent Marc Bergin said the division's current nondiscrimination policy and practices regarding the treatment of transgender students already comply with many of those outlined in the model policy. The board's vote does not affect the division's current practices.
The policy took effect March 6 and came in response to a law the Virginia General Assembly passed in 2020 requiring the department to develop and publish rules regulating the treatment of transgender students.
Prior to the board's action, Bergin said Bedford County Public Schools' current nondiscrimination policies conform with state law and ensure all persons are provided equal opportunities and education. No further action was required by the school board regarding the division's policy manual following the release of these model policies, he said.
Currently, Bergin said, Bedford County Public Schools has practices in place to support transgender students and to ensure their privacy, but he presented some changes to current practices that would further align with the model policies from the VDOE. Starting this year, all middle and high school students would have access to single-use, gender-inclusive restrooms if they seek additional privacy for any reason.
For locker rooms that do not have private changing areas, Bergin said all students would be provided accommodations and alternatives if they so chose. Additionally, students would not be required to dress out for physical education classes.
"Our confidence level is very high that our administrators will be able to support our transgender students, as they always have over the years, on an individual basis while remaining in compliance with the law," Bergin said.
Bergin said parents and community members have expressed concerns the safety of students will be compromised if these measures are in place.
"Any student of any gender who enters any restroom and engages [in] inappropriate behavior will be disciplined," Bergin said.
Board member Martin Leamy still had concerns.
"This policy, by its very description and title, is heavy on transgender rights, but what about the rights of non-transgender students?" Leamy said.
Leamy's comments earned a standing ovation from the community members in attendance.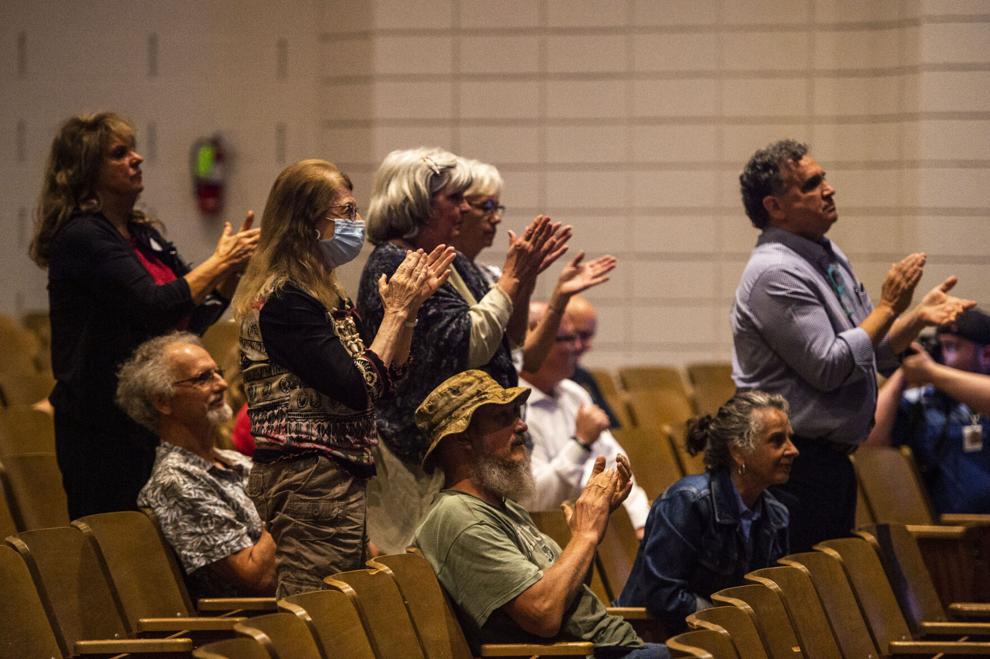 "Sexual assault is going to happen. I think that this policy that came down from the VDOE is going to facilitate that," Leamy said.
Bergin reiterated all students have access to other accommodations if they are uncomfortable, but Leamy still had concerns.
"In the instance where biological females are uncomfortable using the female restroom because transgender females are using the restroom and they opt to use the private restroom, why do they have to seek accommodation when the female restrooms were designed for biological females?" Leamy said.
Board vice chair Susan Kirby said she was not in favor of the proposed changes because transgender students would be "offered" a single-use, gender-inclusive bathroom as an alternative accommodation but not required to use a separate bathroom.
"I get it, I understand equality, I understand everyone should be treated fairly, but to some extent we need to make concessions," Kirby said.
Kirby also added her concerns as a parent to a student in the division.
"My own child has said, 'Mom, I will not go to the bathroom all day if I have to go to the bathroom with transgender students,'" Kirby said. "And I do not want my child to sit there all day long and not go to the bathroom. But also, the same token for the transgender student, I don't want them to be denied — they can't be denied — access. But we need to do more than offer it, we need to have a set designation that this is what will happen."
With the large and passionate crowd in attendance — at times during the discussion, attendees interrupted staff and board members — the board unanimously agreed to waive the 25-minute time limit on public comment, allowing all citizens wishing to voice their concerns to the board to do so. Nearly half of the 22 parents and community members who addressed the board urged them to reject the model policies, while others voiced their concerns over masks in schools.
Del. Kathy Byron, R-Bedford, said she attended Thursday's meeting to hear from families and is "150% behind each and every one of these parents."
Byron said the VDOE's model policies are "unworkable, impractical for school divisions, and would violate the rights of our students and contradict science."
"Unlike the Virginia Department of Education, Bedford County Schools and this board have a record of listening to parents, hearing their concerns and crafting policies for our schools that are best for all the students," she said.
Forest resident Teresa Pregnall said she would suggest the majority of Bedford County parents would oppose the model policies.
"My concerns tonight regarding the model policies for the treatment of transgender students are many," Pregnall said. "The model policies are a direct hit to parental authority and religious freedom."
The board's vote was contingent on a consultation with legal counsel, as some board members expressed concern regarding the legal ramifications of rejecting these policies.
Board members Susan Mele, Georgia Hairston and John Hicks cast the three opposing votes, stating they wanted to seek counsel.
"I'm not an attorney, but I think we might be placing ourselves in a very tenuous position ...," Mele said.
Board chair Jason Johnson said the issue likely would come up again at the board's next meeting, which is scheduled for 5 p.m. Aug. 12.