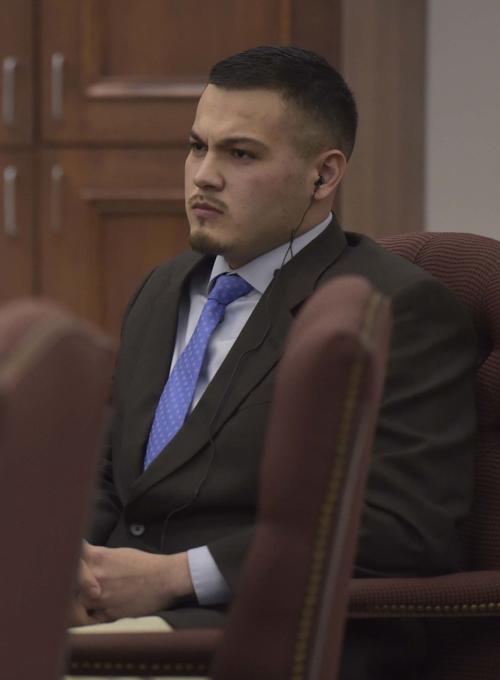 BEDFORD — Once law enforcement found a Lynchburg teen's mutilated body off of Roaring Run Road, it was about six months before two of the suspects in his death were arrested.
One of those men was Kevin Josue Soto Bonilla, and the other, Cristian Josue Sanchez-Gomez, described how they got away Friday during his co-defendant's trial.
Witness testimony started Thursday for Soto Bonilla's trial, having been charged with capital murder of a Lynchburg teen in March 2017. He's the second defendant to face trial: three men connected to the death of 17-year-old Raymond Wood have pleaded to their charges. Another was found guilty of first-degree murder in a trial last year and sentenced to 55 years behind bars.
Soto Bonilla also faces charges of abduction for pecuniary benefit, robbery and participating in the violent MS-13 street gang.
In court Friday, Sanchez-Gomez said the two men rode down to Lynchburg from Maryland on March 27, 2017, at the direction of higher-up "homeboys" in the violent street gang MS-13.
Sanchez-Gomez, who admitted to being in the gang, said there were two other members with them, rapping to music in the car on the way down and stopping in at a Wawa gas station.
Both he and Soto Bonilla were in the backseat of a homeboy's Honda Accord when they dragged 17-year-old Raymond Wood in with them, having set up a fake weed deal.
But Sanchez-Gomez wasn't among the group that stabbed Wood with a 17-inch knife once they took the teen to a remote spot off of Roaring Run Road. Overwhelmed, he said he became nauseous and vomited on the road, not being able to tell exactly what was going on beyond the direction his fellow gang members were thrusting the blade.
Once a passing motorist stumbled upon the scene, the four men scattered on foot.
Sanchez-Gomez said he met up with the others under a nearby bridge and saw Soto Bonilla digging a hole to bury the knife in the woods.
Also among those who testified on the fifth day of Soto Bonilla's trial was a man who encountered the four assailants as they hid in a hay barn hours after the stabbing.
The witness, who worked at the Goode-area farm the men ended up on, described a lot of confusion with language barriers before offering Sanchez-Gomez and Soto Bonilla — cold and wet — the chance to hop in his car.
He said the two managed to communicate they were workers on a construction job in the area who had been left there and needed a ride home.
The witness said he allowed Soto Bonilla to use his cell phone and relayed the farm's address.
"They made me a little nervous cause they were acting nervous," he said. "I didn't know what was going on."
The witness called 911 and chased the car down until he was told to stop. Law enforcement continued the chase and took the driver and two passengers into custody.
Sanchez-Gomez said he and Soto Bonilla were the first to be driven off of the farm and dropped off in a wooded area a few minutes away.
He grabbed a couple of cellphones from the car before it returned to pick up the two other men from the farm. Soto Bonilla called a few homeboys for help when they saw about five police cars chasing their driver down Forest Road.
One of those homeboys was "Reaper," the highest ranking member of the Sailors clique within MS-13.
Two fellow gang members picked Sanchez-Gomez and Soto Bonilla up at about 4 p.m., Sanchez-Gomez said. One was Juan Martin Hernandez, who let them stay in Charlottesville with him for a night before driving them back up to Maryland. Sanchez-Gomez said he destroyed the cellphones.
The two laid low in Maryland for two months, where Sanchez-Gomez said Soto Bonilla recalled helping to kill Wood and trying to cut Wood's hand off.
They chose new nicknames, got new cellphones, and went their separate ways. Sanchez-Gomez said he ended up in Charlottesville and contacted Soto Bonilla up in New York a few times.
Those locations were where law enforcement eventually tracked them down and arrested them for their role in Wood's death.
Soto Bonilla's trial will continue Monday.
Rachel Mahoney covers courts for The News & Advance. Reach her at (434) 385-5554.
Rachel Mahoney covers courts for The News & Advance. Reach her at (434) 385-5554.
Get local news delivered to your inbox!
Subscribe to our Daily Headlines newsletter.