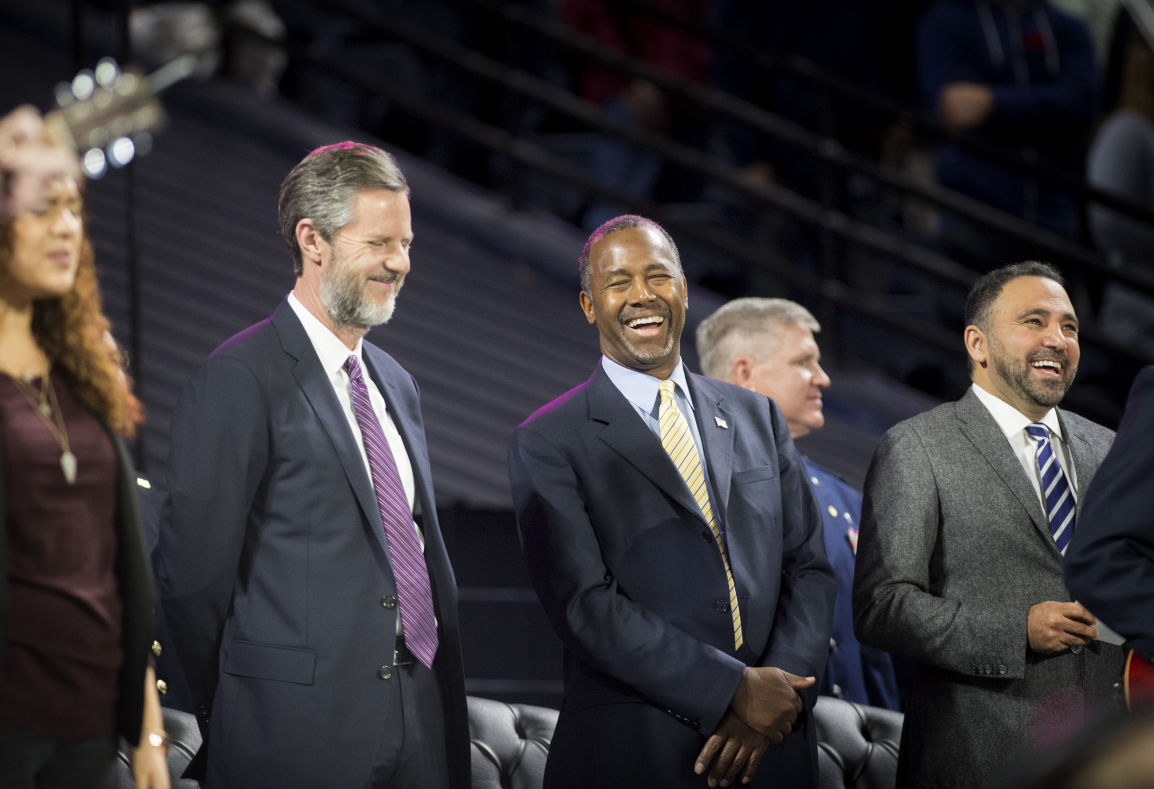 A cardiologist and medical engineer spoke at Liberty University College of Osteopathic Medicine on Wednesday about an innovative new procedure, revealing a surprise patient: Jerry Falwell Jr.
Falwell, president of Liberty University, revealed Wednesday he was born with a hole in his heart that has caused decades of migraines and two mild strokes in 2016. Last month, he had the hole closed through a new medical procedure that involved going through his groin and stitching the hole shut. Falwell said he learned about the procedure from Secretary of Housing and Development Ben Carson, also a celebrated neurosurgeon, who spoke at LUCOM's first graduation in May.
"It's just a miracle that it happened the way it did, and it's because of this medical school," Falwell told around 200 LUCOM students. "If Ben Carson hadn't come to speak here I never would've found the problem; he said I'm very fortunate that I didn't have a major stroke."
In an interview afterward, Falwell said learning about the procedure was providential.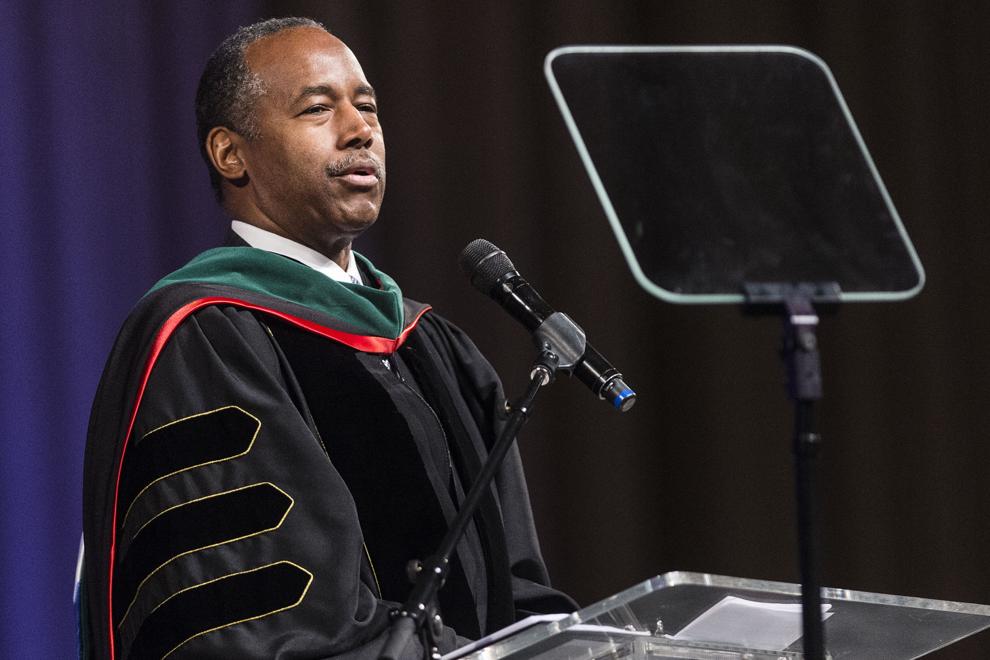 The procedure is known as a transcatheter suture closure of a patent foramen ovale — the medical term for a hole in the heart. It involves running a device to the heart through a vein in a patient's leg and stitching it closed, leaving behind a suture rather than a device embedded in the heart, which inventor Anthony Nobles said makes the technique less invasive.
"It is a collaboration between engineers, scientists, physicians, and patients," Nobles said.
Dr. Jim Thompson, the physician who performed the procedure on Falwell, also spoke at LUCOM on Wednesday as part of an event that was simulcast at an optional LU convocation. After an explanation of the issues a hole in a heart can cause, Thompson discussed the procedure itself, which has been performed on close to 150 patients in the U.S., including Falwell.
"Actually doing the procedure is pretty straightforward," Thompson told students.
At LUCOM, Falwell also marveled at Thompson's technical prowess.
"How in the world can you stitch up a hole when the heart is flopping all over the place?" Falwell asked.
"Very carefully," Thompson replied.
According to Thompson, a patent foramen ovale is so common it affects 20 percent of people. The condition isn't problematic for many, but others experience migraines and strokes, as Falwell reported.
Falwell, who underwent the procedure Sept. 11 at Inova Heart and Vascular Institute, said his migraines have vanished since. He said after the procedure he was back in the gym within a week. Falwell added President Donald Trump called him one night after the procedure to check on him, and took credit for the outcome since the idea came from Carson.
Going forward, Nobles said he would like to see the procedure used more for preventative treatment, noting that oftentimes those who undergo it already have suffered strokes.
Falwell said he would like to see LUCOM students learn and pioneer this type of research and innovation, enter tertiary markets and improve health services in smaller hospitals.
The procedure is currently limited to Fairfax where Thompson works. Nobles said that Thompson is one of only 34 physicians trained to perform the operation, and the only one in the U.S., although as many as five other medical centers could offer the procedure in coming months. Nobles did not identify other sites since those locations have not yet been vetted.
"There's no shortage of people who want to participate, we just have to figure out which ones are the best," Nobles said in an interview.
As of Wednesday, Nobles said, 1,558 patients worldwide have undergone a transcatheter suture closure, and he hopes it will soon "be as commonplace as any other procedure." The first such operation took place more than 11 years ago overseas in Tiblisi, Georgia, Nobles said. The procedure was introduced to the U.S. in September 2017.
As he dispensed advice to LUCOM students, Nobles told students to write ideas down when they emerge, explore them, and don't tell anyone, stressing non-disclosure agreements.
Falwell also encouraged LUCOM students to take risks on entrepreneurial adventures.
"When you have an idea, don't just dismiss it and think it will never work. Try it," Falwell said. "That's what made modern medicine what it is today, all of these brilliant ideas and people willing to take a risk. Entrepreneurs… that's what built this university."