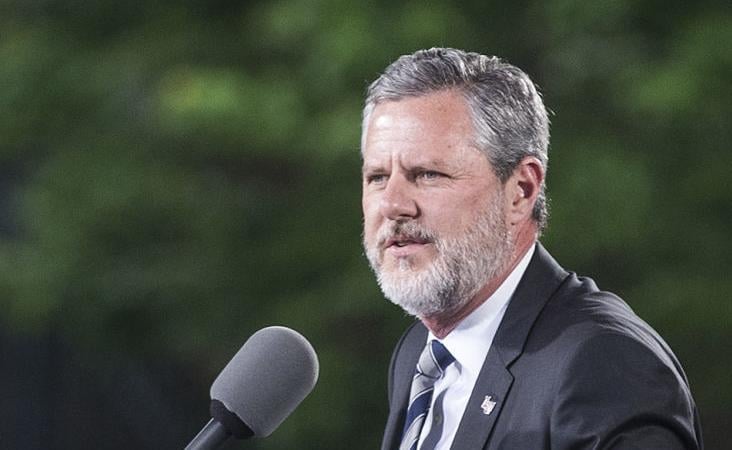 Liberty University President Jerry Falwell Jr. said Thursday evening he has the full confidence of the school's board of trustees and the university is moving forward with legal action against leakers who have helped fuel a cascade of recent media reports alleging misconduct under his stewardship.
"If it was me, I'd turn the other cheek but this is not me," Falwell said. "This is Liberty University and I have no choice but to do what is in the best interest of the university and that means unfortunately taking action against these people."
Falwell's comments come on the heels of a new report from Reuters alleging he used demeaning language to refer to students and the school's police chief. It also comes on the eve of a planned student protest directed at Falwell.
On Monday, Politico Magazine published a story alleging Falwell leveraged the university's business interest to enrich himself, family members and friends. The story — which carried the headline, "Someone's gotta tell the freakin' truth: Jerry Falwell's aides break their silence" — included internal university emails obtained by Politico and cited unnamed sources. The magazine article, written by an LU graduate, said it was based on interviews with more than two dozen "current and former high-ranking LU officials and close associates of Falwell's."
In an interview with The News & Advance Thursday, Falwell disputed the allegations in the magazine and said the university's board of trustees has instructed him to pursue civil litigation against who he believes is responsible for sharing university emails to reporters.
Falwell said the university has hired "one of the largest law firms in the United States" and a formal complaint has already been drafted. He declined to name the firm or who he believes is behind the leak.
In addition to the planned civil suit, Falwell has asked the FBI to investigate. He said the decision to share emails with reporters amounts to a crime because the documents were Liberty property.
"It's like they're just asking to be put in jail," he said. "It's the craziest thing I've ever seen."
The FBI declined to comment.
In response to the allegations in Politico Magazine, Liberty students have planned a protest for today. They will rally on the steps of the Montview Student Union following the end of today's convocation.
Organizer Elizabeth Brooks, a junior, said the student protesters will call for an investigation into the allegations, greater transparency from the university and accountability for Falwell.
Falwell said Thursday evening he welcomes the demonstration.
"With the student body the size of ours, we're going to have some who don't agree with me and I welcome that because that is what college is all about," he said.
The outrage directed at Falwell was intensified Thursday when the news service Reuters reported that he referred in emails to a student as "emotionally imbalanced and physically retarded" and called Richard Hinkley, the chief of the Liberty University Police Department, a "half-wit."
Falwell acknowledged both of the emails in the article were authentic but said his comments lacked full context.
"The chief of police spoke out against my idea to allow concealed carry on campus and that was the reason I was saying things that weren't so nice about him," he said, referring to a 2011 policy allowing visitors, students and staff who have concealed-weapons permits to carry guns on campus. "And I told him today, 'you and I disagree; I bad mouthed you a little bit, that's called business.'"
"I'm going to be me no matter what," he added. "That never will change and I will say whatever I think whenever I want to say it. My comments are always appropriate for whatever happened and sometimes it might not be the most pleasant thing in the world but you know what, that's a part of running a business."
In response to the national media attention, the university on Thursday night released a 19-page document on its website in an "attempt to set the record straight" about the recent allegations. The document includes selected questions from reporters and Falwell's responses.
Brandon Ambrosino, the author of the Politico story, disputed the accuracy of the document, calling it "wildly misleading" on Twitter.
Liberty trustees have largely been silent in the wake of the allegations, but those who have spoken publicly have reaffirmed their commitment to Falwell.
"He's the best thing that's ever happened at Liberty," Carroll Hudson, a trustee and a member of the board's executive committee, said this week. "If you look at the gains we've had, why would you have any concerns?"
The News & Advance reached out to 27 trustees, of whom three agreed to speak on the record. The remaining board members either declined to comment or did not return interview requests. Two trustees could not be reached.
"Liberty is a private university and those who lead it, particularly Chancellor Falwell, are individuals who we feel are God-appointed people and they answer to the board," the Rev. Jack Dinsbeer, an emeritus trustee who lives in Florida, said. "And at this point I don't know of anything that's come my way that would be anyway contrary to good leadership on his part."
When reached for comment Tuesday, Jonathan Falwell, Jerry Falwell Jr.'s brother and the pastor of Thomas Road Baptist Church, said he was unaware of the Politico Magazine story and declined to comment.
One trustee who did speak on the record disputed the accuracy of the Politico report. Harvey Gainey, of Michigan, a board member since 2016, said the quotes included in the story could not be trusted since they were made anonymously.
Politico did not respond to a request for comment.
Falwell said the recent accusations are a product of his support for President Donald Trump, who he famously endorsed in 2016, and that despite the claims he has no plans to bow to external pressure.
"I hate to say it but I kind of enjoy it because there's nothing to it and I love a good fight," he said. "If they want to come at me let them come on because they're on a dead-end road and I've got 57 years of being in the crosshairs as my father's son and as my own self. I've got a pretty thick skin so they can come and say whatever they want."
Richard Chumney covers breaking news and public safety for The News & Advance. Reach him at (434) 385-5547.
Richard Chumney covers breaking news and public safety for The News & Advance. Reach him at (434) 385-5547. 
Get local news delivered to your inbox!
Subscribe to our Daily Headlines newsletter.