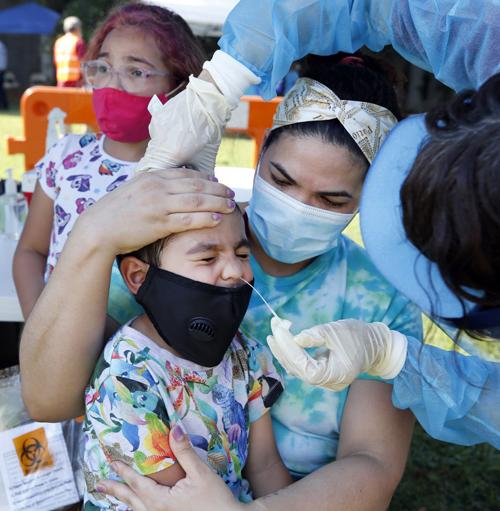 RICHMOND — Five cases of an inflammatory syndrome that targets young people weeks after a coronavirus infection have been found in the Richmond area. More still are being investigated.
In a Monday media release, the Virginia Department of Health said the increase in these cases "coincides with the surge in cases of COVID-19" in Chickahominy, Chesterfield and Richmond and Henrico Health Districts following a post-holiday spike.
This is the first set of cases recorded in the region. At least one is in each locality, though VDH isn't releasing further information for privacy reasons.
Called Multisystem Inflammatory Syndrome in Children, or MIS-C, the illness remains relatively rare with symptoms including fever, rash or gastrointestinal problems in people as young as 1 years old and as old as 20. At its worst, the syndrome can constrict the heart from pumping enough blood.
According to the Centers for Disease Control and Prevention, 99% of cases tested positive for the virus and the remaining 1% were exposed to COVID-19.
Almost 70% of these cases have been found in Black or Latino children. More than 75% of the children who died because of COVID-19 were Black, Latino or Indigenous, according to federal data. Nearly half were Hispanic.
"Our heartfelt concerns are with these children and their families," said Dr. Tom Franck, Chickahominy Health District director. "These cases serve as an important reminder that COVID-19 can affect people of all ages. Even as our vaccination campaign continues to reach more and more people, we cannot let our guard down and we must continue to take precautions to prevent the spread of this infection."
Other states such as New Jersey, California and Pennsylvania have reported a similar alarming jump, with a higher percentage of patients with the condition rolling in to hospitals.
This number doesn't include Monday's report of new infections but with the Richmond-area cases, the region is roughly 1 in 5 of the state's MIS-C count.
Currently, the health districts with the most are Fairfax and Prince William with four cases each.
(804) 649-6103
Twitter: @sabrinaamorenoo