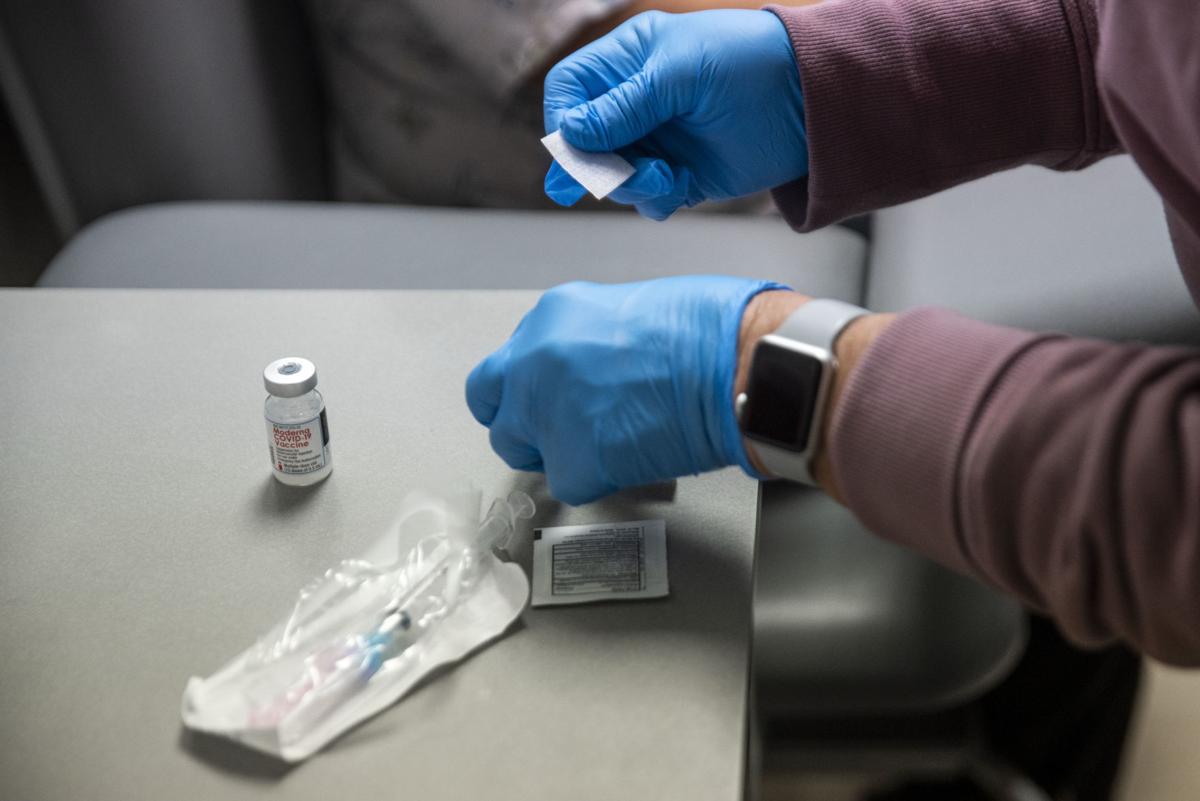 With some local CVS pharmacies now offering COVID-19 vaccinations, people in Central Virginia will have more opportunities to get a dose amid short supply and systems that have proven frustrating for many wanting to be immunized.
The Central Virginia Health District, made up of Lynchburg and the surrounding counties, started offering vaccines to people 65 years old and older, certain essential workers and adults with certain underlying conditions three weeks ago when it entered Phase 1b of vaccination rollout.
At the time, health officials said they were expecting to receive about 3,050 doses from the state per week based on the district's population until about the end of February. With more than 50,000 people in the district aged 65 and older and still more qualifying as essential workers, there's been a heavy imbalance in demand, and officials conducting vaccine clinics and planning for large-scale future rollout have consistently urged patience.
For Chantal O'Keeffe, trying to secure an appointment for her parents, who are in their 70s and live in Bedford County, has been something like a part-time job: She registered both of them for online waitlists as soon as she could with both CVHD and their health care providers, and she has made multiple calls to multiple locations asking about vaccines over the past few weeks.
When calling, O'Keeffe was repeatedly disconnected, transferred to silence, met with a busy signal, or met with people on the other line who said there's nothing more they could do once someone was on a waitlist.
Lindsey Lockewood, CVHD's population health manager and public information officer, said anyone who's registered for vaccination with the district under Phase 1a is scheduled for an appointment in the order they registered.
At the direction of the state, the district is allocating half its doses to those 65 years old and older and the other half to people with underlying conditions and essential workers, all part of Phase 1b. Those individuals are being scheduled in the order they were registered, and vaccine clinics for essential workers are still focusing on school, public safety and government service workers.
In the past three weeks, almost 20,000 doses have been administered across the district, according the numbers from the Virginia Department of Health. That count includes doses distributed as part of federal programs that are separate from the 3,050 distributed by the state.
CVHD has started to send between 100 and 200 of its weekly allotment to certain Kroger and Walmart locations. Officials would not specify which stores locally will be getting the doses.
With CVS opening vaccinations to those 65 years old and older on Friday as part of a direct contract with the federal government, around 26,000 more doses per week will be available in Virginia. Local officials are unsure how many of those will be circulating in CVHD, and doses are only being offered by appointment only at select central CVS locations in Lynchburg and Bedford.
Somewhat by chance, O'Keeffe happened by vaccination openings at local CVS pharmacies when she checked around 1:45 a.m. one day this past week. Quickly calling her mother despite the hour, she was able to get their insurance and personal information to secure appointments for next week.
John Weber nabbed appointments through CVS for himself and his wife for next week after a month of being in the dark. At first, he signed up for vaccines in multiple health districts to give them the most opportunities, including the Roanoke City and Alleghany Health District and the New River Health District, centered around Radford.
He said the other health districts have emailed him a few times using the address he registered with, updating him on the status of vaccines and notifying him of mass vaccination events. The New River Health District even called to offer him an appointment at the end of January, but declined him when he said he lived in Bedford County.
Weber said he received no such emails from CVHD but received a phone call confirming his registration early this month in response to multiple calls he put in. He was concerned that, being patients of an independent physician not part of a larger local provider network, he and his wife would be at a disadvantage.
"If you live here, you're in the dark – you basically don't know what's going on," he said.
At first, registration through CVHD was done through its call center and didn't include any confirmation. When registration moved to an online engine toward the end of January, people signing up could get an email confirmation when they completed the form.
VDH intended for CVS vaccinations to first be offered to those who'd already signed up with their local health district, though Dr. Danny Avula, director of the Richmond and Henrico health districts and leader of the state's vaccine effort, said CVS can't fully verify whether someone has already registered.
Weber said he received an email alert from the New River Health District on Monday that CVS registrations would open across the state early the next morning. After a few tries at locations in and around Bedford, he found a long list of available appointments — but they disappeared fast.
CVHD's website and email to register for immunization will be rolled into a larger statewide portal on Tuesday. But that registration doesn't sign people up for waitlists at CVS, Walmart or Kroger, which have also started immunizations. And if someone's physician is part of Centra Medical Group, Central Virginia Family Physicians or another local provider, it's yet another registration process to ensure someone has the most opportunities when a slot opens up.
Dr. Thomas Eppes Jr., president of Central Virginia Family Physicians (CVFP), said the provider applied to get direct shipments of vaccine doses a while back but is still receiving them through the health district, which he said limits the provider's flexibility in administering doses and adds paperwork.
Between that added step and more vaccines being funneled through pharmacies, such as the CVS rollout, he said it's frustrating to see that physicians seem to be left out of the equation when they're a logical option for monitoring any reactions and can relay confidence in the vaccine more effectively to any skeptical patients. CVFP serves a large contingency of people 65 years old and older within the district — around 25,000 patients.
At the most, Eppes said, CVFP is receiving between 500 and 600 doses per week and "working like the dickens" to use up its supply by the end of each Friday. Eppes said his staff could deliver around 2,000 doses per week, given increased supply, which would make much more of a dent in their waitlist of more than 8,000 eligible patients.
Most of those doses have been distributed at the provider's Forest location and internal medicine office off Landover Place, Eppes said, but caregivers have recently reached out to more patients around Appomattox and Madison Heights for immunizations there. He said people on the preregistration list were being called for appointments alphabetically at first, then he encouraged that list to be scrambled.
"We're trying to do things as equitably as possible," he said.
Eppes said caregivers have faced challenges with the two-hour window they have to administer an unfrozen Pfizer vaccine dose, which can require some hasty calls to administer leftover doses when someone doesn't show up for an appointment.
"We haven't wasted one vaccine," he said.
In moving registration to the statewide portal next week, Lockewood said CVHD workers will be able to fine tune its data and process for setting up appointments.
"I expect our process will somewhat change as we gain the capacity to further pinpoint marginalized groups and communities with lower vaccination rates," she wrote in an email.