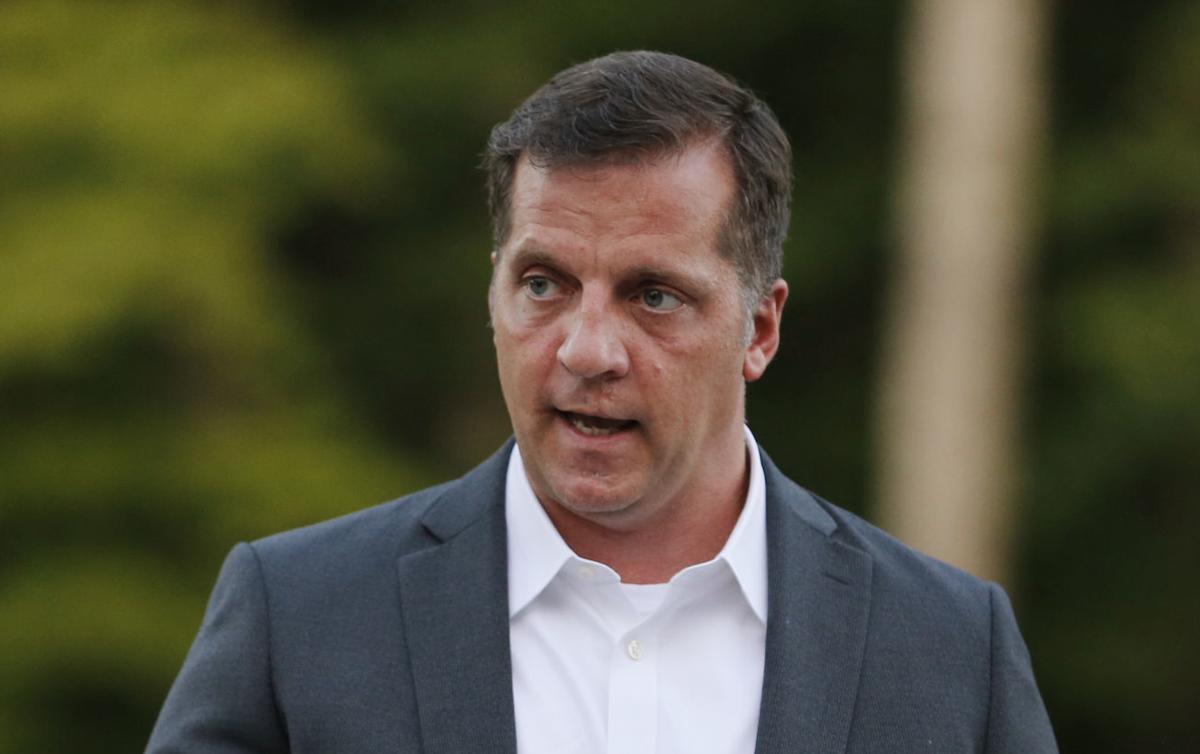 GOP U.S. Senate candidate Daniel Gade is criticizing Sen. Mark Warner, D-Va., for appointing Richmond Circuit Court Judge Bradley B. Cavedo to the bench as governor in 2002, calling him a "known segregationist" and a "racist judge."
Asked about Gade's characterization, Cavedo said in an email on Monday: "I am going to decline to respond to this appalling and disgusting lie."
Cavedo, who has served on Richmond's circuit court for 18 years, is the judge who initially blocked Gov. Ralph Northam's plan to take down the Robert E. Lee statue on Monument Avenue. In July Cavedo recused himself from cases related to the Lee statue because his home is in the Monument Avenue Historic District.
Gade's campaign says the candidate's assertion - in a debate with Warner Saturday night at Norfolk State University - is based on a column Cavedo wrote for the University of Richmond student newspaper in 1977.
In the signed column Cavedo, editor of the paper's editorial page, criticized President Jimmy Carter's instant voter registration plan, saying it would "allow the parasites of this nation to become the dominating force in politics."
Referring to Cavedo, Gade said to Warner during the debate: "He said that Black people are parasites and he said they would suck billions of dollars out of our economy, and yet you appointed him anyway, so don't preach to me about what I need to say. You need to talk about your own actions."
In the column Cavedo did not specifically mention Blacks or attack the concept of desegregation. But he criticized what he called a "massive" court imposed busing plan that he said "nearly wrecked" his high school education.
Warner appointed Cavedo to the judgeship in July 2002. The General Assembly first elected him the next year and has elected him twice more.
Warner said at the debate that when he gave Cavedo the interim appointment it "was part of an arrangement where there were a series of judges put forward by the Republicans and judges put forward by the Democrats."
Warner said: "That was only done" in conjunction with what was then a GOP-controlled legislature.
Gade responded: "Going along with a deal is hardly an act of political courage, hardly a profile in courage." He criticized Warner for "sticking with your record of having appointed a racist judge."
In the 1977 column, titled "What does U.S. life offer me?" Cavedo wrote that he planned to leave the U.S. after graduating from college, adding: "and I may never come back."
Cavedo wrote: "I will be leaving the solicitous paternalism of the federal courts which among other things nearly wrecked my high school education by instituting a massive busing plan that caused more upheaval in my school and my life than most people could imagine."
In 1970 U.S. District Judge Robert Merhige Jr. imposed a busing plan in the city of Richmond in an effort to alter racial imbalances in the city's schools. In 1972 the judge sought to extend the program to the suburbs. The 4th U.S. Circuit Court of Appeals overturned his decision.
Over the summer Richmond lawyer David Baugh filed a complaint against Cavedo with Virginia's Judicial Inquiry and Review Commission, a panel Cavedo once led. Baugh asserted that Cavedo should be removed from the bench, citing rulings Cavedo had made in the Lee statue case while living in the historic district. He also cited Cavedo's 1977 column. (The commission does not confirm or comment on matters that come before it.)
In a July email to a Times-Dispatch reporter, Cavedo wrote: "He complains about something I said 43 years ago in college. That college kid did not exist after 1977."
(804) 649-6645
Twitter: @AndrewCainRTD
Get local news delivered to your inbox!
Subscribe to our Daily Headlines newsletter.