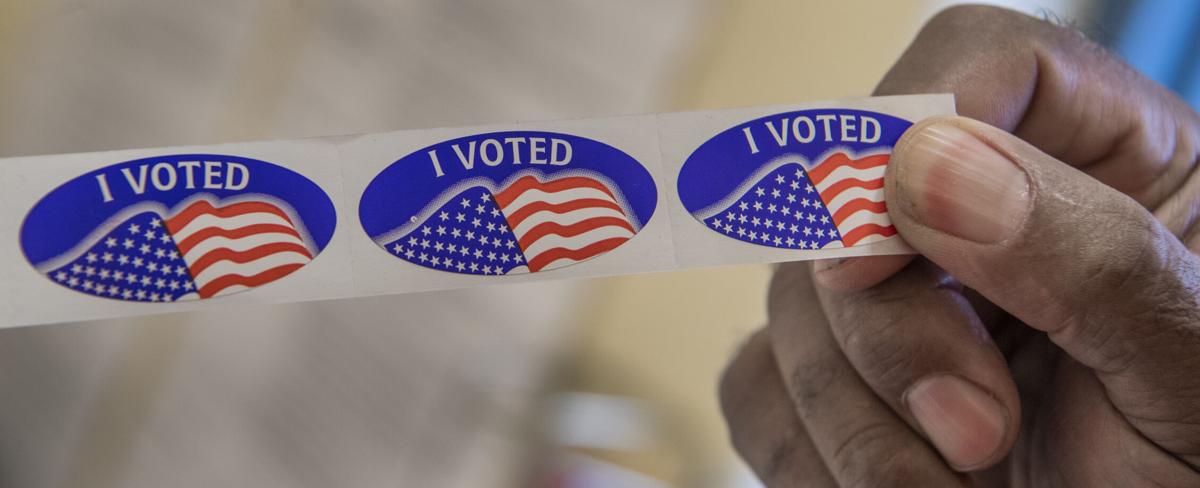 Amherst County voters have shot down a referendum that would have allowed a Rosie's Gaming Emporium to set up in Madison Heights.
The referendum on pari-mutuel wagering was legally required to pass for the business to come to fruition. It stirred debate in the county in recent months, with supporters saying it would have brought needed jobs and tax revenue, and opponents saying it would lead to gambling addiction and more crime.
Unofficial election results on the Virginia Department of Elections website were updated Wednesday morning to add nearly 3,000 in-person early votes and more than 1,000 absentee ballots to the totals. Still outstanding were results from mailed absentee ballots received by the deadline and processed after Election Day.
With the latest figures in hand, 7,211 votes, or 54.06%, were against the referendum, and 6,127 votes, or 45.94%, favored it.
Ernie Dellaverson, regional manager of Rosie's who has spent much time in Amherst County lobbying, said company officials will collect data, gather thoughts and come up with a strategy in determining what's next.
On the large number of "no" votes, he added: "It blows my mind."
Tobey Thurston, an organizer of the group Amherst Citizens Against Rosie's, said she was pleasantly shocked the referendum didn't pass.
"I'm glad, I'm happy," Thurston said, adding she wants to see the voters' decision bring closure. "I hope there's no loophole the county has up its sleeve."
She said the rejection at the ballot box sends a message it is not the kind of business the community wants. The group of 700 people raised $5,000, advertised against Rosie's coming to Amherst and made an impact against a company with deeper pockets in the area of lobbying, she said.
Thurston has said she would rather her local real estate taxes go up than the county getting tax revenue through a business that thrives on gambling.
Drew Wade, who was elected Tuesday as the new District 5 board of supervisors member, represents the area the company in which the company attempted to locate. He wasn't in favor of it coming to Madison Heights, citing long-term negative effects he believes it would bring to the county.
Wade also publicly said in September, prior to the Amherst County Board of Supervisors adopting a resolution supporting Rosie's establishing in the county, that the board shouldn't sway the citizens' vote and should remain neutral. The resolution passed 3-0 with a member abstaining and another absent.
Amherst County Supervisor Jimmy Ayers, who supports Rosie's, said the citizens of Amherst County will suffer a long time financially because of the decision to turn the company away. The board will likely have no choice but to go to taxpayers for revenue in a wide range of county decisions, including the real estate tax, he said.
The money has to come from somewhere for projects such as a major addition planned for Amherst County High School, he said, and Rosie's presence in the business community would have helped.
"That's one clear message that was delivered, the majority of folks do not care where the tax rates go," Ayers said.
Victoria Hanson, executive director of the Amherst County Economic Development Authority, said the county needs the estimated tax revenue of about $1.9 million annually through gaming, sales, meals, real estate and personal property taxes. She said county officials will be faced with making more difficult financial decisions.
"Losing Rosie's is a wasted opportunity for Madison Heights and Amherst County. Good government services our community wants and needs — such as schools, police, ambulances, etc. — require money from taxes. ... The County budget is already strained and without the revenue from Rosie's either taxes will have to be raised or government services reduced," Hanson said in a statement.
EDA officials also have said it would bring a much needed facelift to the Seminole Plaza shopping center and enhance development and revitalization efforts in Madison Heights.
Frank Campbell, a former District 5 representative, said he supported Rosie's coming to the county based on new jobs and bringing a needed economic boost. The county has a void that Rosie's would have helped fill, he said in a recent interview.
Supervisor Claudia Tucker, one of the three supervisors to formally back Rosie's, said publicly in September rejecting it sends a message to other businesses they are not welcome in Amherst, which she doesn't want to see. She also said residents who voted against it shouldn't complain to her if their taxes go up.
Rosie's officials have said nearly 100 new jobs and more than $1 million in annual revenue would have come with the business building a new facility in the Seminole Plaza shopping center. It would feature "crime deterrents" such as significant outside lighting, extensive surveillance and private security workers if built, the company has said.
Rosie's pari-mutuel wagering is through off-track betting and historical horse raising machines that look and feel like traditional slot machines but are based on previously run horse races, according to the company. Colonial Downs Group, the owner and operator of Rosie's that runs a thoroughbred horse racing track in New Kent County, hasn't lost a referendum to pursue a new facility prior to this week, company officials said in a recent interview.
Rosie's has locations in New Kent, Vinton, Richmond, Dumfries and Hampton. A pari-mutuel wagering referendum for a Rosie's in Emporia passed with more than 60% of the vote Tuesday, according to unofficial election results.
Sherri Temple, an Amherst town resident who voted in its favor, said she had been looking forward to the business improving Madison Heights.
"I hate that this is happening," Temple said of its rejection.
She said she believes county taxpayers will suffer in the long run if county officials are faced with raising taxes and development opportunities are squandered.
"They don't understand basic economics," she said of Rosie's detractors.
Wade said the turnout against Rosie's shows morals are a factor and the jobs promised would have come with "strings attached." He is pleased with the outcome and said he strives to help the county manage its financial resources without raising taxes on the citizens.
"The people spoke," Wade said.
Dallverson said his goal was to educate people, many of whom had never been in an environment such as Rosie's before.
"It's the fear of the unknown," he said of the push against it. "I believe the naysayers won through a religious campaign."
He said the company definitely will look elsewhere.
"I'm sure [Amherst County] leadership doesn't want that to happen but we are limited in the licenses we have. We have other jurisdictions interested in our product."
He said Rosie's would have been a great fit for Amherst County and brought much-needed improvement to the Madison Heights shopping center.
"I feel so bad for Amherst County, how they lost out," he said. "Literally lost out."