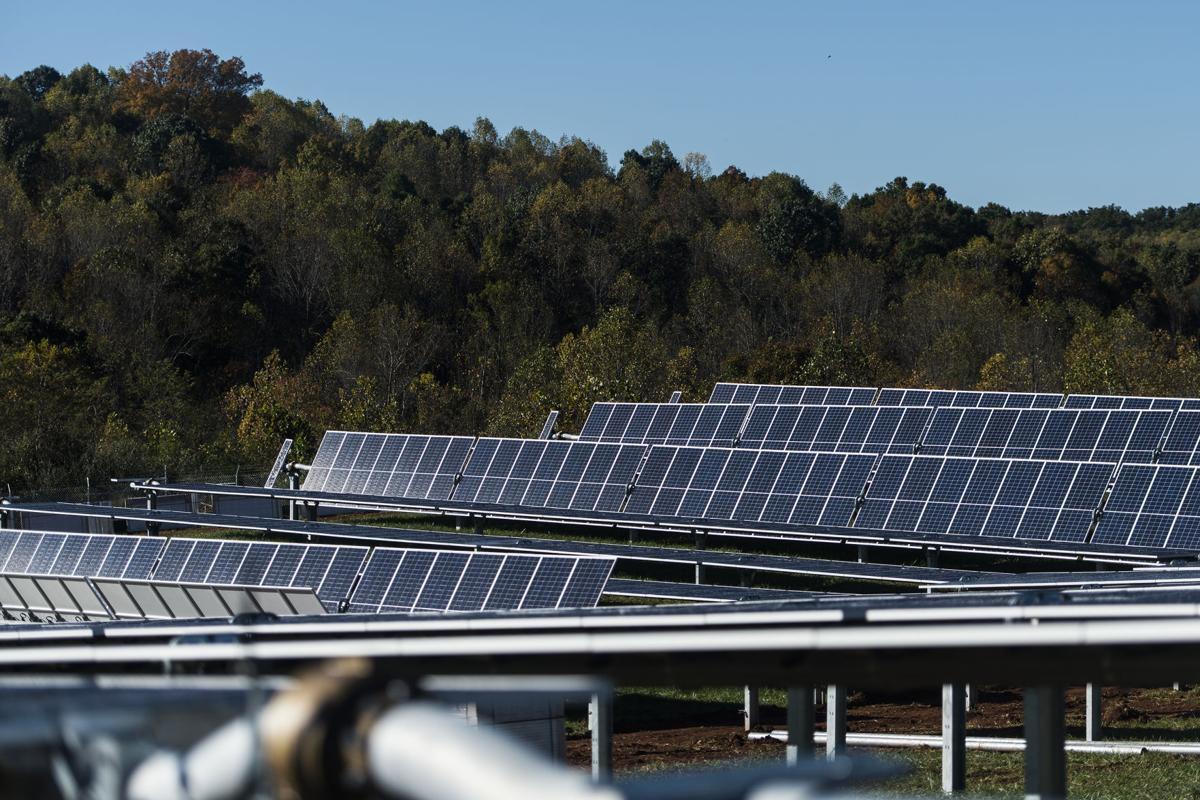 A proposal for a community solar farm off Wards Road in Campbell County was met with skepticism Monday from the planning commission and discontent from surrounding landowners.
Ultimately, the topic was tabled until the commission and the board of supervisors can hold a joint meeting to discuss the future of solar energy in the county.
Hundreds of acres of solar farms already are in development in Campbell County, with sprawling utility scale projects approved in Gladys, Altavista and Rustburg. But the request was the second community solar facility to be heard by the county in the past few months, the first of which was denied approval in early March.
Kieran Siao, director of development for Atlanta-based Dimension Renewable Energy, spoke Monday night before the planning commission, seeking a special use permit to construct a solar facility on 45 acres of land adjacent to 6138 Wards Road in Rustburg, near the intersection of U.S. 29 and Browns Mill Road.
About 15.5 acres of solar panels would be contained within the fence line of the project, according to Siao's presentation, with vegetative buffers and screening surrounding the property to shield it from view.
The special use permit is for the entirety of the 84-acre property, but Siao said Campbell CSG LLC, the applicant, only is planning to purchase 45 acres for the project.
Community solar projects are typically much smaller than utility scale projects, said Siao, and allow customers to purchase electric power through a subscription to the facility. The facility itself feeds its power into the grid, but a subscription to the project allows customers to save on their monthly electric bills through bill credits.
Siao said the 45-acre project could support about 800 homes. Anyone who is a customer of Dominion Energy would be eligible to subscribe. The average savings is around 10% on a customer's electric bill.
Ronnie Hall lives on a farm abutting the property and said he wants no part in it.
"They are promising you the world and they don't follow through with it," Hall said. "It will be another farm destroyed."
He said the land has been a cattle farm since before he was born, and he wants it to stay that way.
The project is proposed under the Shared Solar Program, adopted by the Virginia legislature in 2020, and Hall said any savings on energy bills are possible by government subsidies, meaning the "taxpayer ends up paying for it."
This was a concern also expressed by Timberlake Commissioner George Bondurant, and other commissioners questioned how much in savings would be provided for customers and how many of those customers would be Campbell County residents.
Another nearby landowner, Dominick Dimuro, also communicated strong opposition to the project Monday night, and Brookneal Commissioner Dean Monroe motioned to postpone the vote until its next regular meeting May 24.
In the meantime, the commission and supervisors will hold a joint meeting May 18 to discuss solar projects in the county. After that conversation, he said the commission will have a better idea of how to proceed.
The other proposed community solar farm that was denied in March faced similar commissioner and supervisor concerns. Proposed as a 10-acre solar facility in Gladys, it was rejected following criticism from neighboring landowners and a perceived lack of economic benefit for the county, according to supervisors.