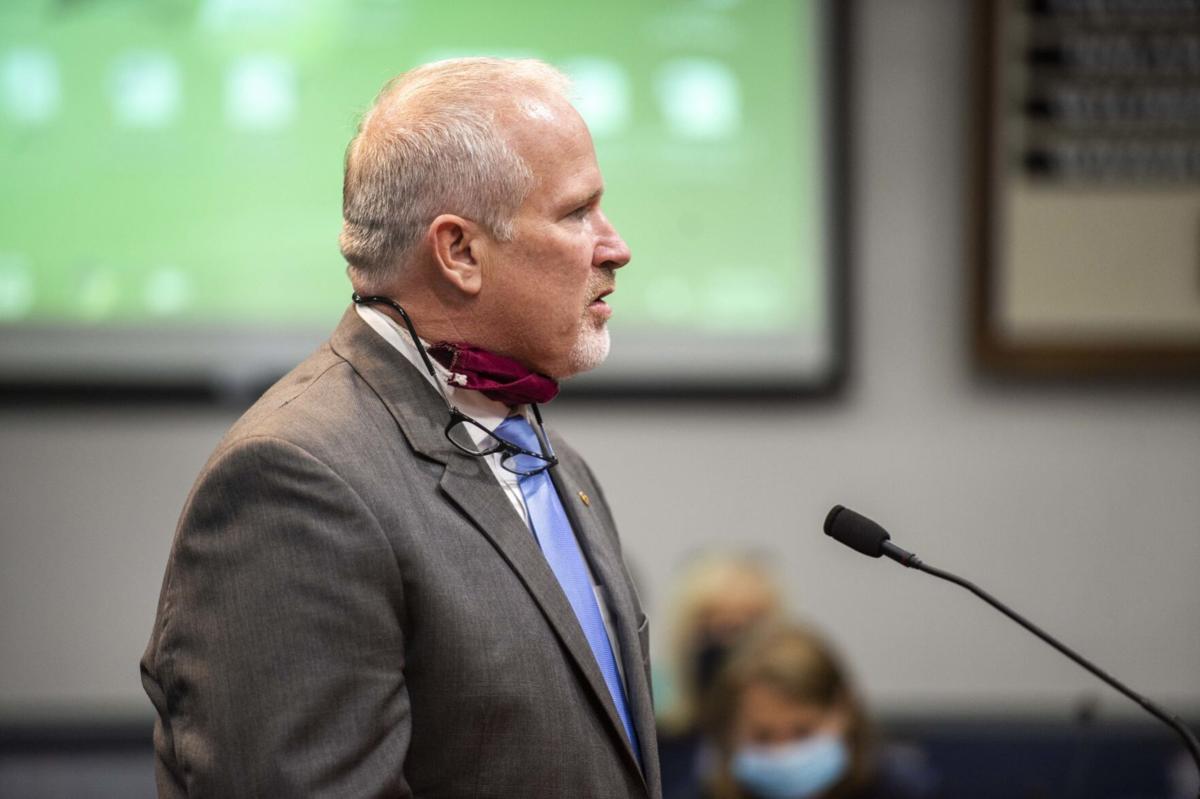 The months-long, nationwide search for a new Lynchburg city manager ended Tuesday when officials introduced Douglas Stanley, a former Warren County administrator, as the new city manager.
At its Tuesday work session, Lynchburg City Council approved the appointment of Stanley, effective Sept. 1, following the retirement of current City Manager Bonnie Svrcek on the same day. Svrcek announced her retirement in January after serving as city manager since 2016.
Stanley, 51, served as Warren County's administrator for 20 years. He began his career in public service as a zoning administrator for Warren County before becoming planning director at the age of 27 and then county administrator in 2000.
Despite the ongoing coronavirus pandemic, Stanley said it is an exciting time for Lynchburg and he is looking forward to working with staff to achieve "the vision of council."
"I'm excited for the next chapter of our lives, and the next challenge. Lynchburg has so much going for it," Stanley said at Tuesday's work session.
Under Lynchburg's charter, the city manager is the top-ranking administrator in the Hill City. Like other Virginia cities with council-manager systems, Lynchburg's city manager is tasked with running the day-to-day business of government and submitting policy recommendations to city council.
Svrcek is currently paid an annual salary of more than $202,000, according to James Lowe, the city's director of human resources.
"In spite of all the challenges of remote Zoom interviews and distanced in-person interviews during the pandemic, we were able to find an extremely qualified person," Lynchburg Mayor MaryJane Dolan said.
A recruitment firm hired by the city presented council members with about 15 to 20 applicants to consider for the position. With the help of the firm, council narrowed it down to five finalists in July.
Dolan said Svrcek leaves behind a strong leadership team to provide support to Stanley as he becomes acclimated to his new position.
City council members joined Dolan in welcoming Stanley, as well as his wife, Jenny, and two children who sat in the audience at the meeting Tuesday night.
"We're looking forward to welcoming you more fully as our newest neighbors," Vice-Mayor Beau Wright said.
Stanley said he will spend the first three to six months sitting down with staff, council members and stakeholders in the community to learn the needs and concerns of Lynchburg and its residents.
"For me, building community is not just my job, it's also about being active in the community, and once we get settled I hope to be able to do some of that here," Stanley said.
Though these are "trying times," he said, he knows the city is up to the challenge, and reiterated the importance of keeping COVID-19 numbers low, and following safety measures, like mask-wearing and social distancing.
A graduate of Mary Washington College, Stanley has a master's degree in urban and regional planning from Virginia Commonwealth University and a graduate certificate in public administration from Shenandoah Institute, Marsh Institute. Stanley is also a graduate of the Senior Executive Institute-Weldon Cooper Center at the University of Virginia.
Get Election 2020 & Politics updates in your inbox!
Keep up on the latest in national and local politics as Election 2020 comes into focus.