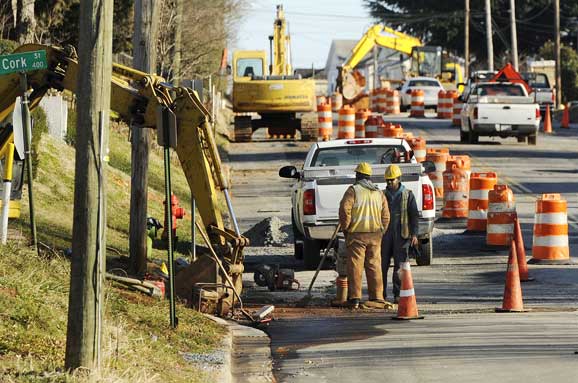 Lynchburg will receive $25 million in federal emergency aid from Gov. Ralph Northam which, along with a $25 million local match, will help bring the end of a decades-long program to fix sewage overflows in the city.
The federal funds were appropriated during the special session of the General Assembly and are part of the federal distributions from the American Rescue Plan Act, according to a news release sent out by the city Tuesday.
Upon completion of the combined sewer overflow program, more than 95% of the original CSO volume will be eliminated, and more than 5,000 acres of combined sewer area will have been separated, with 116 of its 132 overflow points closed.
Overflow sites initially were created to allow relief points in the system, but heavy rains triggered overflows that drained the combined raw sewage and stormwater into tributaries and streams, ultimately affecting the James River.
Back in the 1970s and '80s, Lynchburg was discharging more than a billion gallons of combined sewage out of the century-old wastewater pipes, annually.
Since 1994, Lynchburg has invested more than $300 million in its CSO Program along with another $110 million in other water quality projects.
Director of Water Resources Tim Mitchell said with the allocation of these fund, the department expects to complete the program within the next five years.
The city's combined sewer overflow infrastructure dates back to the mid-1800s, covering about 6,000 acres of the city. By 2021, with mapping work that began in the 1970s and a plan created in 1989, the city has closed a majority of those overflow outfalls. With this funding, Mitchell said, the final phase of the program finally could be completed.
Without the funding, it was likely to stretch another decade, and "would be an additional $25 million that our rate payers would have to fund through future sewer bills," according to Mitchell. "So receiving the funds will definitely help keep sewer rates lower than they would be otherwise."
"This has been a huge collaborative effort across many City Councils, many City employees, State and Federal partners, consultants and contractors," Mitchell said in the news release. "As a result of the City's innovative and proactive approach, coupled with the additional ARPA funding, we will be able to complete the program within the next five years."