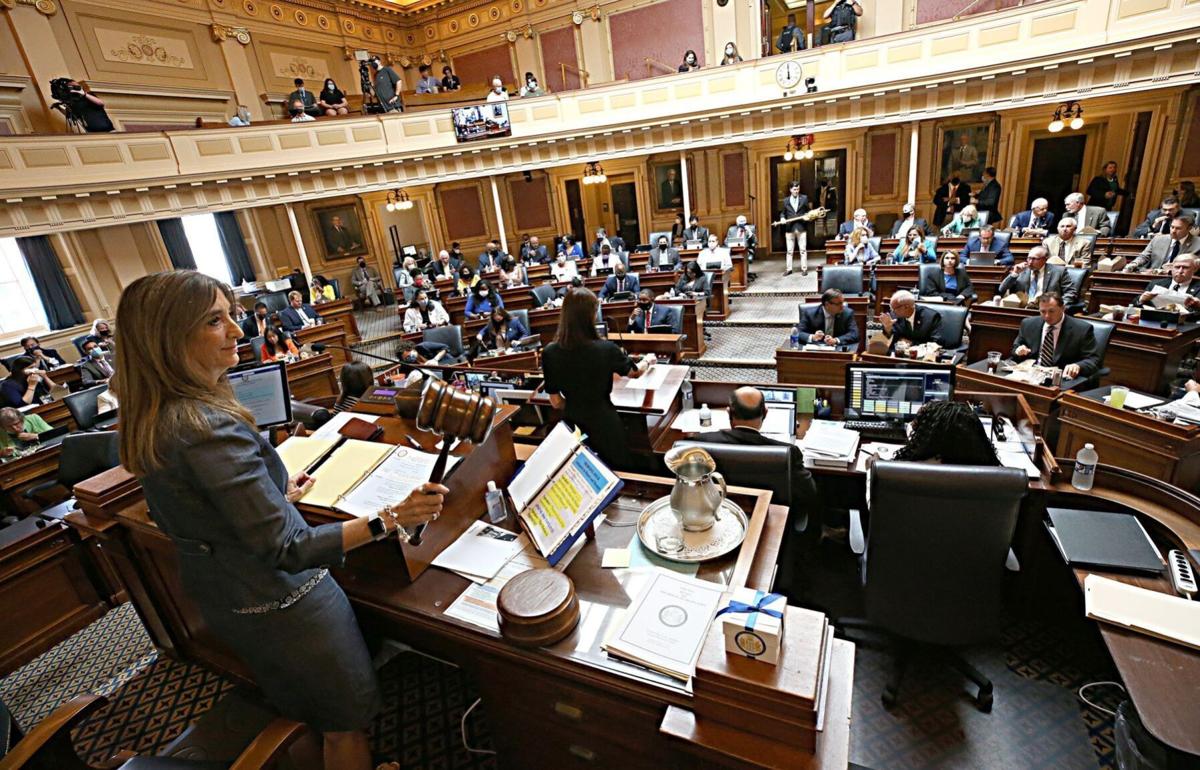 Up until 2011, Lynchburg was wholly encapsulated within the 23rd House of Delegates District and 23rd State Senate District.
That year, the lines were redrawn, splitting the Hill City between the 22nd and 23rd House districts, and the 22nd and 23rd Senate districts.
But that could be changing soon.
Once every decade, after the U.S. Census is released, redistricting takes place. That's the process by which new congressional and state legislative district boundaries are drawn, and it was the 2011 redistricting that split up Lynchburg between the different House and Senate districts.
Beau Wright, vice mayor on Lynchburg City Council, is one of a number of local residents who are pushing for Lynchburg to once again become a unified district.
He sent a letter to the Virginia Redistricting Commission — which now is in the process of drawing new maps — in July urging it to once again unify the city, saying because it's split between two House districts and two Senate districts, the lines have diluted Lynchburg's influence in Richmond.
Not only is it confusing to voters, Wright said, it's costly to the city as the registrar must print up to four ballots for state elections.
"There's a big push around the state for people to say, 'Hey, here's what we want these maps to look like for the next 10 years', because the power shift in Richmond is going to be decided based on how these maps are drawn."
Sen. Mark Peake, a Republican who represents the 22nd Senate District, said in an interview Friday with The News & Advance he thinks it makes perfect sense to have Lynchburg wholly contained within a district.
"The population is right at 80,000 people and there are about 215,000 people per Senate district in Virginia," he said. "There's absolutely no reason Lynchburg should be split up."
He said redistricting is no easy feat because there are counties and cities with different communities of interest. For example, one end of Bedford County is very close to Roanoke, parts of Smith Mountain Lake will follow Franklin County while other parts like Boonsboro and Forest would align more with Lynchburg.
"It's a tough job but I look forward to seeing what they finally come up with, and I think we need to get this process behind us and make them as fair and compact as possible," he said.
Del. Wendell Walker, a Republican who represents the 23rd House District, told The News & Advance he supported the commission and their goals with redistricting but said he is fine however his district is determined.
"I'm here to serve the people and the people that have known me for years on here know that they have a legislator that can trust him to work with," he said. "From the political standpoint, I don't know what the maps are going to look like until we actually get back into Richmond and we take a look at those maps. So really there hasn't been any concern to me how things are shaping up because the commission draws the maps and we have an up or down vote and that decision will be made when we reconvene."
Walker said he is committed to serving the constituents in his district, and whether he represents three localities or one is up to the people.
"Regarding what I think or what I want, when I made that decision to support the commission, I pretty much took my hands off that process," he said. "And we're letting the people have their voice. We will take whatever we were given and we'll make it work."
In the past, some have argued having Lynchburg split between legislative districts benefits the city.
In 2015, then-Del. Scott Garrett, who at the time represented part of Lynchburg and part of Amherst and Bedford counties in House District 23, told The Roanoke Times, "Right now, we're blessed because we have two delegates and two senators who represent our interests."
OneVirginia2021 is a nonprofit advocating for nonpartisan redistricting in Virginia. Liz White, the group's executive director, said the organization was formed in 2013 when a wide-ranging, politically diverse group got together and felt ending partisan gerrymandering in Virginia was more important than any one political philosophy and it needed to be fixed. Gerrymandering is manipulating the boundaries of an electoral constituency so as to favor one party or class.
"We are the first organization devoted full time to ending gerrymandering," she said. "It's the earliest in the decade anyone's ever really started dealing with this."
For many years, the organization worked with other groups and with legislative partners to put together various proposals about how this could work and how it could be done better.
"There weren't many ways we could think of to do it worse and there was only one direction to go," she said.
On the November 2020 ballot, Virginia voters approved a bipartisan redistricting commission.
The vote on the referendum came a year after a key U.S. Supreme Court decision that found Republicans in the Virginia House of Delegates had racially gerrymandered during the 2010 redistricting process. The decision came with an order to redraw the political boundaries of several House districts, just months ahead of the 2019 legislative election.
Now the Virginia Redistricting Commission has eight citizens and eight legislators. The commission was established for the sole purpose of developing maps for Virginia's state legislative districts and districts for the U.S. House of Representatives, which currently is underway.
White said the law does not require the commission to consider keeping cities and counties together as part of its criteria but it has opted to do that wherever possible.
But a "community of interest" is in the law, which supporters of reunifying Lynchburg's districts argue is how Lynchburg is defined, and ranks higher when considering drawing lines on a map.
"So I think proving that Lynchburg is a community of interest was a really great strategy," she said. "And they've listened. I would be surprised if Lynchburg isn't more unified in the new maps than it already is."
Wright said the commission takes "communities of interest" into mind when considering the maps and said Lynchburg is a perfect example.
"What can be more of a community of interest and than a city with defined geographical boundaries, one city government, one police department, one fire department, one school division?" he said.
Oct. 10 is the deadline for commission to send something to the General Assembly for a vote, but the latest drafts of the maps show Lynchburg as one unified district — a victory for reunification supporter in the community.
A number of Lynchburg residents involved with OneVirginia2021 talked about what the city would want from the new redistricting and decided it should be put into a single legislative district.
One of those residents, Neal Sumerlin, emeritus professor of chemistry at the University of Lynchburg, said there are people who live across the street from one another who don't realize they have different state representatives.
"The current redistricting has us split up in crazy ways," he said. "Basically it was an effort to diminish the political influence of the city of Lynchburg."
Sumerlin said gerrymandering is a bipartisan act and both sides do it.
"The Republicans were in power when the last redistricting was done and so Lynchburg's influence was diminished and combining us into districts that diluted urban influence and a lot of rural counties which had different interests," he said.
The way Virginia has independent cities that aren't part of a county is unusual, Sumerlin said.
"And so that means that Lynchburg has different priorities than the rural counties that surround us," he said.
He believes it would be beneficial to have a single governmental entity, whether it goes Republican or Democrat.
Helen Wheelock, a Lynchburg resident and community volunteer for OneVirginia 2021, said she is excited and thankful for the hard work the redistricting commission has been doing for Virginia voters.
"Lynchburg has a good chance of being put back together as a community of interest voting bloc," she said. "It is wonderful to watch with transparency and to participate in the redistricting process. For the first time, the citizens are a part of the process."
Carla Heath, a Lynchburg resident, said the city is independent with a racial and ethnically diverse population and has been the commercial hub for the region since its founding in 1786.
"The city has one governing body. It supports one public school system, one police and one fire department, beautiful parks important museums and many other services," she said. "Clearly, the city is a community of interest with the benefits and challenges particular to cities elsewhere. With that in mind, I think the city would be best represented in the General Assembly by one senator and one delegate who, first and foremost, are identified with Lynchburg."
"There's absolutely no reason Lynchburg should be split up."

— Sen. Mark Peake, a Republican who represents the 22nd Senate District