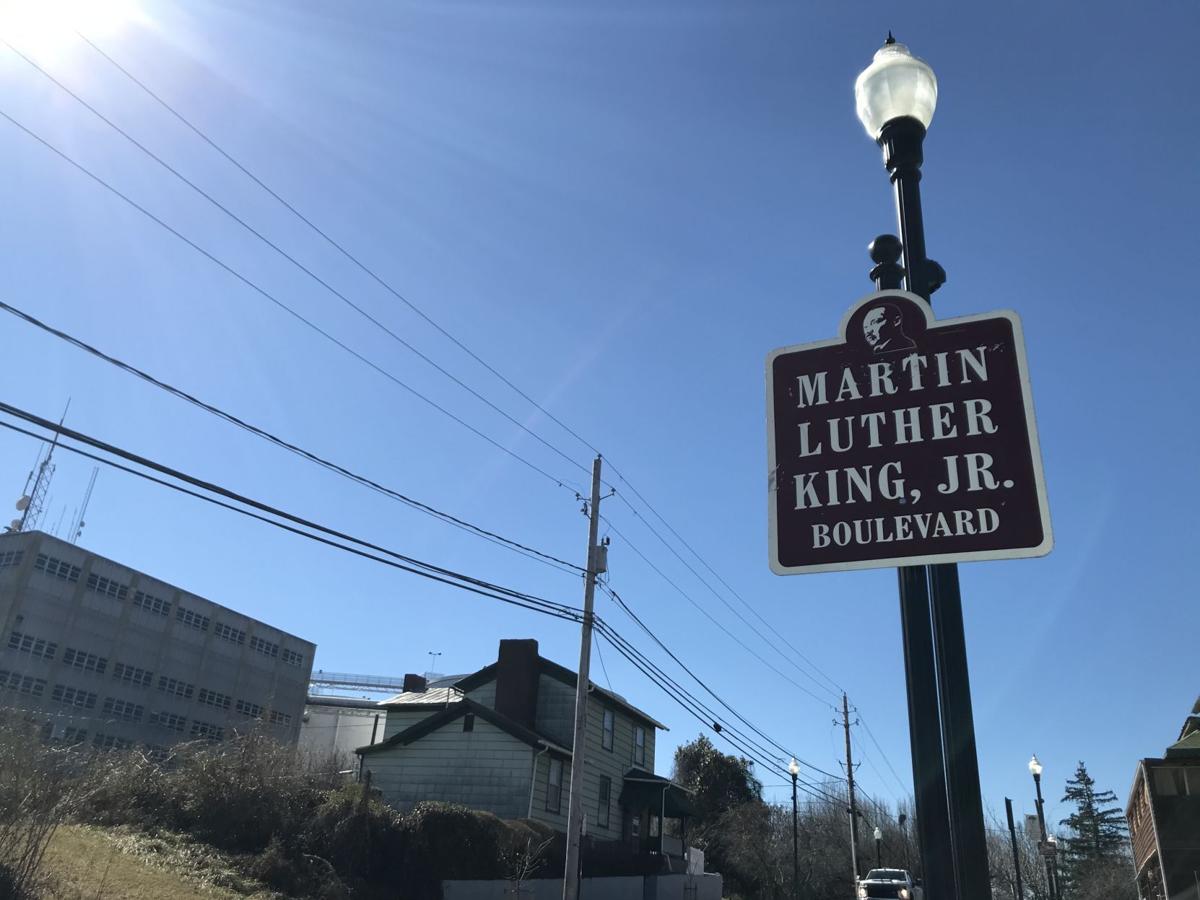 What began as the resurrection of a decades-old debate has transformed into a conversation about the best way to honor Black history in Lynchburg, a quest that extends beyond the confines of the 5th Street corridor, a historically Black neighborhood and business district that carries a rich legacy.
A virtual town hall Wednesday hosted by the city put forward two issues: whether to rename 5th Street, and how the city can best honor the history and contributions of Lynchburg's African American citizens.
This town hall followed a February meeting of city council in which councilors discussed formally renaming 5th Street to "Martin Luther King, Jr. Boulevard" and removing the name "5th Street" altogether.
The conversation first arose in 1989 and again in 2005, when a compromise was reached to create an "overlay" along 5th Street and portions of Memorial Avenue, giving the honorary designation of "Martin Luther King, Jr. Boulevard" to the corridor.
Moderated by Ted Delaney, director of the Lynchburg Museum System, and Patricia Price, director of academic advising at Virginia University of Lynchburg, more than 100 people registered for the virtual town hall; another 30 watched on Facebook.
Panelists at the town hall were former mayor Carl Hutcherson Jr., president of the Lynchburg NAACP; Ramona Battle, board director at Lynchburg's Legacy Museum of African American History; Tom Martin, city planner; and Alvin Elliott, chairman of the the Fifth Street Community Development Corporation, a nonprofit dedicated to the redevelopment of the 5th Street corridor.
Ultimately, the way forward rests with city council. A report will be compiled from hundreds of public surveys, input from community stakeholders and the virtual meeting and will be presented to the council in the fall, likely in September.
Martin said in February the council discussed three options — to leave the current overlay designation, to rename 5th Street or to rename both 5th Street and Memorial Avenue.
Battle said it was not an easy decision and she could understand both sides.
"We're not changing history, we're not denying the importance of 5th Street, we're not discouraging people from remembering what happened back then; I think this would just be another way of including everybody in the process," Battle said. "Everyone who needs to be recognized would have an opportunity to share their story and have equal representation."
Council, residents and other community leaders seem divided on the issue, just as they were in 1989 and 2005.
Some opposition comes from residents and business owners along the corridor who would accrue a cost from the name change, or members of the community who said the 5th Street Historic District carries a rich and profound history, and to change the name could risk endangering that legacy.
There also would be a cost to the city, which would have to change street and gateway signs, and notify all property owners — about 300 of whom reside along the corridor. An estimate of the cost that would be incurred was not provided at the town hall.
Battle said that's why it's so difficult — there are a number of facets to the issue, and many people would be affected.
"5th Street is very, very important to preserve. There is history there, and people are always concerned about changing history," she said. "This conversation is not really about changing history, it's really to move forward, so we can unify and unite what was, to what is."
For some, like Elliott, he's found many pockets of the community to be in support, such as much of the leadership of 5th Street Baptist Church.
In past years, he said, many members of the church have been lost, those whom he considers the last living 5th Street historians. A name change to honor King would cement the corridor's connection to Black history in an undeniable way.
The conversation was even more expansive when it turned to other options, both congruent to and separately from the renaming, that could be done in the city to recognize and preserve Black history.
Existing museums and efforts were mentioned — like the Legacy Museum on Monroe Street and the ongoing campaign to erect a statue in honor of the city's first Black mayor, M.W. Thornhill Jr., in the roundabout of 5th and Federal streets. Elliott said that project still is underway and should be completed by spring or summer 2022.
While panelists continued to discuss other options in broad terms, Price said she does not want to see Black history relegated only to the 5th Street corridor.
Black people have contributed all over the city, she said, and markers, statues, art and other monuments should reflect that.
But some residents were hoping for more tangible conversations Wednesday night.
Among them was Lynchburg resident Michelline Hall, who said although the conversation was a "great start," she was ready to see community leaders developing courses of action, to see the conversation move above and beyond the renaming discussion.
Hall — co-owner of the marketing and design agency Blackwater Branding and the artist behind a massive art installation that centers on Black and brown women along Fort Avenue — said personally, she is in support of the name change.
King's visit to Lynchburg was not just a single speech at E.C. Glass High School in 1962, but a number of visits that helped to mobilize the civil rights movement in the city. She said King likely marched on 5th Street, a tradition well-cemented in Lynchburg history. Like the protests last summer, she said "people are always going to end up marching down 5th Street," calling the corridor a "thread" that binds the entire city together.
As new businesses and residents move in and out of the corridor, having King's name attached to the street in a more substantive way could celebrate the history more fully.
As for other methods to honor Black history in the city, Hall said there are countless things that could be done, and she hopes to see a "real campaign" — like a multi-organizational public/private partnership between businesses, individuals, city entities and nonprofits.
She imagines "creating artwork that has meaning, that has impact, that has legacy," work that would be accessible on 5th Street as well as throughout the city. She said this wouldn't just be the preservation of history, but a tool that could draw people the area and boost tourism.
"We can be more well-intentioned about how we choose to honor our local legacy here," Hall said. "But we should pull together to do that."
Delaney said he was pleased with the town hall, what he called a "community brainstorm," and though no consensus was made in the meeting, he said these conversations will push people to continue learning, and give council more guidance on future actions.
Like Hall, he expressed interest in expanding public art, and said the museum currently has something in the works for this summer — a mural along the Blackwater Creek Trail that would focus on the enslaved populations who lived and worked at Point of Honor.
Price said continued efforts to "tell the story" of Black history in the city are vital, and encouraged people to get engaged and offer input over the next several months.
Hall hopes this is the beginning of the way forward.
"When we don't honor [history] and we don't talk about it, I think that's how we end up spinning our wheels and staying in these same places, and operating in these inadequate silos trying to get little things done," Hall said.
"If you aren't going to do it now, then you're not going to do it."