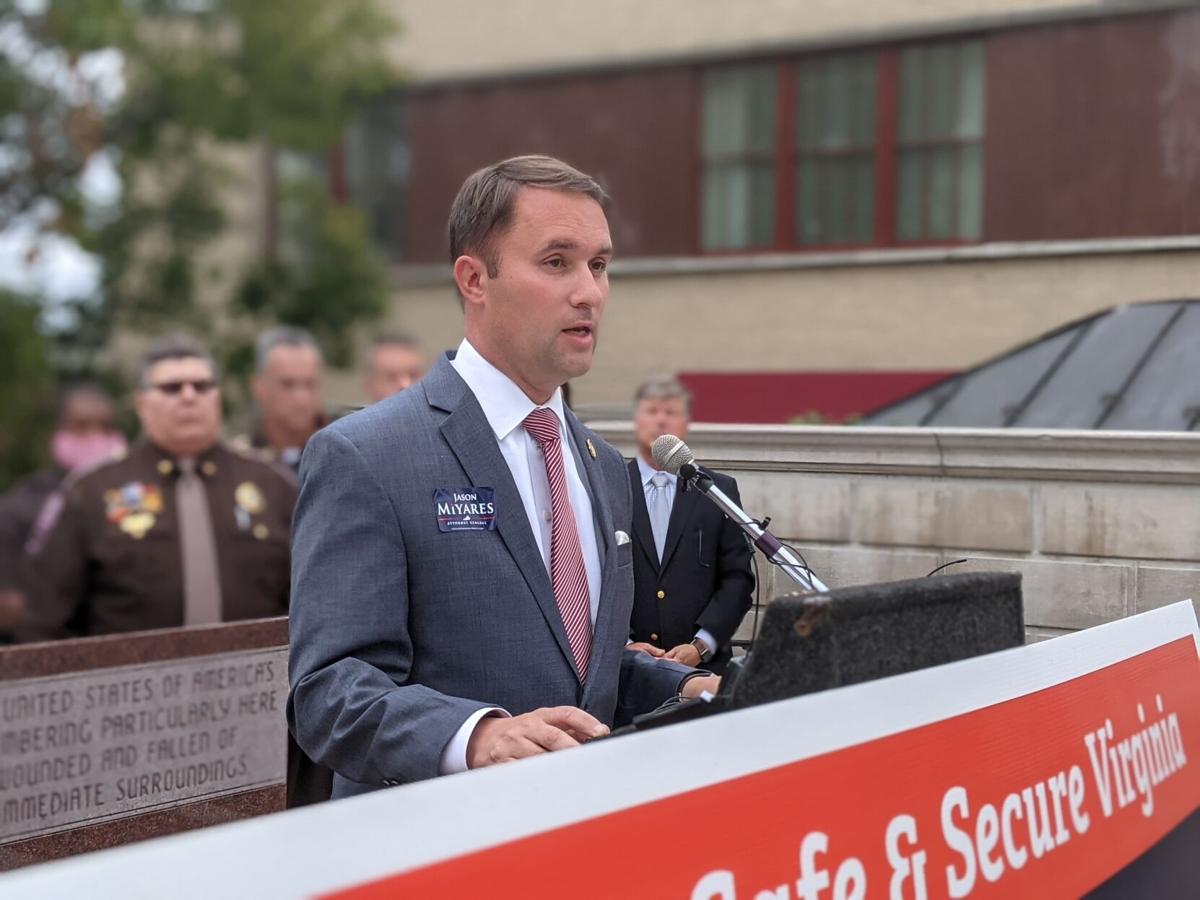 Lynchburg-area Republicans and law enforcement gave Jason Miyares a warm welcome Thursday afternoon as he stopped in the Hill City on a stumping tour for his campaign to become Virginia's attorney general.
Miyares, a Republican challenging incumbent Democrat Mark Herring for his seat, turned his aim yet again to the roiling Virginia Parole Board controversy while speaking from the top of Monument Terrace downtown, flanked by politicians and officers alike.
In response to concerns the board was mishandling the release of inmates — a process hastened last year amid concerns over the coronavirus pandemic — the Office of the State Inspector General launched an investigation and ultimately found the board and its previous chair violated the law and its own rulebook in a high-profile case. Other investigative documents indicated "a similar pattern of violations," the Associated Press reported, wherein the board repeatedly failed to notify crime victims of prisoners' releases and other proceedings.
Those failures were something Judy Smith experienced firsthand, she explained while speaking before Miyares on Thursday.
Smith's husband, Clifford, was shot in their Lynchburg apartment in April 1975 by Earl David Inge, who was about to face trial for breaking into their apartment earlier that same month. Clifford Smith was set to testify against him.
Inge was sentenced to life in prison plus seven years for the two crimes, and Judy Smith has continued to ask the board not to release her husband's killer.
"Every year, I have chosen to open these wounds caused by this evil crime for over 36 years to meet with the parole board, as I feel this is the only option I have to express my deepest concerns regarding parole," she read from a statement. "This has taken a tremendous toll on my family and me, but we continue because this is all we can do."
In May 2020, Smith's son — merely a toddler when his father was killed — received an anonymous call from one of the Virginia Parole Board's employees, hinting Inge would be released without the Smiths being notified, they've said.
When Smith responded with a letter from the board stating Inge shouldn't have been up for parole again until February 2021, the board stated it didn't have that letter on file, and the Smiths turned to contacting local legislators to elevate it amid the other scandals surrounding the board.
Inge, 73, comes up for parole again in December, and Smith said while she has a meeting scheduled, she and her family want the security of knowing he'll spend the rest of his life in jail.
Her case was one of many Miyares listed off as evidence the board has shown a "criminal first, victim last" mindset.
He's thrown blame on his competitor Herring for inaction during the scandal, to which Herring responded last month by saying his office doesn't have power or oversight over the Virginia Parole Board. An analysis by the nonprofit fact-checking website PolitiFact echoed that notion.
But Miyares said Thursday he believes the attorney general, which is assigned under state law to represent the parole board as a state agency, also should be obligated to alert it to any violations and take legal action against it if necessary, such as seeking out a legal injunction.
He added, if elected, he'll push for victims of crime to hold seats on the board (one current member is a domestic violence survivor) and investigate the board, adding Glenn Youngkin, the Republican nominee for governor, will "fire" the board.
Miyares has stated he supports a constitutional amendment abolishing parole for violent criminals, a move that would take several rounds of broad support from legislators and voters. Asked about that stance Thursday, he said he's confident "common sense" among Virginians will lead to a push for change.