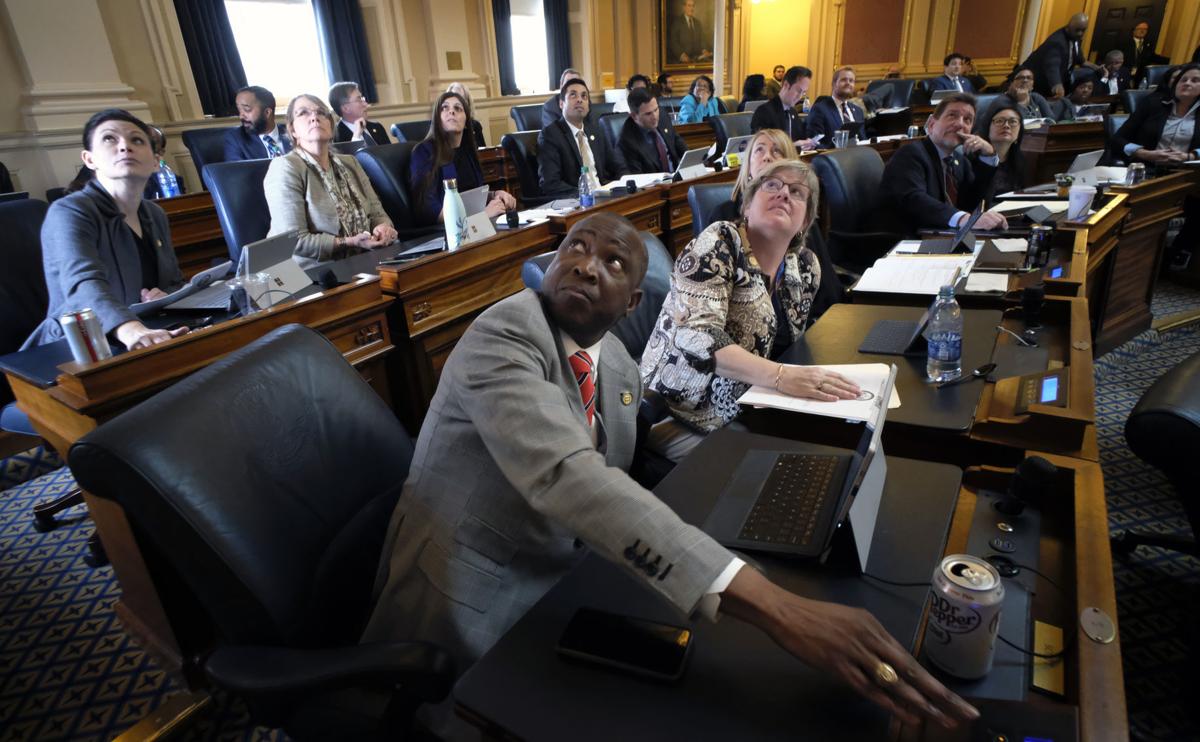 As new gun legislation makes its way through the Virginia General Assembly, gun rights activists in the Lynchburg region are calling on elected officials to help organize local militias to push back against laws they believe infringe on their Second Amendment rights.
To rally support, militia advocates are urging residents in Amherst, Bedford, Campbell and Nelson counties to enlist in newly formed — and as of yet unsanctioned — paramilitary groups.
Dozens of people are expected to gather in Bedford County's Falling Creek Park on Saturday as part of what organizers are calling a "militia muster." The group Gun Owners of Virginia is asking militia volunteers to arrive armed, preferably with an AR-15-style rifle. Organizers of all the Lynchburg-area militia events make it clear participants should not bring loaded weapons.
"The purpose of the muster is to preserve tranquility, peace, and civil order by beginning to organize volunteers in the event that the full organization of the militia is required to defend rights and liberties of the citizens of Bedford County," organizers wrote in a flyer now circulating among gun rights activists.
But local government officials have so far been reluctant to formally endorse the militia push. Despite hearing pleas from militia supporters, no Lynchburg-area county governments have yet signed off on resolutions approving the movement.
Charla Bansley, vice chairwoman of the Bedford County Board of Supervisors, said she supports the right of local citizens to form a private militia but did not commit to endorsing a proposed resolution sanctioning its formation.
"With what's happening in Richmond with their Second Amendment rights, I don't blame them," Bansley, a Republican, said, referring to militia organizers. "I just don't know if there's a government role. I'm not sure what the right answer is."
Organizers have presented militia resolutions to supervisors in Bedford and Nelson counties, while others plan to do the same in Amherst and Campbell counties. The resolutions, which vary slightly from county to county, give local governments control over the militias.
The budding movement comes as state lawmakers have advanced a slate of new gun proposals closer to becoming law, including a ban on the sale of assault weapons and the possession of extended magazines.
In Tazewell County and the city of Norton, local governments already have given the stamp of approval to local militias. Last month, an unsanctioned militia muster in Floyd County drew more than 75 people — a figure organizers in Bedford County hope to surpass this weekend.
Philip Van Cleave, president of the Virginia Citizens Defense League, said the growing militia movement is the next logical step for gun rights activists after nearly 150 localities across the state declared themselves Second Amendment sanctuaries. He plans to attend Bedford's upcoming militia muster.
"The idea is that down the road — if we end up with some sort of tyrannical government — there would be an ability for the people to protect themselves and take back the government," Van Cleave said of the militias. "It's a doomsday thing in a way. You pray you never have to do such a thing but our Founding Fathers knew better."
In Nelson County on Tuesday, Paul Cangialosi, a Gladstone resident who helped author a militia resolution, urged supervisors to throw their weight behind the proposal. The resolution calls for militia volunteers between the age of 18 and 55 and would allow participants to function as auxiliary sheriff's deputies.
"I don't want to sound like I want to take up arms but that was what the founding was about, protecting against tyranny," Cangialosi said.
As in other counties, elected officials in Nelson appear to be uninterested in passing militia resolutions.
"Yes it's constitutional; yes what they're going to do is fine. ... Do I think it's appropriate for local governments to participate? Not really," Nelson County East District Supervisor Jesse Rutherford said. "It's not that I don't support it. I just see it as unnecessary."
Nelson County Board of Supervisors Chair Tommy Harvey and Central District Supervisor Ernie Reed agreed the militia resolution was not a needed measure.
"It's not worth the paper it's printed on, but it does send a message to Richmond that people care about their guns," Harvey said in a phone interview.
Legal advisers to county officials also have thrown cold water on militia proposals, arguing local governments have no right to establish paramilitary groups. Under the Virginia Constitution, only the governor has the authority to muster militias.
"Regulation of militias would be handled by the commonwealth of Virginia," Campbell County Staff Attorney Kristin Wright said when asked what role the county could play in forming a local militia. She noted the county has no local law on the books related to militias.
Campbell County supervisors said they have received dozens of phone calls in past weeks from residents asking for county support of the militia muster.
Though the issue has not yet been formally brought before the board, Campbell County's Brookneal District Supervisor Charlie Watts — who played an instrumental role in the second amendment sanctuary resolution that would ripple out to more than 100 Virginia counties — said he personally thinks the militia could be a good thing and help to "reinforce the Constitution."
Watts said he is investigating further into details of a potential resolution, and any prospective action the board legally could take.
Similarly, Campbell County's Concord District Supervisor Matt Cline said he hopes to support the militia muster in any way he can.
Despite the challenges, militia supporters believe they can rally grassroots support for their proposals.
Michael Routon, a U.S. Air Force veteran, plans to ask supervisors in Amherst County next month to approve a resolution in support of a county militia. Before he goes before the board, he is asking militia supporters to muster at Coolwell Community Center on March 7 to gauge interest among county residents.
"We want to make sure we have enough support to push it forward," he said.
Get local news delivered to your inbox!
Subscribe to our Daily Headlines newsletter.