With the price of solar panels dropping, more people are opening up to the idea of installing renewable energy in their homes and businesses to help offset electric costs.
Among them is James LaPrade, president of BMS Direct on Millrace Drive in Lynchburg. LaPrade had solar panels installed on the roofs of his business last year, and those panels now supply about half of BMS Direct's electricity.
"I'm a big fan of renewable energy," he said.
When installed, solar panels absorb the sun's rays and convert it into electricity. Solar panels are made up of different types of silicon cells joined together to form a circuit. While the savings and environmental benefits from using solar power can be an attractive investment, prospective buyers must weigh those advantages against the upfront cost of installing solar panels and assess whether their property receives enough sunlight to make solar power viable.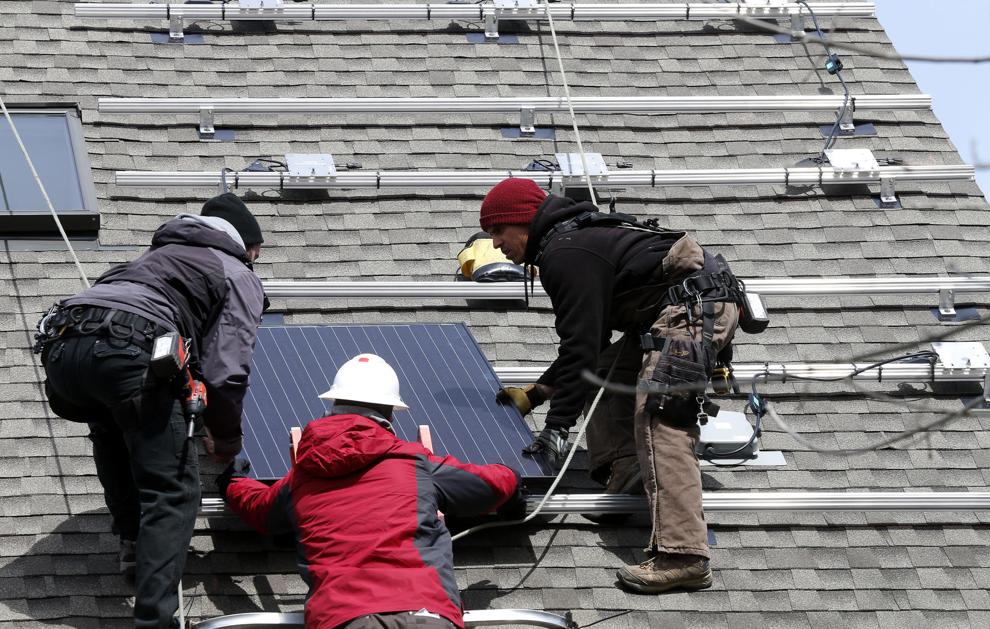 When LaPrade built his home 10 years ago, he installed solar hot water and said he has been able to see the savings from that over the years. When an opportunity came to do something similar at his office, LaPrade jumped on it.
The 80,000-square-foot facility that employs 72 people and specializes in processing invoices has a fully open roof with more than 900 solar panels on it. The initial installation last year at BMS involved 722 panels placed on the roof, and this year another 200 were added. The first investment cost $402,000, and LaPrade just added another $100,000.
Before installing the panels, he said, the office's electric bills were anywhere from $6,000 to $9,000 per month. The payback timeline on the panels at BMS is six years.
"My intention is to keep adding on each year until I can maximize my roof space," LaPrade said. "There is about 40 percent of the roof remaining."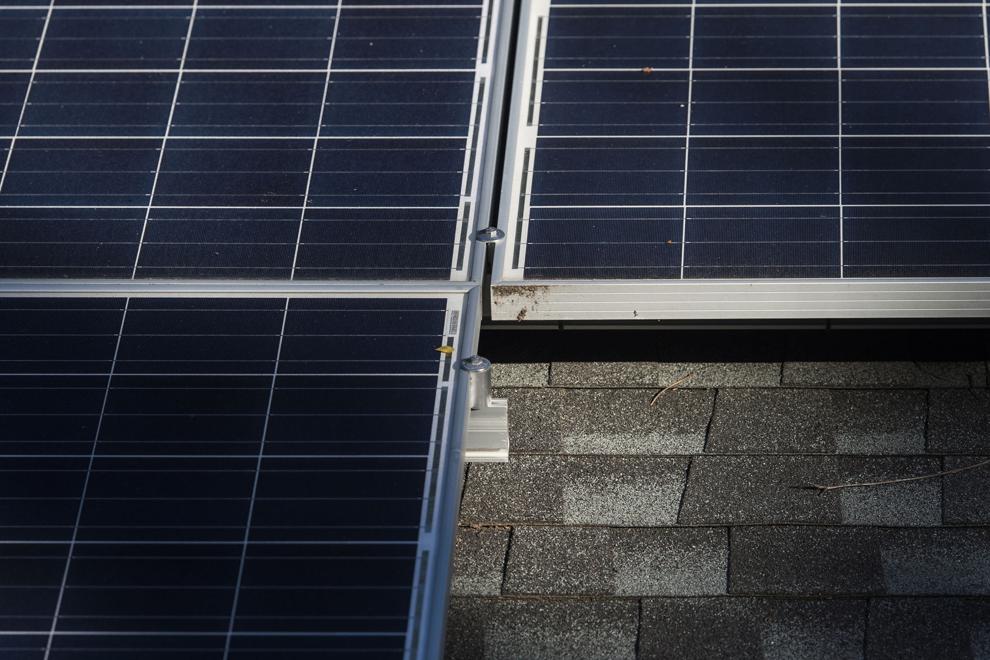 LaPrade hired Affordable Energy Concepts Inc. in Madison Heights.
"The cost of solar has dropped dramatically over the past five years primarily due to technology improvements and the supply and demand for solar," Affordable Energy Concepts Owner David Wall said.
Installing residential panels can cost between $2.30 per watt and $2.75 per watt. An average residential installation totals around five kilowatts, or 5,000 watts, according to the Solar Energy Industries Association. For commercial, the panels can cost between $1.40 per watt and $2.20 per watt.
According to the Solar Energy Industries Association, there were 26,000 Virginia homes powered by solar as of Sept. 12, and there has been a 55 percent price decline in solar over the past five years.
Matthew Brady, director of business development for Lynchburg-based New Dominion Solar, said increased electricity costs and the public's greater awareness of solar power have contributed to its popularity.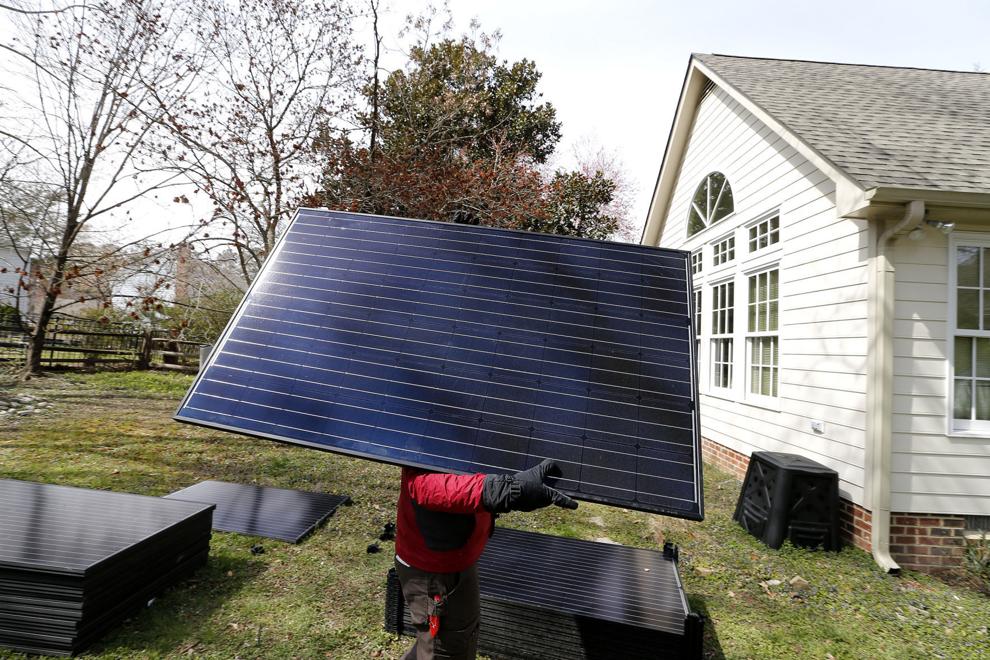 New Dominion Solar, which opened last year, works mostly in theresidential market but is hoping to break into commercial soon. Brady said using solar panels can replace homeowners' and businesses' power bills.
Financing is available for solar panels, and in Virginia, those with solar panels are eligible for a 30 percent federal solar investment tax credit. With the tax credit, the net cost of a $20,000 solar installation would be $14,000, with $6,000 returned during the tax season.
Aaron Sutch, program director of Virginia Sun, a nonprofit that helps communities go solar across Virginia and advocates for fair solar policies across the state, said Virginians want solar power and they don't want their options blocked.
He explained there are several regulations from the General Assembly, one being that third-party leases aren't allowed.
"For example, if a business doesn't have the money to buy the panels upfront, but a third party offers to own the panels and sell the electricity, that isn't allowed," Sutch said.
This can be done in Washington, D.C. and in Maryland.
Stand-by charges exist from Appalachian Power and are billed to the customer if their system uses over 10 kilowatts of alternating current or AC.
Appalachian Power Company serves about 500,000 customers in its Virginia territory, APCo spokesman John Shepelwich said.
It has about 750 customers in its net metering program, which allows the customer to install and use solar generators on their property for their own use while remaining attached to the Appalachian Power grid, and most are residential solar installations.
All APCo customers pay a monthly service charge which is less than $9.
That covers meter reading, billing and account servicing.Others who get some of their power from solar power also receive the monthly service fee and might also receive a stand-by charge if they use over 10 kilowatts of the generation capabilities. Those charges range from about $5 to $75.
Those using solar aren't completely going "off the grid," Shepelwich said. They are still connected to the utility, which has to have a plan for those customers if their system goes down or power goes out.
"Six hours a day [solar] may be generating power for them; the rest comes from us. We still have to have the infrastructure available, power system, transformers and people available to fix all of that stuff," he said. "That's still part of the formula. We're providing that service. It has to be covered in some way."
He said APCo is in a middle ground of moving toward a new world of distributed generation.
"As things go along, this will get worked out as we move forward with a renewable energy as the price comes down."
Sutch said companies such as APCo are preventing solar from taking off even more.
"Monopoly utilities are blocking access for market options for their customers because solar is a disruptive technology to their business model that hasn't had to change in decades," Sutch said.
Sutch said the charges "unfairly target solar producers."
Wall said he wants the regulations to stay fair so solar companies can continue working.
"We need fair regulations and fair fee structures; if they do that, we will see the economy grow," he said.
After price, the biggest factorwhen looking at residential is how much sunlight a property gets.
Wall said a home or business should go solar if they have 15 percent or less shade coverage.
Brady said it is rare for New Dominion Solar to turn anyone down due to shade coverage on a roof.
"We can usually figure out a way to make it work," he said. "We go to extreme lengths to make it work, but we have had to say no to a few."
There are customers who want solar, and they want to maximize production, but Brady said sometimes their homes are not set up for it.
"If you put panels there, it could take 30 years to pay off," he said. "In full sun, it will pay for itself sometimes in seven years."
LaPrade, of BMS Direct, enjoys his savings from his solar investment and the warranties on the equipment, which last 15 to 20 years.
"It's a long-term product that is producing," he said.
LaPrade said one of the biggest benefits is the federal tax credit, and because his business is placed in an enterprise zone, he can take advantage of infrastructure improvement credits through local and state programs.
LaPrade said he thinks one of the biggest hold-ups others have with solar is the initial investment.
"I'm very happy with what we've done," he said. "We feel we are being a good steward of our environment and I think the project we put on here is really helping to educate the public and others about renewable energy. I feel this is our future."