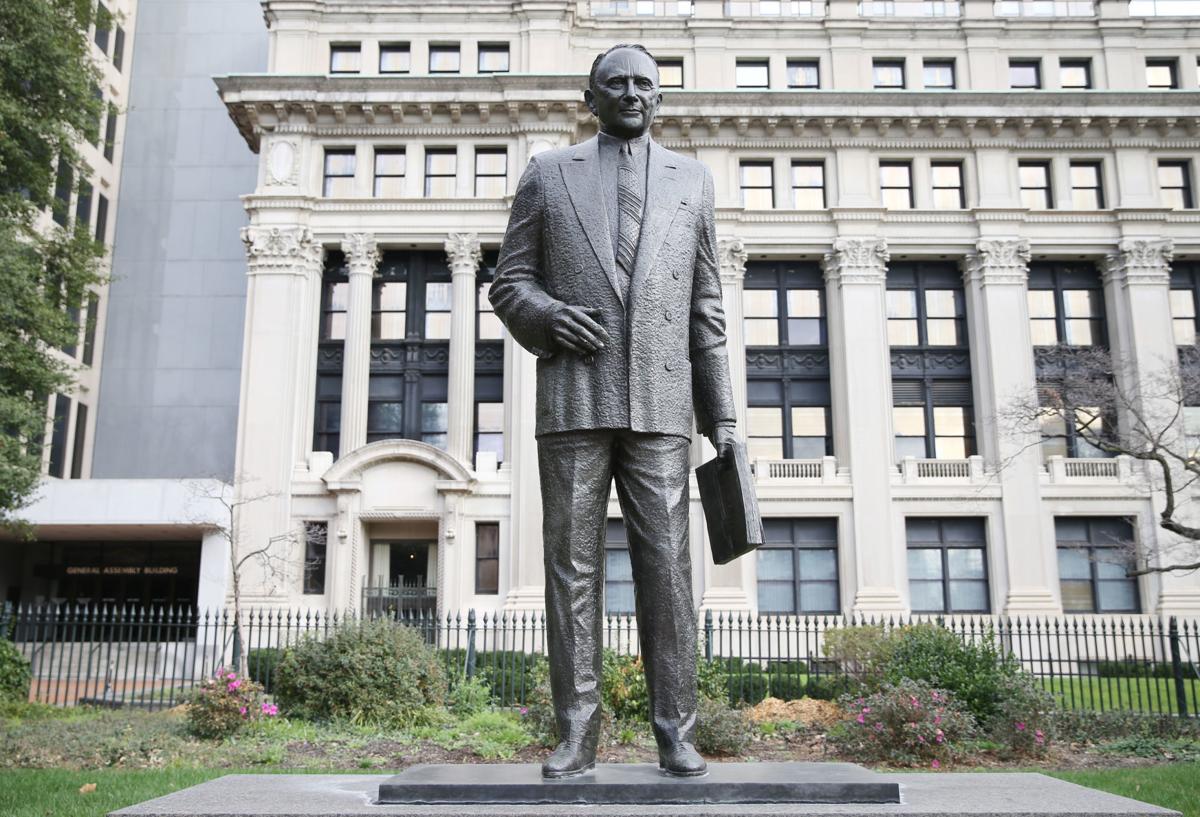 RICHMOND — Why would a legislator file a bill to do something he doesn't want done?
Del. Wendell Walker, R-Lynchburg, introduced a bill at the start of the General Assembly session calling for the removal of the statue of former governor and U.S. Sen. Harry F. Byrd from Capitol Square.
"The reason I put that in was more of a political reason," Walker said.
Gov. Ralph Northam made remarks about his support for allowing local governments to remove Confederate monuments as well as creating a commission to recommend a replacement of the statue of Confederate Gen. Robert E. Lee that Virginia contributed to the U.S. Capitol grounds.
With all of the talk about taking down statues, Walker decided to file his bill about Byrd. He acknowledged it was more tit-for-tat rather than about a statue memorializing Byrd, who is well-known for his painful role in Virginia's history.
Byrd is considered the architect of Massive Resistance, a set of policies that aggressively pushed back against racial integration of public schools following the landmark U.S. Supreme Court ruling in Brown v. Board of Education.
"If we're going to do this, then I'm going to request to remove the Harry Byrd statue," Walker said. "He was a Democrat and advocated for Massive Resistance."
Quite a few Democrats said they looked forward to voting for Walker's bill.
"I'd love to vote for the bill," said Del. Mark Sickles, D-Fairfax.
Walker didn't want the Byrd statue taken down, so he requested it no longer be considered by the legislature.
"I think history is very important, whether it's good, bad or ugly," Walker said. "I was not willing to allow the governor to have the opportunity to remove statues."
On Jan. 24, the Democrat- controlled House Rules Committee rejected his request and asked he come before the committee at a later date to explain why he wanted to scrap his bill.
"I thought he was serious and had a reason for taking the statue down, and so he put in a bill in good faith," said House Majority Leader Charniele Herring, D-Alexandria, who asked Walker come and speak to his request.
Herring, who is black, also said she looked forward to voting for the bill.
"I walk by the statue of him and think, 'This is ridiculous,' " she said.
After making the decision on Walker's bill, the committee turned to advancing a batch of bills dealing with repealing discriminatory language and segregation policies from the Virginia code.