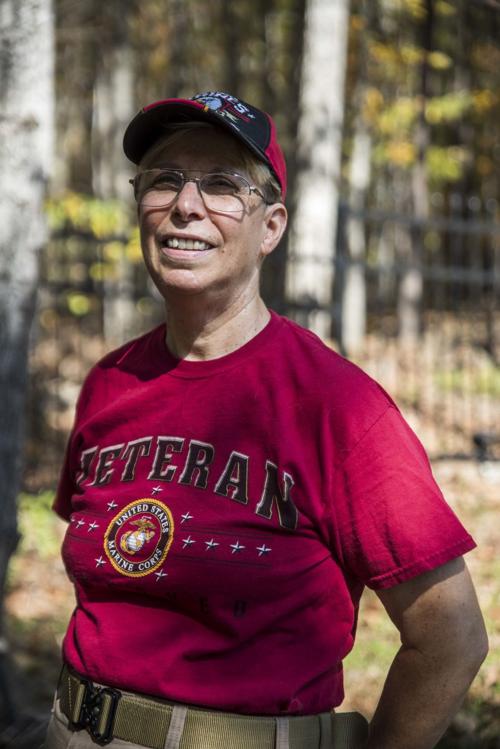 Growing up Judy Petsch, 61, never had a desire to play with Barbie dolls — instead, she was interested in playing Army.
"I grew up on World War II and John Wayne movies," she said.
So when her home state of Michigan was experiencing double-digit unemployment in the early 1980s, she decided to enlist in the military.
"When I went into the recruiters, the Navy wanted four years and the Marines wanted three," she said. "I wasn't sure, so I did the Marines. Plus, they had the best-looking uniforms."
Petsch, who was simply looking to serve her country, spent five years in the Marine Corps before being honorably discharged for being gay, she said.
She said heard repeatedly from various people that a reason women joined the military is to get a husband.
"That was the attitude. And you've got to remember, it's the 1980s and there were Vietnam veterans who were drafted, but by the 1980s, we were all volunteer-force."
Petsch said she ended up under investigation, was stripped of her title as a cryptologic technician and made to do administrative work.
Long before that though, Petsch was sent to Parris Island, South Carolina, where she completed her basic training.
It was there she experienced her first hurricane.
"Being from Michigan, I'm used to blizzards not hurricanes," she said.
She never saw a rifle in boot camp, but she was able to use a replica of an M-16 made out of wood.
"So you could feel proper when you jumped into the water," she joked.
After putting in three years of service but having experienced harassment, Petsch still decided to reenlist.
"I still wanted to do it," she said. "There's a patriotic streak in me. The reason you all get to do what you do now is because what me and mine did back then, and we wouldn't quit."
After training in Parris Island and later in Pensacola, she reenlisted after her initial three years and was sent to Hawaii to serve as a crypto tech for two years.
In her platoon, there were about 12 to 15 people, two of which were women.
Petsch remembers two of those men: one Black, one white, both from the South.
"They hated each other for the color of their skin, but the one thing they agreed on was women didn't belong in their Marine Corps," she said.
During those five years in the Marine Corps, she remained closeted about her sexuality and denied any claims she was gay until she got tired of the harassment and signed papers to be released.
"There were people who knew and didn't worry about it or didn't acknowledge it," she said.
She earned the Joint Service Achievement Medal for jobs she was able to do as a day worker and said she wouldn't have gotten anything like that working the early hours working as a crypto tech in Hawaii.
She said after being honorably discharged from the Marine Corps as an E-5 Sergeant, she got a GS-4 ranking job with the government as a clerk typist.
"I earned the same thing as a sergeant but no longer had housing, health care or my clearance," she said. "I told myself the government was still gonna pay my retirement because I planned to do a career in the military."
In 1993, the United States Congress passed and President Bill Clinton signed a law instituting the policy commonly referred to as "don't ask, don't tell," which allowed gay, lesbian, and bisexual people to serve as long as they did not reveal their sexual orientation.
In 2011, a federal appeals court suspended that policy.
Petsch said she has never received an apology from the military or any kind of compensation all these years later.
"And now I'm too old, so it doesn't matter," she said.
After she left the military, she got a GS-4 job working as a clerk typist for six months in Arlington. From there she continued to work her way up to a GS-14 working as defense contractor before retiring.
"My parents raised me to work towards the level you want to be at. And I'd always said I was going to be at least GS-13 and I retired as a GS-14," she said. "So it's like it's a thing of, knock me down, not only will I get up, but that which doesn't kill me makes me stronger. So take that."
Petsch gives money to the National LGBTQ Task Force and human rights campaigns and she serves as the Commander of American Legion Post 17 in Nelson County.
Thomas Guthrie, a resident of Arrington and member of American Legion Post 17, has known Petsch since she moved to the area and said she is an outgoing person who always wants to succeed.
"She's been willing to accept responsibilities and take on tasks that need to be done. She represents us well in the Legion and in other organizations. I'm glad she's a member, despite her being a Marine," he joked.
According to Guthrie, a member of the Navy and Coast Guard, those who have served in the military can rag on each other's branches, but no one else can.
He said five of the six military branches are represented in the Legion, which covers all of Nelson County.
As far as Petsch being a gay woman, Guthrie said she has earned her rights as a veteran and has no problem accepting her as a leader.
"I don't look at her any differently," he said. "It's wrong she has experienced any discrimination. People should respect other people. Period. We're all children of God."