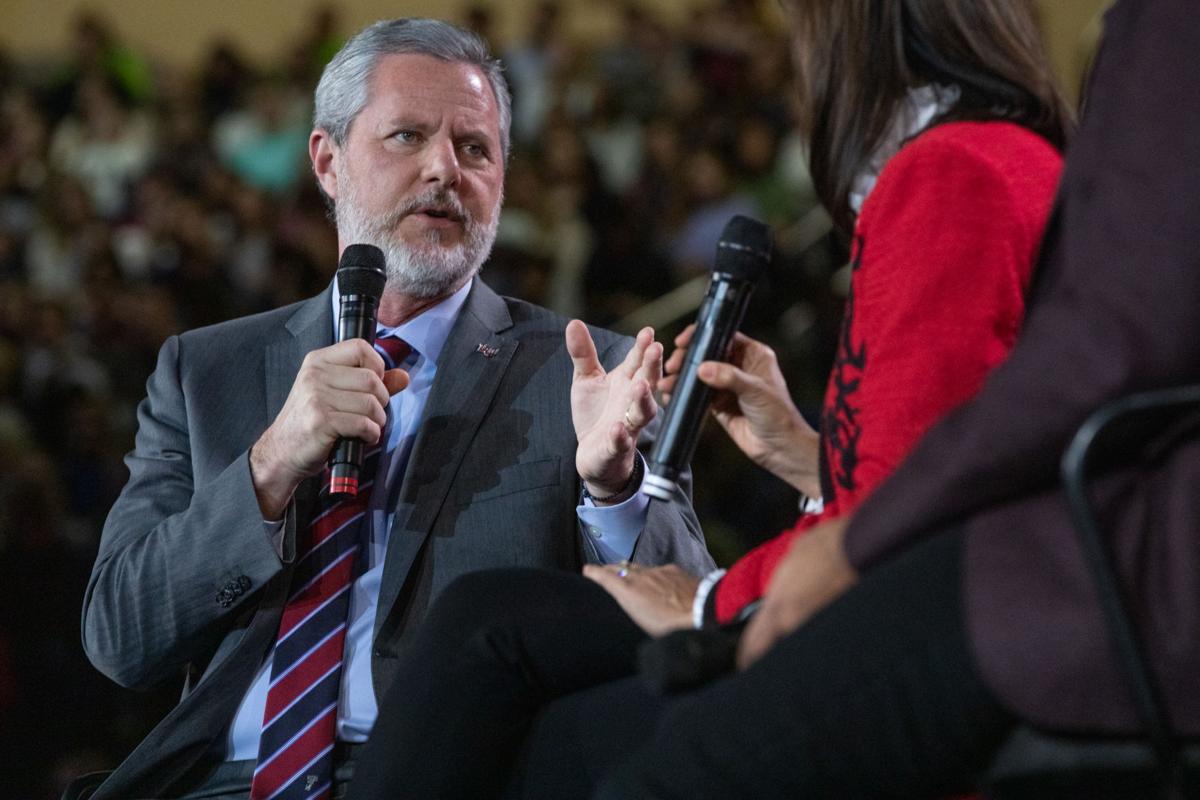 Liberty University President Jerry Falwell Jr. on Monday issued a rare apology for invoking Gov. Ralph Northam's blackface scandal while attacking the state's new mask requirements — a controversial episode that helped spark protests across the city and prompted at least four black employees to resign from the Christian institution.
"After listening to African American LU leaders and alumni over the past week and hearing their concerns, I understand that by tweeting an image to remind all of the governor's racist past I actually refreshed the trauma that image had caused and offended some by using the image to make a political point," Falwell said on Twitter. "Based on our long relationships, they uniformly understood this was not my intent, but because it was the result I have deleted the tweet and apologize for any hurt my effort caused, especially within the African American community."
Falwell's public statement came hours after he met in Lynchburg with Allen McFarland, a black Portsmouth pastor and the Vice Chairman of the school's board of trustees.
Reached by phone, McFarland declined to discuss the details of his conversation with Falwell, calling it private and personal.
"I just wanted to get with him today with my heart," he said.
Falwell has faced an avalanche of criticism in the nearly two weeks since posting a tweet aimed at undermining an order by Northam that masks be worn inside all retail stores, government buildings or while using public transportation to help slow the spread of the coronavirus.
"I was adamantly opposed to the mandate from @GovernorVA requiring citizens to wear face masks until I decided to design my own," Falwell wrote in the May 27 tweet. "If I am ordered to wear a mask, I will reluctantly comply, but only if this picture of Governor Blackface himself is on it!"
Attached to the tweet was an image of a mask bearing a racist photo that appeared on Northam's medical yearbook page and — when made public last year — sparked a scandal that nearly forced him from office. The photo showed a person in blackface and another in a Ku Klux Klan costume.
At least four black employees have resigned from the school in protest of the tweet, according to public posts and conversations with workers.
"It is morally unconscionable for me, as the Director of Diversity Retention, to ask students of color to stay at a university and within a space that not only does not value their well-being and lives, but actually perpetuates very real and damaging racial trauma against them," longtime employee LeeQuan McLaurin wrote in a resignation letter, which was obtained by The News & Advance.
"You have belittled staff, students and parents, you have defended inappropriate behaviors of politicians, encouraged violence, and disrespected people of other faiths," the group, which includes 35 black pastors and athletes, wrote in a June 2 letter.
"Thousands of alumni, students, parents, and staff want you to build on this act of humility," they wrote. "We all believe that Liberty deserves leadership that is Christlike in his actions and rhetoric, for you and those under your leadership."
The controversy has roiled the Lynchburg community.
In a reply to Falwell's tweet, Josh Read, the owner of the popular Lynchburg restaurant Fifth and Federal Station, offered to provide the masks to his staff members. The comment ignited a fierce protest outside the restaurant on May 31, which police said later turned violent and led to five arrests.
Read said last Monday he was focused on the financial devastation restaurants have suffered during the coronavirus pandemic — made to close by state orders — when he tweeted about the masks.
"I was so sort of in tune with that, that I didn't take into consideration the actual racial factor, that it was harmful to a lot of people in the community," he told The News & Advance. "I am very sorry for that, that was absolutely the farthest thing from my mind.
Two days later, dozens of peaceful demonstrators gathered on the edge of Liberty's campus in outrage over Falwell's tweet.
In an interview Monday before Falwell publicly apologized, Lynchburg NAACP President Carl Hutcherson said Falwell has a duty to make amends for his actions, even after the outcry subsides.
"People want to know what's going to happen next," Hutcherson said. "I believe that President Falwell is going to have to ask himself that same question. What is going to happen when the rallies are over and the marches are over?"
Richard Chumney covers Liberty University for The News & Advance. Reach him at (434) 385-5547. The Associated Press contributed to this report.
Be the first to know
Get local news delivered to your inbox!