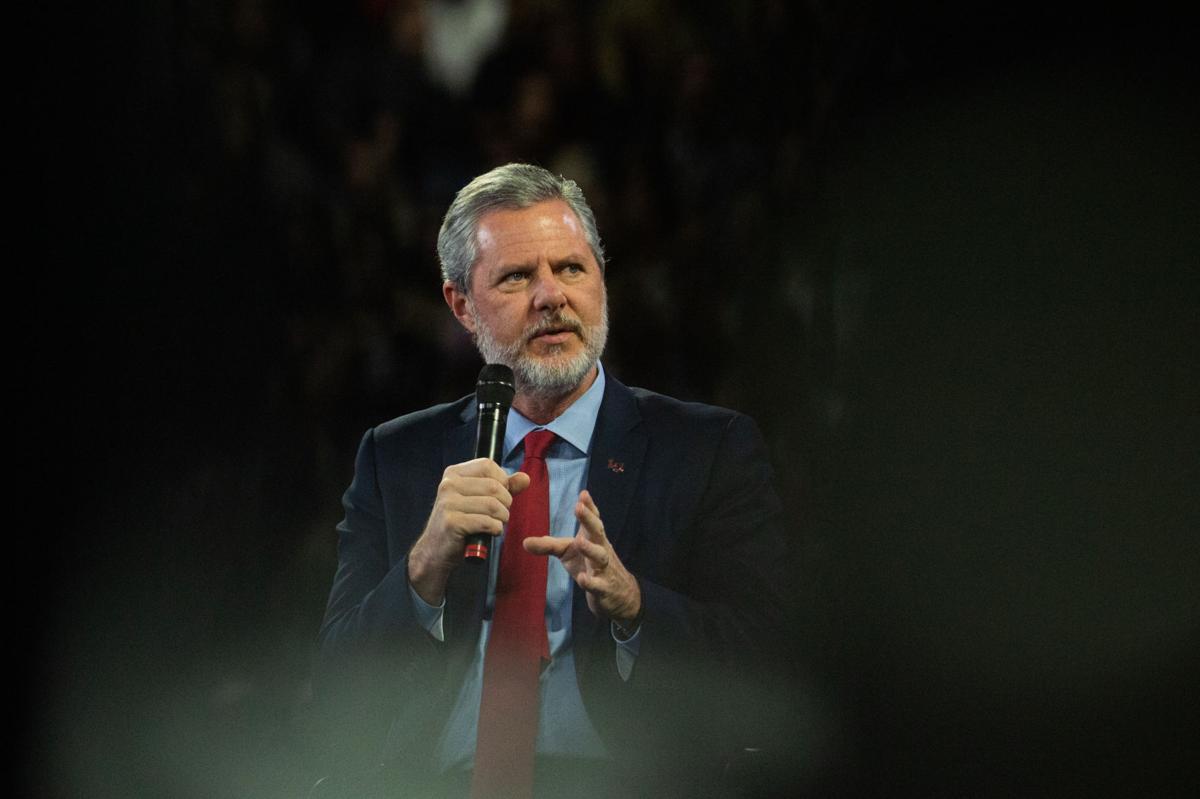 Jerry Falwell Jr. on Thursday sued Liberty University alleging defamation and breach of contract, saying the religious institution damaged his reputation after it forced the evangelical leader to resign.
Falwell stepped down as president and chancellor of the school in August following a string of scandals, including a stunning allegation he and his wife, Becki Falwell, had a yearslong sexual affair with a now-estranged business partner.
In a 29-page complaint filed in Lynchburg Circuit Court, Falwell claims Liberty's board pressured him into resigning before properly investigating the accusation by Giancarlo Granda, a former pool attendant who first met the couple in 2012.
"By forcing Mr. Falwell's resignation from Liberty immediately following Granda's false and defamatory statements, Liberty sent the unmistakable message to the public that Granda's false statements were, in fact, true," the complaint alleges.
Granda claimed Falwell participated in some of the liaisons as a voyeur — an allegation Falwell repeatedly has denied. Falwell has accused Granda of attempting to extort him.
The lawsuit seeks unspecified damages and a court order barring Liberty from repeating defamatory remarks about Falwell.
In a statement, Falwell said he was saddened university officials "jumped to conclusions about the claims made against my character."
"While I have nothing but love and appreciation for the Liberty community, and I had hoped to avoid litigation, I must take the necessary steps to restore my reputation and hopefully help repair the damage to the Liberty University brand in the process," Falwell said.
Robert Raskopf, an attorney for Falwell, said in a statement he was forced to file the lawsuit on behalf of his client after Liberty's new leadership refused to meet with him to discuss defamation allegations.
A Liberty University spokesperson was not immediately available for comment. Falwell's suit was filed on the same day Liberty's 30-member board met for a scheduled meeting, in part to discuss the university's search for a new president.
Falwell's suit takes aim at what it calls a series of defamatory statements, including a university news release accusing Falwell of a "lack of spiritual stewardship" and a university magazine article noting Falwell's actions had "broken trust" in Liberty.
The complaint also highlights a public apology made by David Nasser, Liberty's campus pastor, to the student body days after Falwell's resignation. In Nasser's speech, which came during a campuswide worship service and was streamed online, he apologized for Falwell's "sinful" and "shameful" behavior.
"In my opinion, you as a Liberty student deserve better. And the embarrassment that's been brought upon you as a Liberty student, and more importantly brought upon the name of Christ, is wrong," Nasser said at the time.
The suit claims Liberty violated its employment agreement with Falwell because the contract included a non-disparagement clause. Neither Falwell nor the university have made the employment agreement public.
The suit alleges Liberty's actions have "drastically reduced" Falwell's ability to be publicly involved in businesses and charity organizations. It also claims Falwell has not been invited to appear on television as a result of defamatory statements.
"In addition, the Defamatory Statements have caused Mr. Falwell immense anguish as he now is deeply concerned that third parties will hold horribly false impressions of him," the suit states.