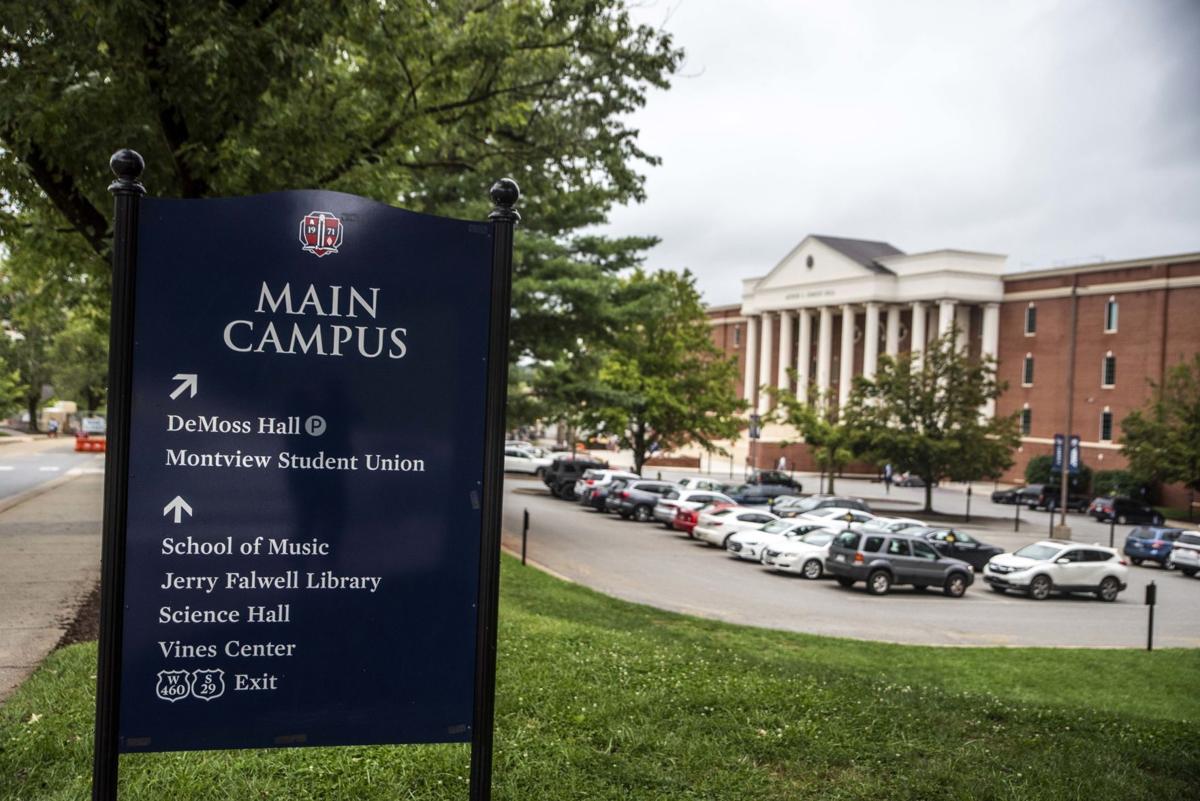 Liberty University announced Thursday it will enact a campus-wide quarantine until Sept. 10 as it experiences its highest rate of COVID-19 cases on campus to date.
Among students, faculty and staff, the campus had 159 known active cases as of Wednesday, according to LU's online COVID-19 dashboard. Out of that, 124 cases were among students and 35 were among faculty and staff.
LU has about 15,000 students and 5,000 faculty or staff on campus.
Those numbers surpass the university's highest confirmed active caseload from last September, when at least 141 people on campus were testing positive for the disease and close to 1,200 people were quarantined as a result.
At that time, LU was requiring masks in any of its academic buildings and at any official gathering. It held the first week of spring 2021 classes online in addition to other protections in order to help stem the spread of cases on campus as students returned from elsewhere in the country.
Starting out the fall semester this week, the university had lifted any building capacity restrictions, physical distancing requirements and masking requirements, and is not requiring vaccination.
But late Thursday, it changed its COVID-19 protocol to enact a campus-wide quarantine that'll last from Aug. 30 to Sept. 10.
"All residential classes will switch to an online platform and all large indoor gatherings have been suspended during this period," according to a Thursday news release.
Outdoor events such as games will continue as scheduled and LU's convocations and campus worship services will be moved temporarily to the Williams Stadium.
Employees who've previously worked remotely will return to remote work for that period, and indoor dining on campus will be serving take-out. Any employees with questions about remote working are instructed to contact their immediate supervisors.
LU stated it will encourage masking and social distancing but didn't indicate it will mandate those practices, nor vaccines, though it'll host future on-campus vaccine clinics.
This week's case numbers are a sharp increase from last week's, when students were welcomed back to campus and a total of 40 students and staff had confirmed COVID-19 cases.
That spike in cases at LU is occurring as cases in the region also are on the rise and health officials plead with people to get vaccinated if they can.
Central Virginia's weekly new COVID-19 caseload has more than doubled during the past month — reaching levels not seen since February, after a January peak in new cases — and Centra Health officials said Wednesday that Lynchburg General Hospital has 70 mostly unvaccinated COVID-19 patients, part of a steady and sharp increase that's placing substantial strain on its facilities and caregivers.
In response to questions about high caseloads at LU and protective measures, Centra's Chief Transformation Officer Michael Elliott said the provider is lending support and information to area colleges and universities at weekly meetings, but each institution makes its own decisions.
"Unfortunately, this could be expected to some extent," he said of increased community spread as schools open back up.
Vaccine uptake in Lynchburg and surrounding counties has been sluggish, with just more than 40% of people fully vaccinated versus 56% of Virginians overall, according to figures from the Virginia Department of Health.
The University of Lynchburg, Randolph College and Sweet Briar College have all required COVID-19 vaccination among staff and students, and require mask use either indoors or in classroom settings.
University of Lynchburg had eight total students and staff testing positive as of Wednesday, Randolph had one positive case and Sweet Briar had no positive cases as of Thursday.
"All residential classes will switch to an online platform and all large indoor gatherings have been suspended during this period."

— from a Liberty University news release Thursday