Jerry Falwell Jr., engulfed in a string of escalating scandals, has resigned as president and chancellor of Liberty University, ending an often tumultuous 13-year reign as the face of the evangelical institution.
Falwell submitted his resignation late Monday night after a stunning series of reversals, in which he first agreed to resign, but later backtracked and then finally capitulated to mounting calls — including from individual board members — to permanently step aside.
"It's a relief," Falwell said in a brief telephone interview Tuesday. "The quote that keeps going through my mind this morning is Martin Luther King Jr: 'Free at last, free at last, thank God almighty I'm free at last.'"
Falwell said he does not know where he will land next but has no intention of returning to the school synonymous with his family name.
"I've done all I can do at Liberty and I'm ready to move on to something else," he said. "This happened for a reason and the board treated me very, very generously and I am very grateful for that."
In a statement Tuesday afternoon, a university spokesperson said the board had unanimously accepted Falwell's resignation and offered him a severance package of an undisclosed amount.
Jerry Prevo, a longtime board member and a prominent evangelical preacher, will continue to serve as acting president as the board looks to appoint a search committee to find a permanent president.
Falwell, who was placed on an indefinite leave of absence two weeks ago after posting a controversial image on social media, was thrust back into the spotlight this week after a former business partner claimed he had a yearslong affair with the evangelical leader and his wife — a claim Falwell denies.
In an 11 p.m. Monday statement released several hours before Falwell's final resignation, Liberty's interim leadership said recent revelations about Falwell "made it clear that it would not be in the best interest of the University for him to return from leave and serve as President."
The decision to step down in the face of board pressure marks a dramatic fall for the 58-year-old son and namesake of Liberty's late founder, the Rev. Jerry Falwell Sr.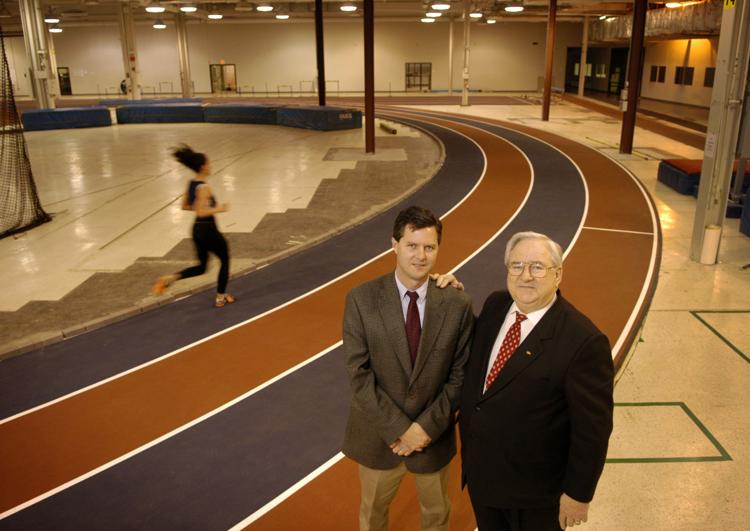 Under his leadership, the younger Falwell has seen the university grow to new heights, with record student enrollment and an endowment of $1.6 billion. His decision to endorse Donald Trump's successful presidential bid in 2016 solidified his status as a conservative powerbroker.
But for much of the last year, Falwell has been dogged by an avalanche of scandals, ranging from accusations of self-dealing to claims of racism.
The growing scrutiny reached a fever pitch earlier this month after Falwell apologized for posting — and quickly deleting — a photo showing him with his pants partially unzipped and his arm around a woman with her pants partially unzipped. Falwell later said the photo was taken during a costume party and that the woman was his wife's assistant.
The controversy prompted Liberty's board of trustees to suspend him indefinitely on Aug. 7.
The news of Falwell's imminent departure, which came on the first day of the fall semester, sent shockwaves through the larger Liberty community. Some reacted with disappointment, while others declared support for the decision.
"A lot of the student body is tired of the scandals," junior Isaac Liu, a mechanical engineering student, said. "There are so many things that President Falwell has done that have been deserving of the board reprimand and that didn't happen. The fact that it takes a scandal of this size and of this magnitude to change things is very upsetting."
Falwell still enjoyed significant support from a large number of Liberty alumni, current students and faculty members who credit him with turning around the financial difficulties the school once faced.
"This is the end of an era," said Craig Storrs, a former Liberty student who worked closely with Falwell as a member of the student government. "I don't even know who the board would consider replacing Jerry with."
Storrs, who earned an undergraduate degree from Liberty in 2013, said Falwell embodied the principle of "love thy neighbor" and deserved to stay on in a leadership role.
A year of scandals
The first details of the affair with the now-estranged business partner, just the most recent in a long run of scandals, became public Sunday after Falwell spoke exclusively to The Washington Examiner in an apparent attempt to preempt the coming revelation.
In an extraordinary 1,200-word statement to the conservative outlet, Falwell said his wife, Becki, struck up "an inappropriate personal relationship" with the man after meeting him on vacation about eight years ago. Falwell claimed the man later threatened to reveal the relationship if he was not paid "significant monies."
Falwell said the alleged extortion scheme inflicted a traumatic emotional toll and prompted him to seek help from "mental health professionals."
"Over the course of the last few months this person's behavior has reached a level that we have decided the only way to stop this predatory behavior is to go public," Falwell wrote in the statement, adding he remains "fully devoted" to his wife.
Falwell denied participating in the affair and, in his statement, did not identify the man. But on Monday, Reuters identified him as Giancarlo Granda, a former pool attendant at a Miami hotel.
According to the report, Granda claimed Falwell participated in some of the liaisons as a voyeur. Falwell "enjoyed watching from the corner of the room," he told the outlet.
The Reuters story cites text messages and audio recordings, which Granda said shows Falwell was aware of the relationship. Granda denied attempting to extort the Falwells, according to the report.
The controversy, which comes as Liberty begins in-person classes amid the coronavirus pandemic, caps nearly a year of headline-grabbing incidents for Falwell and Liberty.
Last September, Falwell was accused of leveraging the university's business interest to enrich himself, family members and friends.
In the spring, he faced a fierce backlash — and a class-action lawsuit — after encouraging students away on spring break to return to campus during the coronavirus pandemic.
In recent months, he has battled accusations of racism after posting a tweet invoking Gov. Ralph Northam's blackface scandal to mock coronavirus-related restrictions. The tweet included a controversial image from Northam's medical school yearbook printed on a face mask.
The ensuing scandal prompted several prominent Black student-athletes and faculty members to leave the school and provided fuel for protests in downtown Lynchburg and on Liberty's doorstep.
What comes next?
Liberty's 30-member board has not yet announced a permanent replacement for Falwell but said Tuesday it will begin the process of convening a search committee at its next meeting. The board is currently scheduled to meet next in late October.
Some have called for Liberty's leadership to remain in the Falwell family. The Rev. Jonathan Falwell, Jerry Falwell Jr.'s brother and the senior pastor at Thomas Road Baptist Church, has often been suggested as a possible successor. Jonathan Falwell could not be reached for comment Tuesday.
Elmer Towns, a Liberty co-founder and a former dean, praised the Falwell family for its stewardship of the school but rejected the notion that a descendant of the Rev. Jerry Falwell Sr. must always lead the institution.
"I think it's God's school," he said. "God has always been at the head. I don't think there's any type of heritage that we need to talk about. The school belongs to the graduates."
Some critics expressed skepticism at how the board would go about selecting a successor.
LeeQuan McLaurin, Liberty's former director of diversity retention who resigned this spring after Falwell's blackface tweet, said Falwell's departure is a good first step but it must be followed by a concerted effort to improve the diversity of the school's largely white student body and administration.
"It's been a long time coming, and it shouldn't have taken this long to get here, but I'm glad all the same to see it happen," McLaurin said. "It still doesn't mean that the university is anywhere closer to where they should be."
Save71, a group of four former Liberty students who had lobbied the school to permanently terminate Falwell, are now calling on the board to appoint an independent search committee made up of former students and faculty members to select the next president.
The group has also called on the board to "permanently remove all the beneficiaries of Falwell's inappropriate nepotism" and to hire independent investigators to probe accusations of financial impropriety.
"We must look beyond Falwell's personal behavior and confront the failure of the university's derelict Board of Trustees," the group said in a statement. "Dramatic changes are necessary."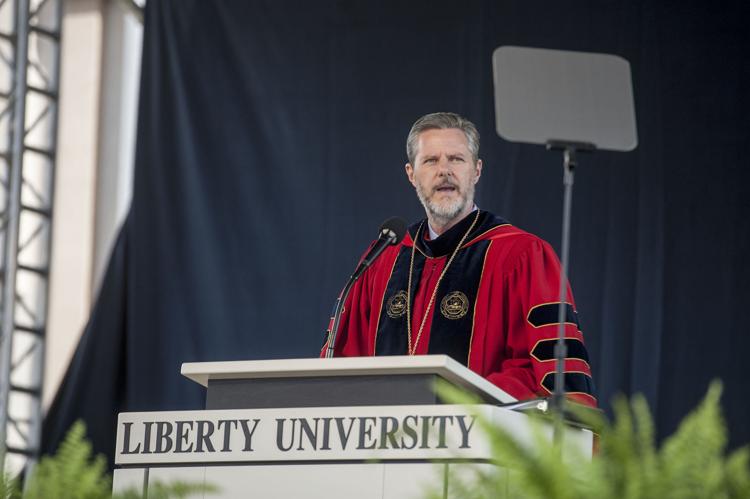 Be the first to know
Get local news delivered to your inbox!