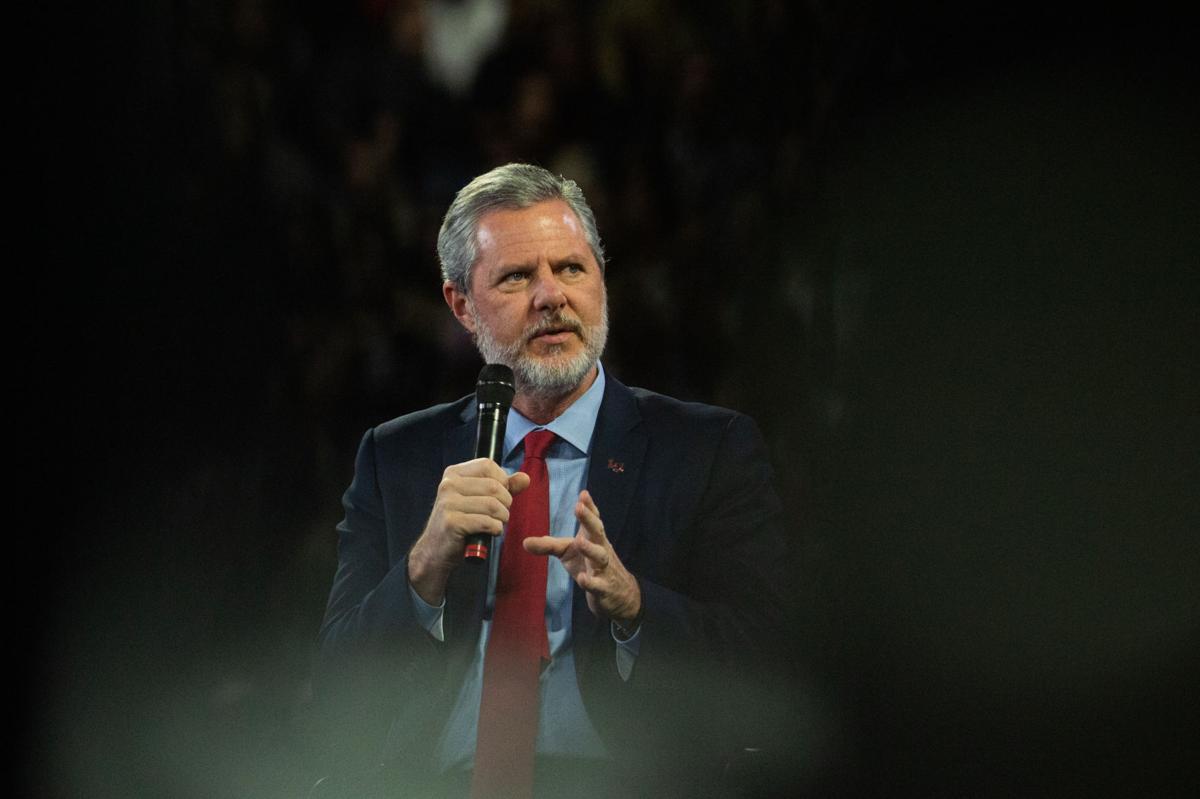 Liberty University has added a new institution to its ever-expanding campus: a think tank.
The school announced Saturday the launch of the Falkirk Center for Faith and Liberty, which aims to shape government policies, national institutions and American culture around Judeo-Christian principles.
The center is the brainchild of Liberty University President Jerry Falwell Jr. and Charlie Kirk, the founder and executive director of Turning Point USA, a conservative youth organization with close ties to U.S. President Donald Trump.
"It's time we went on offense to stand up for the Church in America and to actively promote American freedoms based on the values enshrined in the U.S. Constitution," Kirk said in a written statement. "It's an honor to partner with President Jerry Falwell and Liberty University on this purpose-driven mission that will be used to organize an army of believers in faith and liberty, from renowned pastors to young influencers, to renew our sacred freedoms and defend our deeply held convictions."
Kirk, 26, has become a near-ubiquitous presence at Liberty since the 2016 presidential election.
In May, he was awarded an honorary degree at the school's commencement ceremony for defending liberty "on behalf of young students in colleges and high schools across the country." Last month, he appeared alongside Donald Trump Jr. at Liberty's convocation, where he encouraged students to "stand firm" in their faith.
In September, Turning Point USA established a campus chapter at Liberty. The chapter joins the more than 300 Turning Point USA groups that are active at colleges across the country.
The nonprofit Falkirk Center, which is named after its co-founders, will operate as a wholly-owned subsidiary of Liberty University and will be based in Lynchburg. The center is funded by the university, which boasts an endowment of nearly $1.5 billion, according to a financial audit released by the school. A director has not yet been named.
"As attacks on traditional Judeo-Christian beliefs grow in frequency and intensity, the need has never been greater for a national revival of our foundational principles throughout our society and institutions in America," Falwell said in a written statement. "We are delighted that Liberty University can play a part in this mission for Christ and American ideals."
Falwell did not respond to requests for an interview.
The center has hired five Falkirk Fellows to act as the institution's "front-facing spokespeople."
Erika Lane Frantzve, a former Miss Arizona USA winner; Josh Allen Murray, a former contestant on "The Bachelorette;" Antonia Okafor Cover, the spokesperson for Gun Owners of America; David J. Harris Jr., a conservative author; and Jaco Booyens, a conservative filmmaker, have all been named as the center's first fellows.
In addition to the fellows, more than 60 "ambassadors" have joined the project to educate high school and college-age students about the "inseparable intersection of the Gospel of Jesus Christ and American first freedoms and liberties" through social media, Kirk said in an interview Tuesday.
"A lot of times young Christians gravitate away from these topics," Kirk said. "But our influencers are hopefully going to make them very digestible and very understandable for students who sometimes feel as if they don't really understand these issues."
Falkirk has launched several social media accounts, including a Twitter account, Facebook page and Instagram account.
Falkirk is a relatively unique institution among think tanks in the U.S., according to James G. McGann, the director of the Think Tanks and Civil Societies Program at the University of Pennsylvania.
Of the more than 1,800 think thanks operating in the country, just a handful advocate for policies from a conservative religious position.
"There are very few that have made their mark in the larger think tank community," McGann said.
Richard Chumney covers breaking news and public safety for The News & Advance. Reach him at (434) 385-5547.
Richard Chumney covers breaking news and public safety for The News & Advance. Reach him at (434) 385-5547.