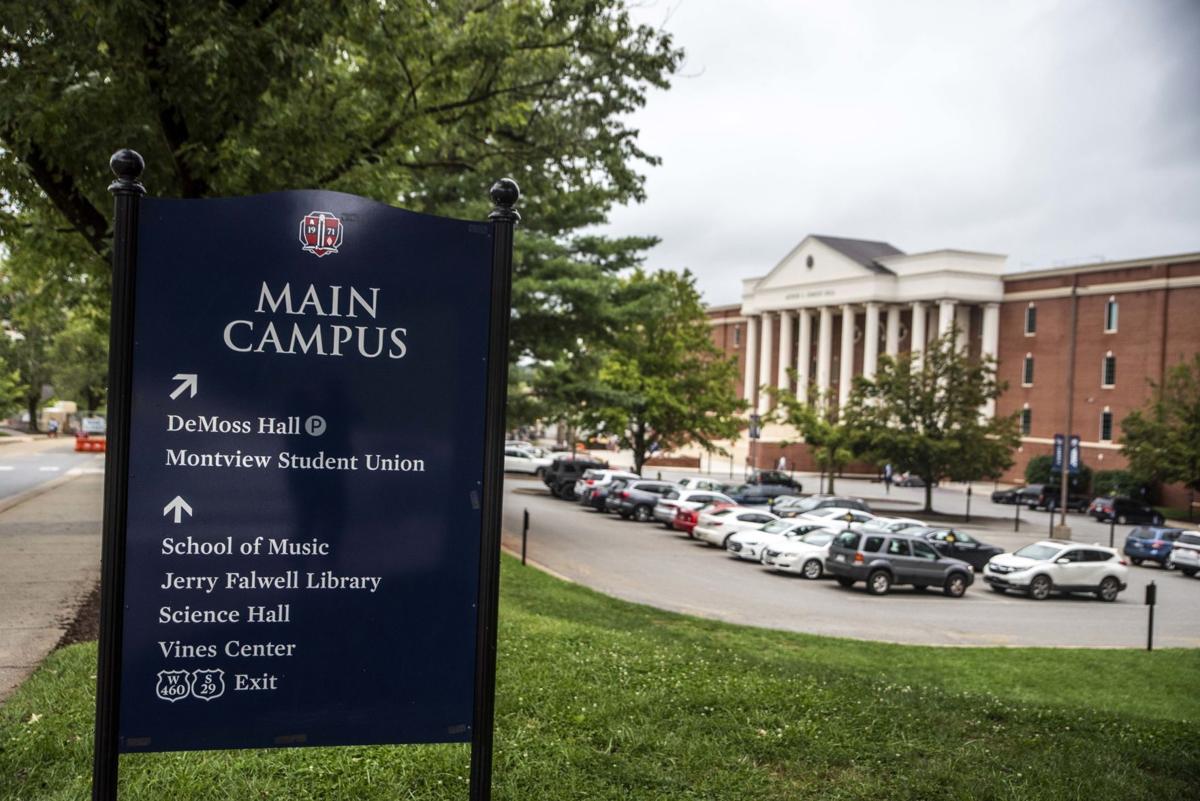 Liberty University will begin welcoming students back to campus today, as thousands of students prepare to start the spring semester with one week of online classes to help limit the spread of the coronavirus on the university's sprawling campus.
Beginning Friday, students living in university housing will be required to undergo a modified 10-day quarantine period during which they are barred from attending social gatherings or eating together in dining halls. The move is aimed at avoiding an influx of COVID-19 cases as students from across the country descend on Lynchburg after a monthlong winter break.
"This will be a phased reintegration into the Liberty bubble," Keith Anderson, executive director of Student Health Center and Wellness Initiatives, said in a statement. "We recognize that students are coming from different places, so before we put them all in a larger congregate setting, like a classroom or dining hall, we want to identify who may be carrying the virus, then isolate them appropriately."
With coronavirus cases soaring to record highs in the Lynchburg region, university officials hope their approach to the start of the semester will help blunt the spread of the swift-moving virus before in-person classes start Sept. 25.
Liberty officials are counting on the modified quarantine period to prevent a dramatic rise in COVID-19 cases that might force the university to suspend in-person instruction early into the semester.
Last fall, cases spiked during the first month of classes after some students unwittingly brought the virus back with them to campus. At the time, students did not start the semester with online classes.
The number of new infections peaked in mid-September before steadily dropping off. By late December, more than 900 students and at least 180 employees, including professors and instructors, had tested positive for the coronavirus, according to university-provided data.
Online classes are slated to start Tuesday. Course content will be available online a day earlier but remote classes will not be held Monday in commemoration of Martin Luther King Jr. Day — the first time Liberty has not held classes for the holiday honoring the civil rights leader.
Liberty will start the semester with at least 55 active COVID-19 cases among its about 15,000 students and 5,000 employees, according to the school's coronavirus dashboard.
On Wednesday, the university reported 31 student cases and 24 employee cases. Last week, 12 students and 29 employees were sick with the respiratory illness caused by the novel coronavirus. The university defines an active COVID-19 case as a positive case that has been reported in the past 14 days.
Though much of the university has been closed for the last month, some students and employees, including student-athletes and athletic staff members, have remained on campus throughout winter break.
At least 13 on-campus students are now in isolation at a university facility because of potential exposure to the virus or because they've developed symptoms associated with COVID-19. Another 29 commuter students and 78 employees have been instructed to quarantine at home.
Students face strict penalties for failing to abide by campus rules during the modified quarantine period. Those who do not arrive by Friday could be forced to pay up to a $100 fine and may be denied access to their assigned dorm room.
Late students also may be required to test negative for the virus and undergo daily wellness checks for at least two weeks. New students can arrive as early as today and returning students must move in Friday.
Though campus gyms will remain open at limited capacity, group meetings and hall events will not take place during the 10-day period. Dining halls will only offer takeout meals and guests are prohibited from visiting campus. Students will be required to wear masks outside their dorm rooms and must maintain at least six feet of space when around others.
University officials have previously described the 10-day quarantine period as a kind of "shelter in place" order aimed at reducing contact between students during their first days back on campus.
It is unclear how the modified quarantine requirements will affect the approximately 7,000 students who live off campus and who normally commute to classes. It also is unclear if on-campus students will be allowed to leave and return to campus before in-person classes begin. Liberty spokesperson Scott Lamb declined to answer questions about the university's coronavirus-related precautions.
Liberty will continue to offer coronavirus tests next semester through the university's student health center. Liberty has made tests available to any student who requests one, including asymptomatic individuals.
But the school has not mandated tests for students who arrive on time and does not currently plan to test large numbers of students at regular intervals during the spring semester. The university previously has refused to disclose the total number of tests performed on campus.
Students at the University of Lynchburg, Randolph College and Sweet Briar College — three other Lynchburg-area institutions of higher learning — are all required to test negative before returning to campus for the spring semester.
In addition to introducing the new quarantine period, Liberty has eliminated spring break to reduce the chance of students inadvertently bringing COVID-19 back to campus. The weeklong break is normally held in mid-March.
Mark Hine, senior vice president of student affairs at Liberty, told The News & Advance last fall that the university plans to replace the annual break with a handful of weekdays with no classes.
"We're trying to discourage our students from traveling all over the United States and coming back from hotspots," Hine said at the time.