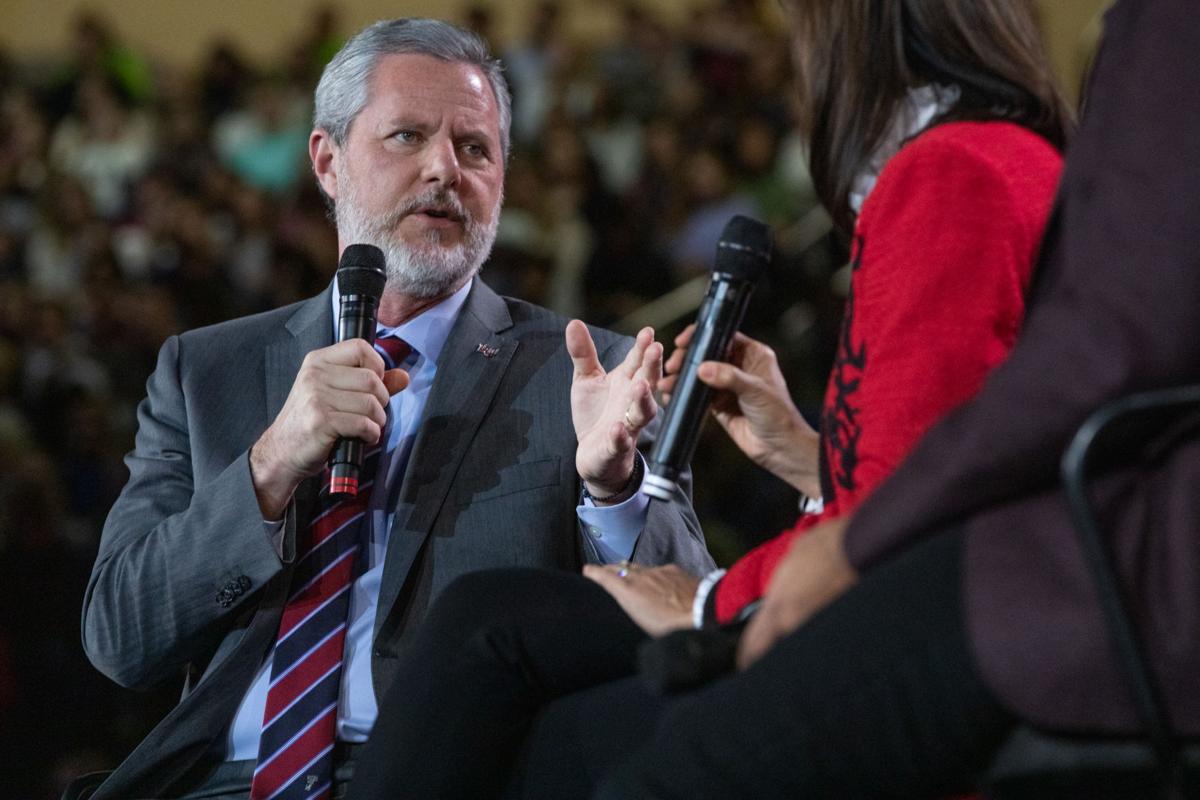 Liberty University is suing its former president, Jerry Falwell Jr., for at least $10 million, claiming a series of "indiscretions" during the past few years resulted in several breaches of his contract and duties during his time there.
The lawsuit, filed Thursday in Lynchburg Circuit Court, alleges Falwell's recent actions over an extramarital affair and his "personal impairment by alcohol" have damaged LU's enrollment, employees and donor base.
The suit claims Falwell breached contract, breached his fiduciary duties and was part of a statutory conspiracy. Along with monetary damages, LU is demanding Falwell return electronic devices and certain confidential information, plus pay interest and attorney's fees.
Much of the lawsuit centers on an extramarital affair between Falwell's wife, Becki, and Giancarlo Granda, once a pool attendant and a former business partner of the Falwells'. Jerry Falwell Jr. confirmed the affair in a defamation and breach of contract lawsuit he filed against LU late last year — which he dropped months later — and in a statement published in the Washington Examiner last summer, in which he also said he knew about the affair. He claimed in both the statement and the lawsuit Granda tried to extort the couple, which Granda has denied.
LU's lawsuit claims the Falwells developed a close relationship with Granda from 2014 to 2020, when Granda spoke to news outlets about the affair, to gain his loyalty and "curb Granda's bent toward the destruction of Falwell Jr., and his role at Liberty."
The complaint states Falwell hadn't made LU's executive committee aware of Granda's alleged threats during his contract negotiations in 2019, when he "succeeded in sweetening the new deal" with a significant raise, two years of even higher severance pay if he left under certain circumstances and a retirement deal.
It also claims Falwell's alcohol use led to a series of blunders.
First was an explosive Instagram post of Falwell next to a young woman with his pants unzipped, which the lawsuit framed as being taken at a "Trailer Park Boys" costume party on a yacht. Falwell wrote in a caption the glass he's pictured with merely contained "black water" and it was a prop. Following intense publicity over it, he deleted his Instagram account.
Next, the lawsuit claims a radio interview Falwell agreed to as "his own clean up" only served to fuel speculations he was having alcohol issues. Finally, through the insistence of his wife, he met with the executive committee Aug. 7 and agreed to take a leave of absence to recover, the complaint states.
But Falwell didn't enter into residential treatment that university officials insisted on, the lawsuit states, instead showing a "lapse into denial" and violating his contract by publishing his statement in the Washington Examiner.
Later that month, the lawsuit states, Falwell agreed resignation was in his best interest.
"He did so, however, after changing his mind about resignation and trying to negotiate for more in separation from Liberty than his contract afforded him," it reads. "While Falwell, Jr. agreed to step aside, it was with shallow appreciation for the far-ranging damage he had caused."
Falwell Jr. took over leadership of LU in 2007 after his father, the Rev. Jerry Falwell Sr., died. Falwell Sr. founded the school as Lynchburg Baptist College in 1971.
Under Falwell Jr.'s leadership, the university grew to see record student enrollment and an endowment of $1.6 billion. His early endorsement of Donald Trump's successful presidential bid in 2016 cemented his status as a conservative powerbroker.
The lawsuit also briefly touches on Falwell's support of Trump, describing Trump as "hardly a natural cultural hero for evangelicals" and a man with a "checkered past," though it makes no mention of that political support in its claims against Falwell.
An attorney who represented Falwell in his prior lawsuit against LU could not be reached for comment. Reached Friday, an LU spokesperson declined to comment further on the lawsuit.
The Associated Press reported Falwell responded with a statement saying the lawsuit was full of "lies and half truths" and called it an attempt to defame him and discredit his record.
"I assure you that I will defend myself against it with conviction," he said.
Dustin Wahl is a co-founder of LU alumni organization Save71, which has called for increased austerity measures at the university following what it calls corruption, hypocrisy and nepotism that Falwell braided into it.
Reached Friday, Wahl said it's striking to see leaders of a Christian organization file a lawsuit before "owning up to a student body they have a religious obligation to."
"To this day, the board of trustees has not apologized to Liberty students for allowing Falwell to abuse his power as president," he said.
"To this day, the board of trustees has not apologized to Liberty students for allowing Falwell to abuse his power as president."

— Dustin Wahl, cofounder of LU alumni organization Save71