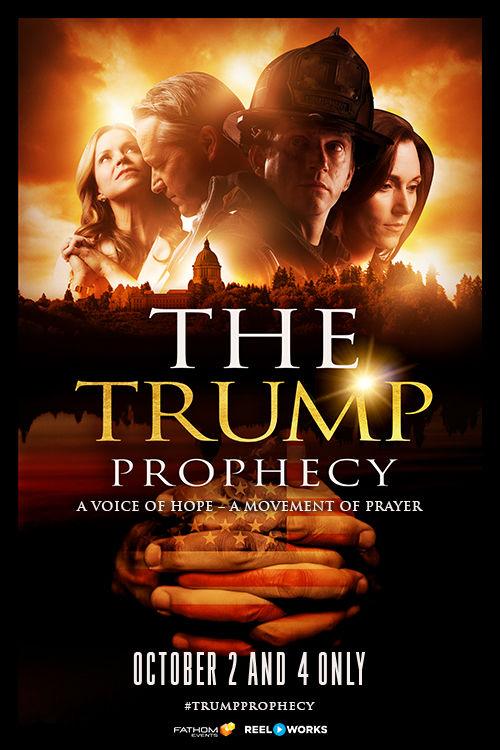 Fireman Mark Taylor correctly predicted the presidency of Donald Trump, but "The Trump Prophecy" filmmakers didn't foresee having their advertisements pulled from Facebook.
The film, scheduled for a fall theatrical release, is about Taylor's life and 2011 prediction that Trump would ascend to the White House. A joint effort of the Liberty University School of Cinematic Arts and filmmaker Rick Eldridge, The Trump Prophecy was shot in the Lynchburg area with much of the cast and crew comprised of LU students. It now is in post-production.
The Trump Prophecy, previously known by its working title "Commander," is scheduled for release on Oct. 2 and 4. Nearly 60 LU cinematic arts students were involved in the production.
With the movie scheduled for a limited national release, Eldridge planned to rev up an online advertising campaign but in June said Facebook removed some film ads for being too political.
In all, he claimed Facebook disapproved "approximately 40 different ads" for the film.
The issue dates back to at least June 14 when it was first noted by the film's Facebook page.
"It seems that Facebook has now began censoring our page. For a movie??? Because the word TRUMP, Facebook has decided to disapprove any ads that we are placing and capping our exposure. Do they feel threatened in some way?" reads the post on The Trump Prophecy page, which Eldridge and the Reelworks Studios advertising team manage.
Eldridge said a new option appeared later in June in the Facebook ad manager, providing a box to check noting political content. He said Facebook policies require his advertising team "to check that box" every time an ad contains Trump's name. Eldridge disputes the ads promoting a film about the prediction Trump would become president are political. He said at its core, the story is about the power of prayer, love, restoration, and finding peace.
"Unfortunately, Facebook's censoring of our ads set us back several weeks. We hope we can make up for the lost time," Eldridge, the film's producer, wrote in an emailed statement in June.
Via email, a Facebook spokesperson stated the platform's policies define political content as that "made by, on behalf of or about a current or former candidate for public office, a political party, a political action committee or advocates for the outcome of an election to public office" or relating to any election or voting information campaign. Facebook lists a disclaimer noting political content includes anything that "relates to any national legislative issue of public importance in any place where the ad is being run; or is regulated as political advertising."
Though Eldridge said the ads for The Trump Prophecy aren't political, many of the page's posts are. A scan of the Facebook page shows numerous posts quoting Trump, and others with #MAGA, a hashtag derived from the "Make America Great Again" campaign slogan.
New ad policies, such as what Eldridge encountered, are a result of a crackdown on political content on Facebook following the 2016 presidential campaign in which there were numerous claims of malicious actors, specifically the Russian government, meddling via social media.
A Facebook representative told The News & Advance that it "began enforcement of our political ad policy on May 24," though the system missed early ads for The Trump Prophecy. Those ads were then retroactively reviewed and disapproved because they had not been marked as containing political content, an option that the page has not yet been provided with. The Trump Prophecy page, said the Facebook representative, had not been authenticated, "meaning, at that time, they would not have been able to get far along enough in the process where they would have had the option to add a disclosure. Once they completed the authentication process in June, they were given the option to disclose their ad."
Ads were allowed to run after the authenticated page noted they contained political content.
The affected filmmakers aren't the only ones to run afoul of the new political ad policies.
Earlier this month gospel music group Zions Joy! also had content flagged as political after uploading and then paying to promote a music video including images of protesters. A member of the group told The New York Times the video was then removed by Facebook. After the issue became public, Facebook restored the video to its platform and issued an apology.
A Facebook spokeswoman told The New York Times its political ad policy is "new, broad and exists to prevent election interference, so we're asking people with content that falls under those rules to simply get authorized and show who paid for the ad in order for it to run."
New rules on political content also have plagued news publishers who promote stories on Facebook. In late June, following an outcry from media organizations including The New York Times and the Society of Professional Journalists, Facebook announced in a blog post that it would begin to differentiate between promoted news stories and ads with political content.