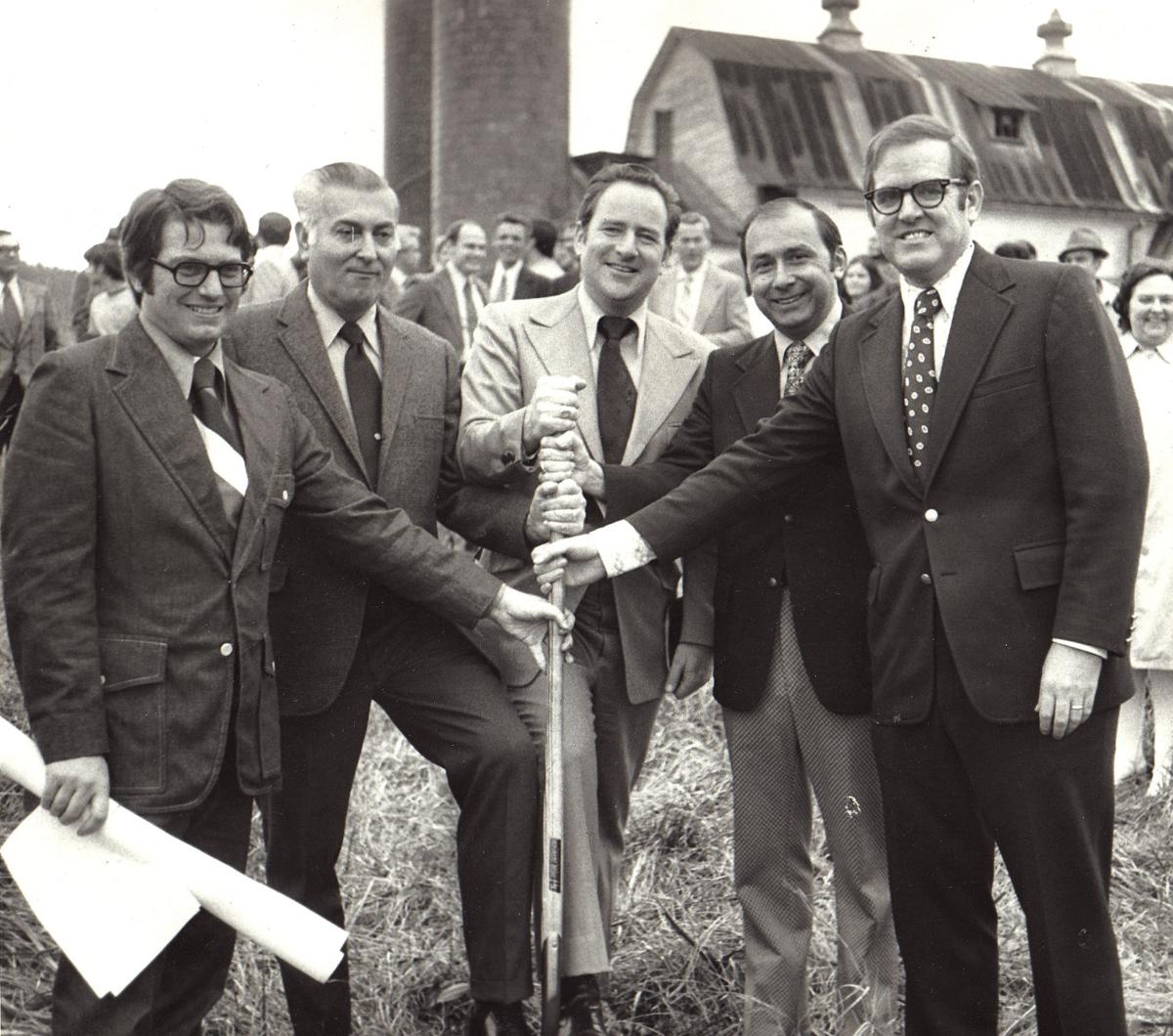 In 1971, Lynchburg Baptist College launched its inaugural semester with 154 students enrolled.
Today, 46 years and two name changes later, Liberty University will confer 18,000 degrees at a commencement that will feature an address from President Donald Trump to the graduating class.
Those 18,000 LU graduates represent a student body that has mushroomed to more than 115,000, with roughly 16,000 on campus and a formidable digital presence of about 100,000 online learners.
Similarly, the Liberty campus has been transformed radically from a landscape dotted with temporary metal buildings to a modern university setting with Jeffersonian-inspired architecture.
In the past decade, LU has grown immensely as it built up its campus — with $1 billion in construction projects — and its coffers. Current Liberty University President Jerry Falwell Jr. said LU had $100 million in total net assets in 2007, a figure he now estimates at more than $2 billion with $1.4 billion in cash and investment reserves — enough, he estimates, to sustain the residential program in perpetuity should online enrollment plummet.
For Liberty officials and alumni who remember the school's inception, the campus is vastly different but matches the vision of late LU founder Jerry Falwell Sr., who hoped to one day have 25,000 residential students, 25,000 correspondence students and NCAA Division I athletic programs.
Falwell Sr. died 10 years ago, on May 15, 2007.
"Even when Liberty had no buildings, no campus, the vision that was stated by my father over and over was that he wanted Liberty to be for evangelical young people what Notre Dame is for Catholics, what Brigham Young is for Mormons. To be a world-class university with athletics at the highest level of Division I NCAA, with academic programs that were excellent in every way, [and] that led to jobs in every field, every profession," Falwell Jr. said.
Steven Snyder, a 1982 LU graduate and current Board of Trustees member, credited the leadership of Falwell Jr. for providing a steady hand that has allowed LU to build cash reserves.
"I truly believe that Jerry Jr. could not have done what his dad did in getting the place started, but his dad could not do what Jerry Jr. has done in helping establish the solvency and manage the school in the way he has done," Snyder said.
Falwell Jr. said he is more risk-averse than his father after seeing LU struggle through its debt.
"I'd like to think I'm a good person to lead the second generation, because we really do have more to lose now, but I don't think we could have built it being [fiscally] conservative and not taking risks," Falwell Jr. said.
Jonathan Falwell noted his brother absorbed the vision for Liberty from their father, which gave him firsthand knowledge and understanding of the direction of the university and its goals.
"I believe firmly that what he does at Liberty, there's probably no one else alive who could do it, outside of my dad who is obviously in heaven," Jonathan Falwell said.
With Liberty surging and a presidential visit slated for today, Falwell Jr. aims to continue the momentum over the next 10 years by improving academic programs and quality. He also hopes to correct a lingering misperception about LU: "It's more than just a Bible college," Falwell Jr. said.
Liberty now offers more than 500 programs of study and includes law and medical schools.
In 2018, Liberty will make the jump to the top ranks of college football. The Flames will compete as an independent in the Football Bowl Subdivision and will be bowl eligible beginning in 2019.
Falwell Sr. dreamed of the Flames competing against gridiron goliaths such as the University of Notre Dame, the University of Alabama and the University of Southern California.
Though he didn't live to see the progress at Liberty, university momentum was on the upswing when Falwell Sr. died after years of financial uncertainty for Liberty in the 1980s and 1990s, Falwell Jr. said.
"He got to see the school was on an upward trajectory just before he passed," he said.
In its inception, Lynchburg Baptist College shared facilities with Liberty Christian Academy, established by Falwell Sr. in 1967, and Thomas Road Baptist Church in its previous location behind Lynchburg College. Liberty later rented the old Brookville Middle School, where it held college classes, for $500 per month.
The school had no buildings of its own until 1977, and many of those were temporary metal buildings.
Despite their temporary status, Falwell Jr. said the buildings were used at LU for 35 to 40 years.
Snyder recalled a sense of excitement on a campus of temporary buildings and shared spaces.
"This place was exciting and growing and a part of a larger vision that Dr. Falwell used to talk about frequently," Snyder said. "He had a vision for this [university] that was just incredible."
According to The News & Advance archives, Falwell Sr. first changed the name from Lynchburg Baptist College to Liberty Baptist College as a courtesy to nearby Lynchburg College in 1975. The name Liberty was inspired by bicentennial activities and II Corinthians 3:17, which reads, "Now the Lord is that Spirit: and where the Spirit of the Lord is, there is Liberty." The name changed again in 1985 when Liberty reached university status, and Baptist was dropped from the name.
With a campus established, other successes followed. In 1980, Liberty earned full membership in the Southern Association of Colleges and Schools, a regional accreditation agency. That was followed by full approval to confer baccalaureate degrees from the State Council of Higher Education for Virginia in 1981. Liberty previously had operated under provisional state approval to confer degrees.
But as Liberty continued to grow, its viability was threatened by a staggering burden of debt.
By 1991, Liberty had about $100 million in debt. LU faced the possibility of foreclosure as bondholders in Trust Management Inc. attempted to seize the campus to recover part of about $60 million it had loaned to the Old-Time Gospel Hour, a syndicated radio ministry of Thomas Road, in the 1980s. At that time, Liberty still was under the umbrella of Thomas Road Baptist Church, the base of operations from which it began in 1971.
Liberty and TRBC now are separate entities. Even so, the church maintains some degree of oversight as noted by Thomas Road Baptist Church Pastor Jonathan Falwell, who said TRBC board members can recommend replacement of Liberty Board of Trustees members "if the university ever walks away from the doctrinal beliefs [and] the foundational truths" it was built on. Liberty trustees would then have to decide to remove members.
The fog of financial uncertainty at LU began to clear in the mid-1990s, thanks to major donors.
Area businessmen and partners Dan Reber and Jimmy Thomas bought and forgave $30 million of LU's debt in 1995. In the same year, insurance mogul Art Williams donated $70 million to the university. The football stadium at Liberty now bears his name.
Falwell Jr. remembers working side by side with his father to put out numerous financial fires as the university worked to build its campus and grow while simultaneously struggling to make payroll.
"The checks would go out, and we'd spend the weekends trying to convince donors and lenders to get us the money to cover the paychecks that had already gone out," Falwell Jr. said.
He described his father as "extremely upbeat [and] extremely optimistic" as a person, even when battling through the tumultuous financial strains that nearly ended Liberty's run years ago.
In 1985, a seed was planted that would take 20 years to grow. Liberty launched a correspondence program, which allowed students to receive coursework and video lectures in the mail. That program later would become Liberty University Online, which now enrolls the majority of LU students. When LU's external learning program finally was accredited by SACS in 2005, the timing couldn't have been better, as it coincided with the introduction of high-speed internet in most American homes.
"We were suddenly the only nonprofit university poised to serve that huge market of adults," Falwell Jr. said, noting LU offered the chance for them to finish college or earn a master's degree.
Though the university began its external education program in 1985, Liberty Home Bible Institute, another ministry established by TRBC, had been mailing out correspondence materials for years.
Falwell Jr. called the move pioneering.
Though online learning has driven the momentum of Liberty in the last decade-plus, Falwell Jr. said it was the reputation of the residential program that allowed LU to be in a position to capitalize.
"The two programs complement each other," Falwell said.
In the next 10 years, Falwell Jr. anticipates the university's $1.4 billion in cash and investment reserves to double to $2.8 billion.
Liberty also is an economic engine for the Lynchburg area. In the 2014-15 academic year, LU generated "$593 million in direct spending" and "almost $1.1 billion in economic activity" in the region, according to a May 2016 report from Magnum Economic Consulting in Richmond. The independent survey, commissioned by the university, also noted Liberty is Lynchburg's largest employer, providing more than 5,000 jobs locally through Liberty and more than 8,000 worldwide.
This weekend will bear that out as hotels and restaurants across Lynchburg fill.
"The impact is felt at the motel, hotel level … it's felt at the restaurant level … gas and convenience … and retail as a whole," said Megan Lucas, chief executive officer and chief economic development officer for the Lynchburg Regional Business Alliance. "Any time you bring money from outside of your region that adds dollars to your community."
Falwell Sr., who founded the Moral Majority and was known for taking a hard line on stances such as same-sex marriage and abortion, was a lightning rod for controversy in his time. He had the ears of presidents and members of Congress and the disdain of the gay community and pornography entrepreneur and free speech advocate Larry Flynt, who Falwell Sr. later formed a strong friendship with despite their differences.
Now, as Liberty has ascended to its position as the world's largest Christian university, it provides a venue for numerous political speakers, often Republican, but others come from across the aisle, such as Bernie Sanders, the flamboyant, self-proclaimed Democratic Socialist who spoke at LU in 2015.
Sanders was one of several speakers vying for the presidency who addressed Liberty in 2015. Trump was another, and Falwell Jr. personally endorsed and strongly supported him on the campaign trail.
That relationship continued after the election as Falwell Jr. said he was offered the position of U.S. Secretary of Education, which he said he declined. But he has agreed to lead a presidential task force on higher education reform. Details have been sparse, but signs indicate he will lead the charge on deregulation.
Ten years after the death of his father, Falwell Jr. appears poised to lead at a similar level. He also believes Liberty nearly has reached his father's aspirations.
A clip from The News & Advance archives, dated March 20, 1971, succinctly summarized the vision of Falwell Sr. in its opening sentence: "The pastor of Thomas Road Baptist Church, has announced plans for a four-year arts college the philosophy of which will contrast sharply with current liberalized trends at many colleges and universities."
Though Falwell Jr. noted Liberty University is open to all students, it tends to draw conservatives to campus.
"We stayed true to that original mission; we suffered through some really tough financial times back in the late '80s and the early to mid-'90s and almost didn't make it, but it finally all came together," he said.
"The school is well on its way now to fulfilling that original vision."
Get local news delivered to your inbox!
Subscribe to our Daily Headlines newsletter.